Audi Q4 e-tron makes driving a cakewalk with AR-based Windshields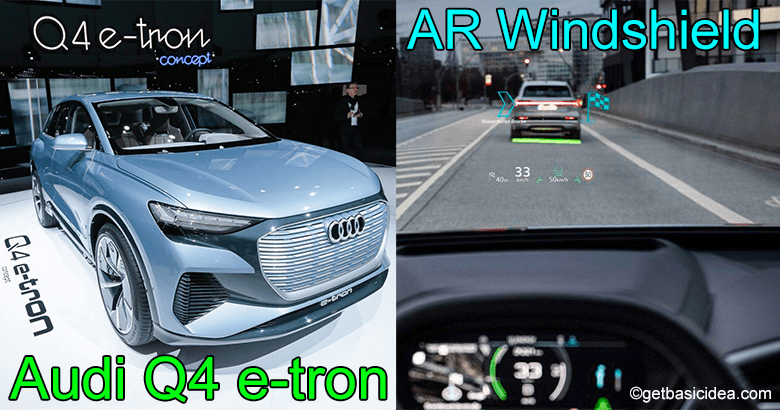 Over the years Audi is known to produce premium vehicles with a lot of class. 'Yes' it is true that Audi vehicles are a bit pricey but they never fail to deliver on quality which is worth your money. Like most vehicle brands the German automobile maker also has decided to shift their attention to making EV's and plug-in hybrids. Audi Q4 e-tron is their latest electronic vehicle and it is the fifth electronic vehicle in their lineup. Audi has no plans to stop EV & plug-in-hybrids production. Instead, the company is planning to produce more than 30 EV's & plug-in-hybrids by 2025.
What stands out about this vehicle is that it has awesome AR-based windshields.
The main design of the vehicle is mainly based on its parent company Volkswagen.
Another great value addition to this vehicle is that it includes natural-language voice control.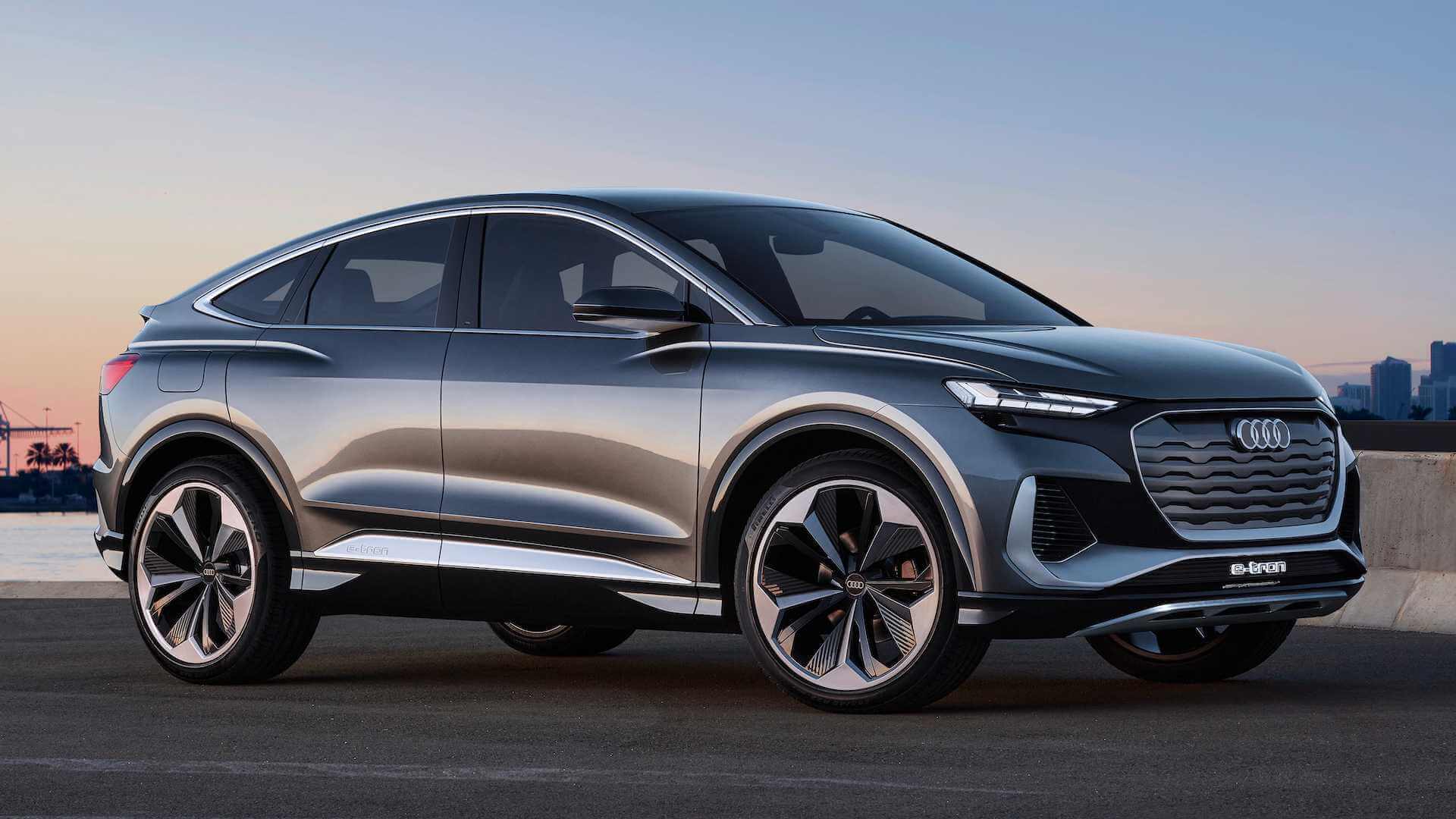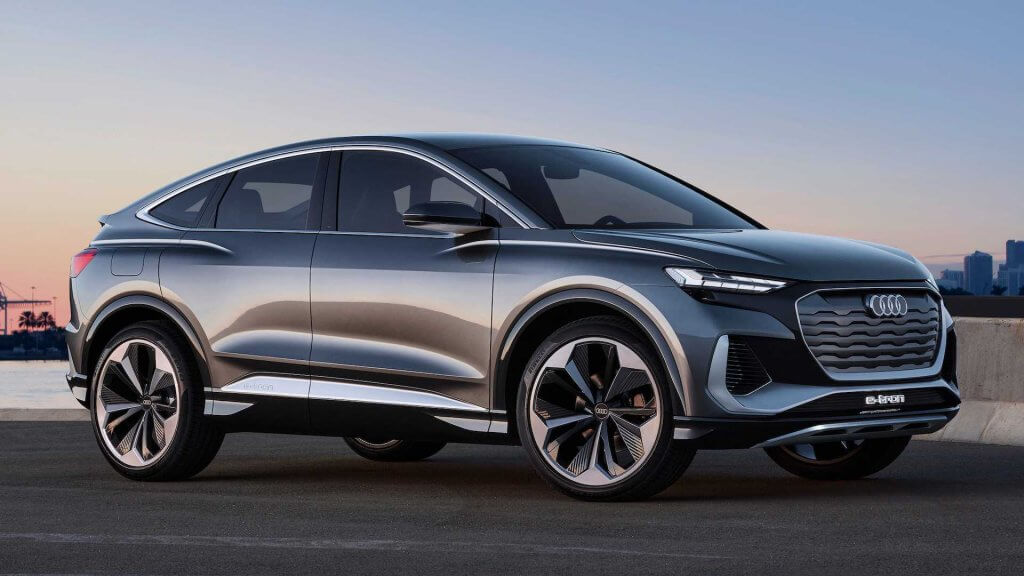 Audi Q4 e-tron: AR-driven Windshields
The feeling of been guided by AR is a magical experience rather than been accompanied by someone when driving. These AR-based windshields provide the driver with a wider field of view that is accurate. The most notable thing about these windshields is that it provides dynamic animations and this is something that standard HUD's (Heads-Up Display) do not offer. These animations are entirely based on the real-life environment in which you drive.
All the vital driver information is displayed by the HUD to the driver's line of sight allowing the driver to make those sharp decisions. The information displayed by HUD is of 2 types: one is for status and the other is for AR. The status section displays information 3 meters ahead of the driver and it displays information like driving speed, traffic signals, the assist system, and navigation symbols as static displays.
It is pretty certain that most of us are very keen to know what the AR section does. The AR displays turning arrows generated by the navigation system that displays information like lane departure which is placed as red lines on real-world lane markings and a colored stripe is displayed over an active car that is driving in front even when the vehicle is in adaptive cruise control.
These arrows are like Harry Potter magic because it floats up 10 meters ahead of the driver's field of view at 60 FPS which is roughly covering a 70-inch diagonal portion of the front windscreen. Audi likes to call these turning arrows 'drones'. These drones fly ahead when driving straight and then suddenly vanishes reappearing before the next point of action. Also, when you are approaching an intersection the drone smartly announces the turn before steering the driver onto the road.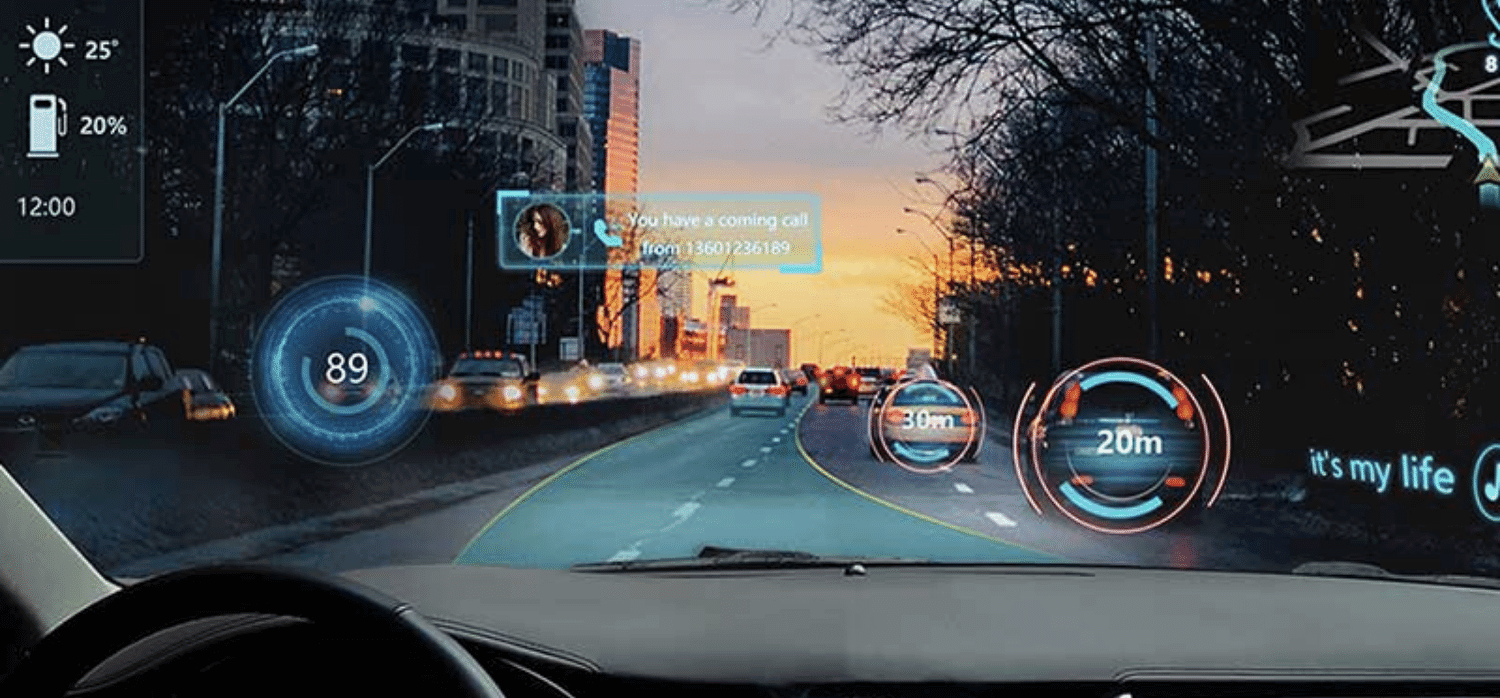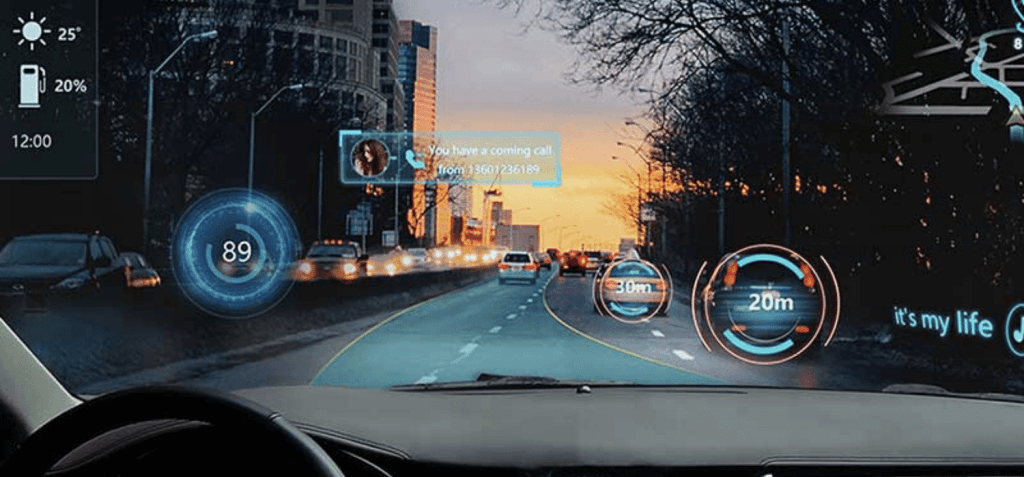 The software involved
Behind this unique technology, there is software that does all the hard work. The Audi Q4 e-tron has a processing unit called the AR Creator. The AR creator is responsible for gathering raw data via the car's front camera, radar sensor, and GPS navigation. All these data gathering components render the display symbols at 60 FPS and intelligently adapt to the surrounding environment. Also, the AR creator plays a role in making sure that you receive stable augmented images.
All these cool augmented images which you get on the display are generated through a technology named PGU (Picture Generated Unit). In a nutshell, what happens in PGU is that a bright LCD directs the light beams it generates onto two-level mirrors. And, the special optical components segregate the portions for the near-field and distant areas.
The design of the Audi Q4 e-tron
Often the vehicle designs which Audi comes up with drives us insane because of the Killer looks it gives. This vehicle is larger than an average compact SUV with a short overhang and a wheelbase of 9.1 feet. The interior is 6 ft in length. In terms of the design architecture, Audi has adopted its parent company Volkswagen's toolkit chassis / MEB platform. Adopting this architecture has provided the vehicle with more space, two cup holders, a 4.4-liter stowage compartment with a cover, 2 (4 as an additional option) USB-C sockets, and the Audi phone box (this includes wireless charging and at the same time amplifies your phone's signal) upon request.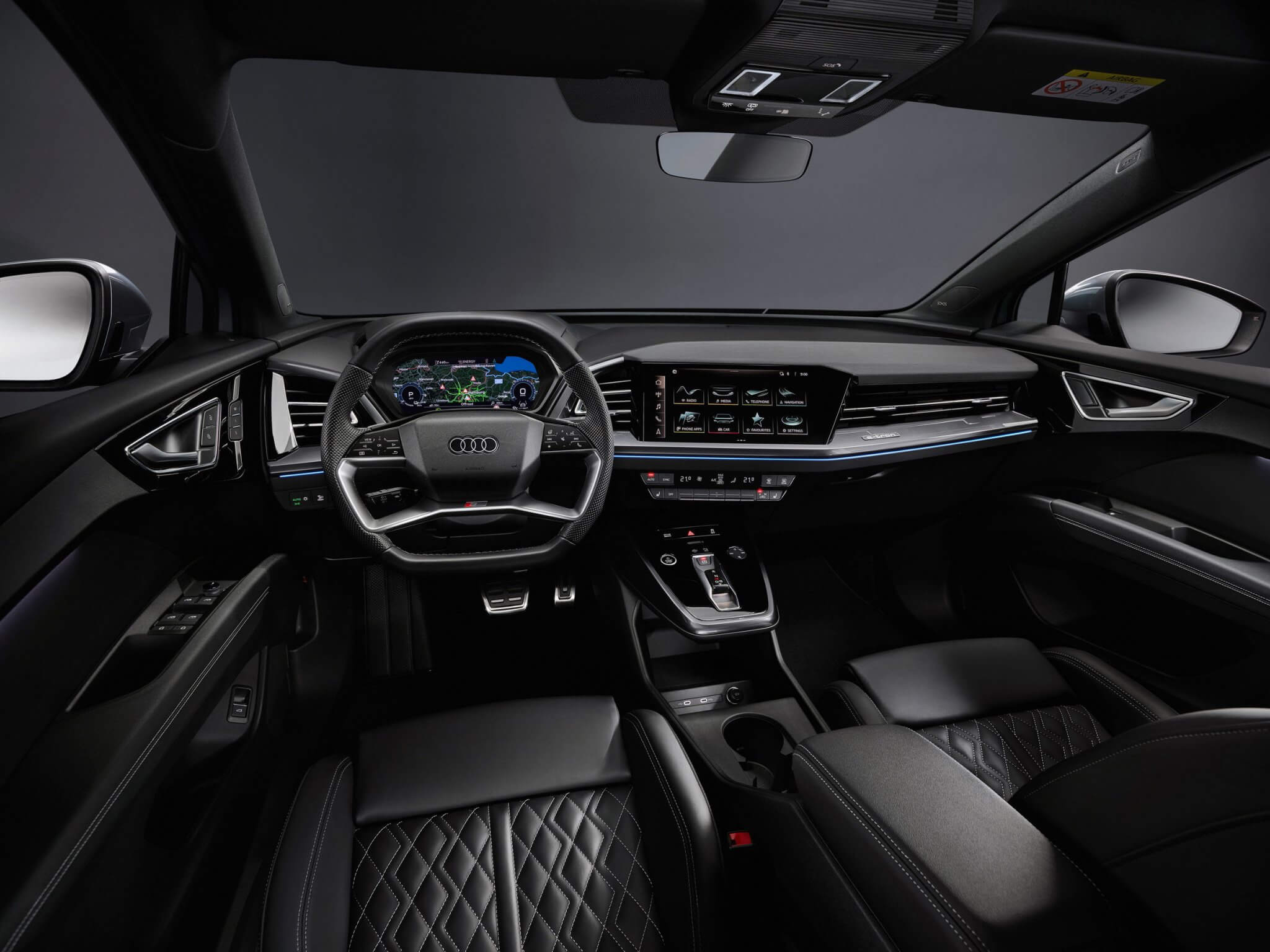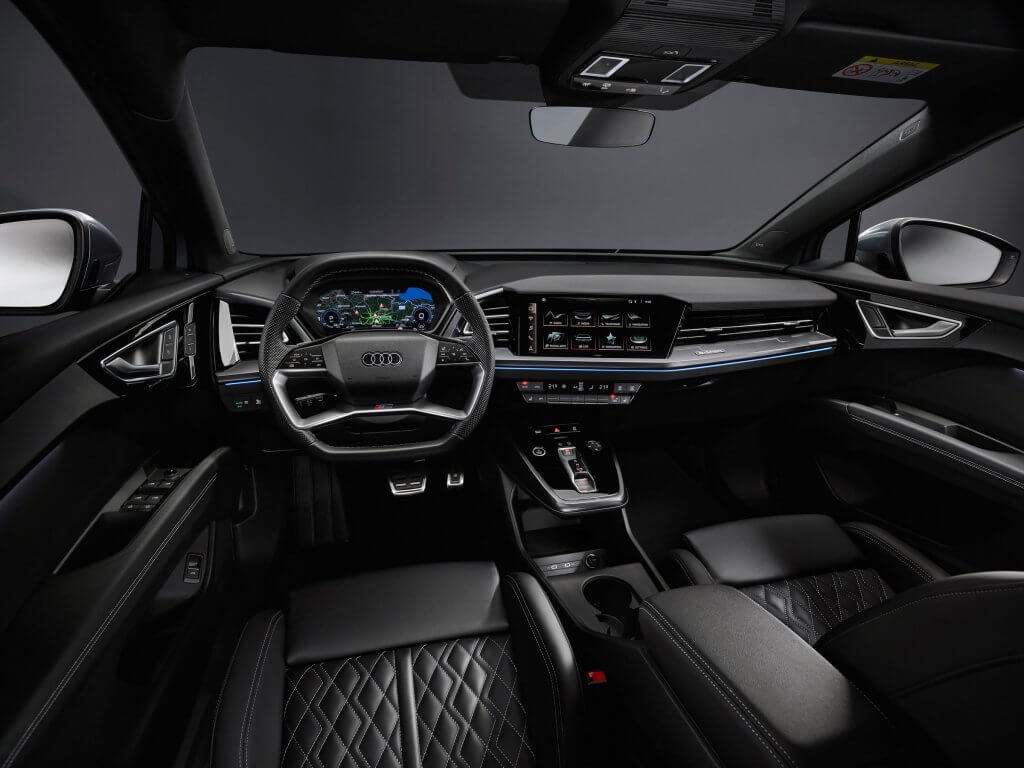 Voice control and other cool features
Voice control has always been a feature that excites many of us because in our minds we consider it an awesome futuristic piece of tech. What's awesome is that the Audi Q4 e-tron also has an updated natural language voice control. To activate voice control all you have to do is say "Hey Audi". Apart from voice control, this car will also get rid of physical buttons in the steering wheel and replace them with touch-sensitive ones. Audi knows that you will miss the feeling of pressing buttons so they have decided to come up with a haptic feedback loop. This Haptic feedback loop gives you the same feeling as pressing a button.
Audi never fails to amaze us with its cool unique technology and breathtaking designs. Q4 e-tron may not be fast as the GT version but this vehicle has more neat tech than the GT. I, for one, am looking forward to driving this beauty.
Author of Get Basic Idea (A content writer & a digital marketer, develop content while formulating and executing feasible digital marketing strategies collectively).