Apple's Next Feature –"Time to Walk" With Your Favorite Shawn Mendes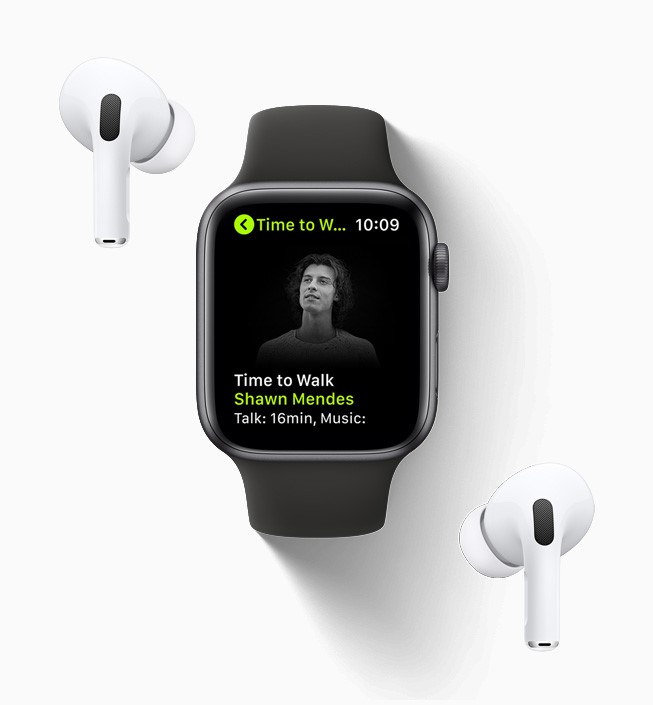 As reported earlier this month, Apple's feature 'Time to Walk' was in the pipeline to garner several benefits by promoting users to walk more regularly.
On the 25th of Jan, 2021, Apple launched this fantastic feature to remind its Apple Fitness+ subscribers to engage in exercise more often. They can go on a walk while listening to personal stories narrated by popular stars Shawn Mendes, Draymond Green, Dolly Parton, and Uzo Aduba with 25-40 minutes unscripted episodes.
Apple Watch users can enjoy listening to these stories with wireless headphones or AirPods while walking. The weekly episode will be downloaded to the user's Apple Watch that has the Fitness+ subscription.
New episodes will roll in every Monday through the end of April. The continuation of the season has not been announced yet. Users can access the episodes on the Workout App, and each episode will vary from 20-40 minutes.
Apple says every episode will be inspiring as it is the guests' personal experience shared with the users. A photo will be accompanied on the Apple Watch while the episode plays. The episode will end with a playlist of specially chosen songs by the guests. The users can enjoy listening to them while completing their 'walk.'
Of note, if the device owners use a wheelchair, they will be offered with the version of "Time to Push" feature, making every roll count.
This latest feature from Apple to attract more users to engage with their fitness products has been set right to compete with Peloton.
Apple launched Fitness+ last month with a subscription fee of $9.99 monthly. It allows users to watch workout videos, dance, yoga, and training. They can access it from an iPhone, iPad, or Apple TV. It integrates user's metrics, including heart rate, which motivates the users to keep fitness as the priority.
The new feature "Time to Walk" is a great motivator as it doesn't require you to look at the screen to track the metrics.
"Taking a walk is a great way to clear your mind. It's the most simple thing you can do to calm the body and soul, reflect, and slow down. I hope people get to feel the same sense of calm I do while walking and can bring that to their own experiences." – Shawn Mendes
However, Apple Fitness+ is only accessible for people in the USA, Australia, Canada, Ireland, New Zealand, and the UK. After the one-month trial period, you will be charged $9.99/monthly or $79.99/annually.
Shakira is a freelance writer. She loves writing on lifestyle, freelancing, travel, self-help, business, and about Sri Lanka. If not writing, she'd be cleaning or reading. Yes, zero human interaction –she's pretty boring!