Opentalk App – Improve English & Make new friends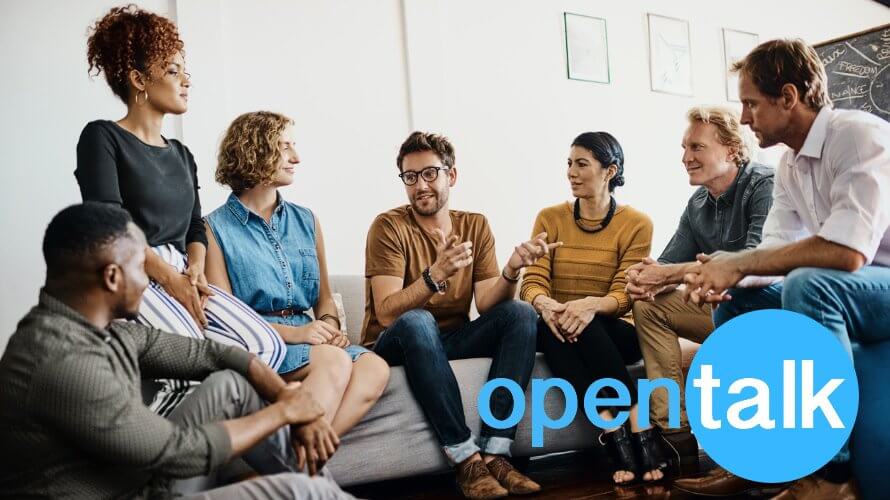 Opentalk – We all are human being. We want to communicate. We want to share our ideas and opinions. We do different things to share our ideas. Not only that we share messages but also, we have received messages. This all process depends on which language we have used to talk. Verbally or non -verbally, we don communication with each other. There are so many languages around the world. Among them English take a most important place. English is everywhere. If you wonder, why I am saying like this. Just think! English is the language of computers, aviation, diplomacy, science and specially in tourism. Without English, do you ever think deal with multinational companies? Most probably answer is No. then think about why is that? Thing is English also international language that we used to use. There are four important facts that why English is so important. Look! What I found through the internet. There are four reasons. But those are not only reasons. Then see what are those step by step.
Language of international communication
You know what English the official language of 53 countries is. There are around 400 million people speak English around the world. Then can we regret English? No. If it is better everyone has basic English knowledge at least. English is the most common language in the globe also. Two billion people will be learning English by 2020 that is said by British council project. if fluent in English, you can make a lot of friends. That is not a saying. It is also my experience. You can make a lot of friends from different countries as well.
Speaking in English gives you allow to international entertainment
There are so many books in English around the world. Then how much you lucky if you can read most of them. You can get a more knowledge; you can live many live which means we have read books that let a chance to act many characters that is what I meant we can live many lives. We can get idea of different countries without going them. We can identify their culture. We can learn more. I am sure it will very interesting to everyone. Not only books those are written in English but also music which are in English also and most popular English artist around world. I guess there is no one without hearing a English song.
If you wish to enter global business world, then you should have fluent in English. Because English is the dominant language of the world. Most of companies use English as their official language. Then without any doubt English is the language of business. For further knowledge, do you know in 2010 the company, a Japanese cross between Amazon and E bay, they made English compulsory for their 7100 employees to be able speak English.
Access to more of the internet
There is a report revealed that estimated 565 million people use internet every day and 52% people visited to web sites which are displayed in English.
Then I do not want to explain again how much English gives us worthiness. Most of us have a problem how to practice English in real world. There are some steps to if you can practice improving your English.
Watch movies and tv series
Read English comics
Keep diary in English
Listen to English radio and podcasts
Take online English courses
Practice gives you more knowledge
Last one gives you more experience why I am saying this. Almost every time practice gives more knowledge and help to remind thing that are helping to repair our knowledge. We got to know what the benefits are those are obtained from speak English.
Technology is changing rapidly. Most us busy with our economy lives. Then you have to learn or practice. I know you all busy with your work. Then how we can do practice? That is the challenge. Challenge means we cannot have allocated separate to learning English or something. Then what is the better option that you can. We do not to worry about things. Now you have app that called as Opentalk app.
Then what is this Opentalk app? How does it work? What are the advantages from this app other than other apps? What we can do from this app? Are there any issues with this app? If yes how to solve them? That are the questions in our mind while talking like this. Let's talk one by one.
What is this Opentalk app? Opentalk app mobile app that helps you to improve your English and communication skill. Because we can talk with people who are not in our contact list also. You can connect with people who are in around the world. You can select a country and opposite gender and collecting coins via talking. You do not want to reply. Until get a reply you can speak English with someone else. So, it does not waste your time. It gives facilitate to talk with people around the world without any bias and boundaries.
It is an amazing thing that you know there are 15 Million talked every month and 1 million more talkers around the world. You can talk with strangers by this app. It will strange thing to you.
Opentalk is compatible with android and iOS devices.
Features in Opentalk app
You can contact your buddies from live audio calls and video calls.
You can connect with randomly selected people and make new friends, then expand your friend zone
It is chance to get random talk with your interesting people
Share ideas using live talking around the world.
Most important thing is it act as an English-speaking tool
There is a new feature in video call is it that is connect to your favorite buddies through video calls.
Another feature is which is most secure video calling feature in it.
You can talk through video calling to people who are willing to talk.
Why we use Opentalk?
Almost every time, we see our privacy as the top priority. We do not care if it is an app or not. We care about our privacy. In Opentalk, your personal data only visible to you. Nobody can see your personal data or modify them. So, we can protect our data. It shows Opentalk app also gives top priority to privacy and data. Because in our century data is the most valuable thing.
If you feel alone or feel to talk with someone. It is better thing to use Opentalk app. Because it helps to make new friends. You can talk with them. You can share your opinions and you can choose topics and talk about things which are related to that. It is a great way to meet people and know their ideas of people whore in around the world. It will be a great thing to you all.
It is sure that you can improve your English knowledge using this Opentalk app. Opentalk is very effective. Because you learn English while talking with friends. At least even you do not know you are studying. That is amazing thing in Opentalk app. So, that why I said Opentalk app is very affective. Not only your English but also help to improve your English speaking. Your speaking styles. You can learn a new word. You can know how to pronounce words.
You do not want to afraid to chat with people. You can chat and connect with people who you are willing to chat or connect with them. Then you can get video calls with interesting people.
Beginners also have facilitated to use this app very easily. Because Opentalk has its own attractive interfaces. Interfaces are so simple. So, it will easy to handle to beginners.
I think everyone has experience on talking through social media. Then sometimes you have to face some network error. But in Opentalk it gives chance to give great network quality over voice calls and video calls. Without any doubt it gives chance to build a network and expand your friendzone.
How to talk with friends using Opentalk app?
Talk to random people using this Opentalk app. So that, you can use "talk now" feature.
Then user can choose category which means people to specifically connect with. You can use app filters for that.
Users are randomly connected to the people by system.
You can only talk most relevant people using Opentalk advanced system.
There are most affordable filters available for people who use Opentalk app. Because improve the in-app user experience.
On the other hand, most important security thing is, it will automatically block people who try to misuse the app.
It helps to effectively determine the communication level of the talker.
You can connect with them through video calls. By video calls you can explore more.
User can win various rewards and after achieving various in-app challenge.
Opentalk app for Android
User can download Opentalk app using Google play store. It was given last update on 10th September 2019. Opentalk app 17M sized in. There are 1 000 000 and more downloads. Opentalk current version is 3.3. it is compatible with android devices which are 4.2 version and latest.
Opentalk app for iOS
If you are an apple user, then do not worry you also have chance to get this Opentalk app through app store. Opentalk app is provided by Opentalk Mobile App private limited. There is 115MB sized in this Opentalk app. It is included to social networking category. Opentalk app requires iOS 10.0 or later versions. Opentalk app is compatible with iPhone, iPad and iPod touch. Opentalk is available in two languages. They are English and Japanese. But it asks age also. If you are 17 or above you can for the following as frequent, intense Mature and suggestive theme. It is totally free. You can see the unlimited video calls with brand new and easy video plans and bug fixes and improvements of performance in Opentalk version 1.9.8.
For personal computers
There is a clean we site in it. You can search people to talk. There are a lot of people in it. So, you can search people according to your preferences. You search by language, study options and places. You do not worry about if he or she from across country or across town. Users can search people randomly and start conversation in your preferred language. You can learn a lot about world and talked to new people of chequered people background and you can share your opinions with your culturally different friends, and it will feel like you are in another country. If it is better, you can build your network powerfully and increase your communication skills. There are 100 and more languages in Opentalk app. You know what how many countries in this Opentalk. It is one hundred and fifty and more countries. Then you can get experience with friends around 150 and more countries. Then think how much different language and how much people get to know through this app and how much you can explore at the home or your current residence. It is more useful to people who do researchers.
You know colleagues have knowledge thirsty. Is not an amazing thing that this Opentalk app use colleagues? There are three thousand and more colleagues use this app. There are options in Opentalk app. They are practice language, explore places, explore study options and general talk. If you are willing to practice language by talking to people who speak same language. You can be categorized in several steps those are beginner, conversational, fluent and native. You can see the level which you are allocated to. You search people by places such as continent, country, city or state by "Explore Places". Think! If you plan to go country, then you can study its culture and cities. Next you can get to know people and make new friend in different countries. If you are a job seeker or a scholar in another country, then here this is your chance to make it success by knowing about culture and make friend who will do the same studies. You want to release your stress, or you want to chat with someone then you can choose "General Talk".
You can share opinions and listen. You can voice your opinion in your language and listen to others also. You can listen to others hot topic. You can find what are the trending topic around the world and search more and find more about them. It you have question why it is important to voice your opinion is, because the best way to learn and improve language is to talk to people and speak. You will not believe there are six hundred and fifty and more topics in Opentalk and twenty-five thousand plus opinions in Opentalk. You can click the browse topic button and search topics. As examples SpecialDays, Netflix, gaming, BooksForEveryone, Politics, lifestyle, Cosmetics, Grooming, GlobalTrade, Technology, Media, OnlineUsers, CryptoCurrency, Bitcoin, Opentalk, Opentalk talent, Tourism, Travel and LonelyPlanet in Opentalk. You can search topics with hashtags.
There is a something called voice talent in Opentalk. You can listen to short stories, poetry, standup comedy, mouth music and more voice talent in Opentalk app. If you would like to share your talent with your friend who are in tweeter or Facebook, you can share those talents through tweeter or Facebook. You can share your talent around the world without going talent show.
How to practice language using Opentalk
Learning grammar or vocabulary do not make you English proficiency, so what we have to do is you should speak English in proficient way. It can make you master to English. Opentalk gives you a chance to speak English with proficiency experts. For those learners see a place to improve language proficiency or learn a new language. Opentalk create a decent and nice place to learners. Learning a new language will easier if you are an Opentalk user. speaking in the same language help us to think in the same language. Some people often leave behind because they are unable to communicate properly without any errors. Many people unable to understand how to speak a new language properly. Hence, they feel disappointed when it is a new language. Opentalk will help you to remove your afraid to learn new language properly. Language experts who are at Opentalk, they train you how to confidently be talking new language without any grammar mistakes, uses of right words and shape the language fluency. If you still scare to speak English, you still have the chance to remove your afraid and get ready to speak English and more languages as an expert. Opentalk helps you to connect with experts in English and handle a language in a proper way and easily. Talking about practice language using Opentalk, there are so many popular searches among Opentalk users. You can find those searches when you were logging to the website. They are practice English, practice Portuguese, practice German, practice Hindi, practice Korean, practice Bengali, practice Spanish, practice French, practice Arabic and practice Italian etc.
New features in Opentalk PC:
Opentalk community added a follow button follow your favorite Open talkers and then you can stay updated with talents and recent updates have done by them.
There is a faster connection between users when it is connected.
How to install Opentalk for windows PC and Mac:
It is an amazing thing that Opentalk for the PC or Mac book. Then user can easily handle things user interfaces also. Opentalk is android app. Opentalk community published Opentalk on Google play store on 30th of March 2017. It has already got around 500000 and more downloads with an average rating 4.0 out of 5.0 in Google play store. This Android app cannot be easily installed to PC or Mac book. You can follow the below instruction to install Opentalk to PC or Mac book. Download Opentalk apk 2.1.9 is 38.12 MB in size and Download Opentalk apk 2.1.0 in 29.21MB in size.
First of all download an android emulator to your PC.
Then install it to your PC.
You can Opentalk APK using the emulator or you can drag and drop the .APK file to the emulator to install the App.
If you unable to download APK file you can still install Opentalk PC using configuring your google account with the emulator or connection and downloading the App from Google play store directly.
If you follow above steps correctly, then sure you have Opentalk App ready to run on your Windows PC or Mac.
Required permission to Opentalk for PC
Opentalk required to retrieve running app
Open talk finds accounts on the device
It needs permission to read your contacts.
Opentalk asks permission to modify your contacts
They want to need connect with network based approximate location
Opentalk requires GPS and network based precise location
Read the contents of your USB device
Modify or delete the contents of your USB storage
Take pictures and videos
Requires permission to record audio
View Wi-Fi connections
Read phone status and identity
View network connections
Pair with Bluetooth devices
Receive data from internet
Read google service configuration
Prevent device from sleeping
Control vibration
Draw over the other apps
Run at start up
Change your audio settings
Full network access
Disable your lock screen
Send sticky broadcast
Access with Bluetooth settings
It requires power manager wake locks to keep processor from sleeping or screen from dimming.
How to explore a place using Opentalk
Are you a traveler or would you like to travel around the world? If not, you love to learn about place around the world. Then here is the place to explore about countries and place and increase your knowledge. You can talk with people who live in the different countries. You can get experience their own. Is should be true. Because people know real situation in place who live in. knowing people who live in far away from us, it will help to us in different perspectives those are build empathy, appreciate differences and you can be a global connected citizen. You can talk beyond boundaries and make this world better place while learning different cultures. People from hundred and more countries. In Opentalk you can meet people who live in United state of America, Latin America, United Kingdom, Eastern Europe, Northern Africa, middle east, South East Asia and India etc. Then see how lucky you are in the modern world, because it will help to be a more responsible people while explore a world. There are popular searches in the explore a place. They are some popular keywords; explore Europe, explore South America, explore North America, explore Brazil, explore United states, explore United Kingdom, explore Canada, explore Australia, explore France and Asia etc.
How to explore study option in Opentalk
You can talk with colleagues and connect with them and find more things with them. It will help you if you are looking for a higher study in abroad or scholar in abroad. You can talk with particular students who are in college that you want country or city. Opentalk will help you find those things. Talk with students who are in abroad will help you to get chance to know the benefits and apply for the scholarships. You can find students who are in different areas. Such as engineering, science, medical, arts, commerce, architecture or management degrees.
General talking with Opentalk
You can make conversation with someone with your favorite topics. Talking means you can talk without any bias, judgement. It will lead to new rewarding and fulfilling experience. And why are still waiting for just login to Opentalk and search by place, language, company and colleagues. You can get calls while talking.
Talents in Opentalk
If you are interesting to write poem or stories. Then here is the chance to voice them and show them to people who are in around the world.
When you enter the Opentalk website then you can see a navigation bar. On the right side you can see the login button. You can click on it and do login. You can sign up with Facebook or phone. You can see the blog button also. You can click it and search more articles. You can see different articles. They categorized as science talk, talking stories, talking is fun and improve English. You can learn more English words by clicking learn English words. You can see the panel which is A-Z order. You can search words by part of speech. They also have been categorized into Nouns, Adjectives, Adverbs and verbs. You can search words by alphabetical order. When scroll down you can see articles on improve English. Such as tips for improving articles, quick English learning hacks, amazing language learning hacks, methods for improving your spoken English and better English with Opentalk etc.
I could find some user reviews about this Opentalk app. Most comments reveal that how Opentalk helped them to improve their English. Opentalk is helpful initiative. Because it is the way to connect with get contacted with some lovely people around the world. Most important thing is it is totally free. Therefore, we can see new commers will gradually increase. Opentalk is best way to practice language. Because without English that we cannot doing most of things. You can become an expert in language and fluent in speaking English. You can be a star in your gang. Because you can find a lot of people. You can explore more things using Opentalk. You can get experience in new language and do some experiment in culture. You can do write articles in different cultures. I saw a comment that is talking about Opentalk good for English. I read it. In her comment, she has mentioned that she never thought she could be spoken English well. She did not have someone to talk with English. But this Opentalk app only help you to become a good in English. Further she can talk in English with everyone. Someone has mentioned in the comment list that it is easy way to download this app and do not forget to practice English using this Opentalk app. You can not only learn English, you can more new languages.
If you are a volunteer, you have this experience to speak and work with strange people. It makes chance to people getting closer more. You can do projects. Because you have great platform which is Opentalk to understand people while talking who are in different countries. Most people have scared about grammar. But will help you to remove your afraid to talk English.
You can get an idea about popular topics while searching what are the popular searches in Opentalk app. Practice English, Practice Kannada, Practice Telugu, Practice Gujarati, Explore India, Explore Delhi, Explore Bangladesh and Explore Africa are some popular searches in Opentalk. There are some recent topics also in there. They are new year resolutions, favorite tech products and why improving English etc. dire, mesa, insight, eager, strive and anticipate are some trending words in Opentalk.
I saw someone asked that anybody have fluency in English due to the Opentalk. Answer was depending on who you choose to talk with. You should have brain to choose experts. Your effort will become useless, if you are use Opentalk to waste time. Other thing is you can unlock several features in the Opentalk app by paying app currency.
Opentalk is looking about its members' security. Nothing shares with others without user permission. So, user does not afraid about their data privacy. Only others can see are you're your name and your photograph. They can be edited by user at any time. If you used this Opentalk app to contact with people and had a great conversation. Then you can make a reconnect request and connect with them again. Levels in Opentalk app gives you a chance to see improvement of your skill and look back haw far you have come. But it is not way to get a comment or trans parenting in representing feedback on conversation that you have.
There is a common issue, when we use social network sites. Some people try to show their mental disabilities. You can kindly report those abuse and misbehaves on calls by giving feedback as soon as like those calls get and drop an email to [email protected] . Opentalk will look about that mentioned person and will take a proper action. Do not forget to provide this feedback quickly as you are helping the Opentalk app community remain good. Opentalk will ensure experience for other users remain good. You can talk more and learn more from Opentalk app. Connecting with people around the world give you a better experience. Make them more tolerant, more helpful, good communicator and more knowledgeable. You can be a great friend through Opentalk. Opentalk create a person who is with confident. Because it helps to remove your afraid to talk with strange people.
You can see to option while logging. One is log in from Facebook. You have complete authority to change it. Logging through Facebook extremely simple for conversations. Opentalk will keep you profile static just like a Facebook. You can change your name and profile picture at anytime on Opentalk. If there is anything else that you want to update in your profile, you can update them in your Facebook profile, and it will be updated in Opentalk in within 7 days.
Opentalk has been ensured that users contact details are neither shown to others nor shared through Opentalk. Opentalk strongly recommend user has responsibility avoid from sharing contact details or exact location with anyone through the Opentalk app. Because we do not know when they change their mentality.
We consider about data these days. Because we have to deal with data when we use internet. I know that you have questioned how much data is consumed. Data utilization on Opentalk app is been optimized to be almost very low. It should be around 30MB per hour. How wonder it is. Opentalk gives chance to video calls also. Opentalk community still recommended being on wi-fi or broadband will give you a better experience. Opentalk is completely free to use. You can just download and speak and get more knowledge from the Opentalk app.
You can buy credits screen. You can do it through in-app purchase which is enabled by Apple and Google. They hope to add more payment methods in future.
Some android devices might have some problems when receiving calls, the Opentalk app will be closed. This issue is depending on your device that you have used. To confirm that you keep call back from the user on your talk on Opentalk, user need to fix your device so that it will auto start the Opentalk when user try to get a call.
There are some instructions to solve the problems.
Find Opentalk app will in the auto launch list. Then open up settings then press apps. Next you can see a gear icon and then set Apps auto launch. Search Opentalk app in the given list and toggle on it and enable auto launch.
Check whether Opentalk is in the list of allowed start-up apps. Then Open security Centre. Next click on the privacy permission then go to the startup manager. Finally, you can allow Opentalk app to start-up in the background.
Enable auto-start for the Opentalk app. First, Open I Manager. Click on the App Manager. Then go to Auto start manager and then allow to Opentalk App to auto start in the background.
Enable auto- start to the Opentalk app and go to Settings and click on Power Manager. Then you can go to Background Manager. Flip the allow auto start toggle for the Opentalk.
There two steps for the Samsung users,
First one is turn off battery optimization for the Opentalk. Open settings and go to Apps. Then you can see three dots on the upper right corner. Then special Access and the battery usage. In here tap on the drop-down menu that will say "Apps not optimized", next do switch it to all apps and switch off battery optimization for the Opentalk app.
Second method is doing exclude the Opentalk app from any of the battery optimization feature on the device. You can find these things in settings and then battery. You all want to disable battery optimization for the Opentalk app. You have to check disability of Restrict background data.
Check whether Opentalk app is on the list of protected apps. Go to System settings and then advanced settings. Next battery manager. Finally, protected apps. You can enable the toggle next to Opentalk to allow it to keep running even after the screen is turned off.
You can enable auto start for the Opentalk app and go to security and click through the permission and Auto start. Check Opentalk is enabled.
Note that those instructions that are given in the above may be changed according to your phone model.
If you unable to solve problems using above instructions, you can also try making sure that the Opentalk app is not optimized for Doze feature which means battery saving mode. You can do make this mode on and then go to settings and next battery and go to battery optimization. Revealed that Opentalk is on the list of apps excluded from optimization. You can use devices which are in Marshmallow operating system or above Android 6.0+.
While talking about Opentalk, you can find Wakie is fun and friendly which is alternative for the Opentalk app. You know what in Wakie they wake up each other every morning. Walkie for iPhone, Android, Windows phone, Software as a service (Saas), windows and more.
In addition, there is a mode feature in Opentalk app. There are several features in mod app. They are it is included with Menu mod and free shopping more.
Opentalk versions for Android and their features
3.2.0
In this release, they brought you new features along with many improvements.
Refer and earn share Opentalk and you can get gift vouchers from merchandisers.
Add profile information: you can build more expanding network using tell about yourself.
Unbuddy: you do not want to stay touch with a talking friend then you can Unbuddy them from their profile.
3.0.8
In this update there are set of amazing features.
"Daily Picks": listen and choose the people you are willing to talk and share your ideas.
"Say hi or Bye": you can do swipe right or left to choose if you want to talk or not talk to the user.
"Talk buddy": you will friends if you bath said hi. Stay in touch with calls and chats.
You can fix preferences and choose people you connect to
Complete revamp of your talking network for better interaction.
2.6.7
In this update they gave below updates.
Added a feature to keep your talent and opinions private.
You can earn credits by engaging with more users on Opentalk.
2.6.5
Revamped requests into inbox to include all incoming requests and incoming messages
You can earn credits by unlocking fortune cookie or winning challenges
Opentalk app is optimized to use minimum storage space on your phone.
2.6.0
Add feature to keep talents and Opinions in private.
Can earn rewards by engaging with more users.
2.4.0
There is a setup filter to talk same or opposite gender and exclude people from certain countries. With whom do not want to talk.
2.26
Added follow button to follow your favorite Open talkers. Then you can stay update with the talents and opinions are updated by them
Quick connection between users when connected
2.1.0
Launched feature to connect with Opentalkers to study options, explore places and practice a language.
Feature to be a verified talker on Opentalk app and they can earn Karma points and help to others.
You can upload voice introduction about you.
Opentalk versions for Apple and their features
1.9.8
Unlimited video call with friends.
You can get an experience with easy video plans
Bug fixes and improvements of performance.
1.9.7
There is a new interaction called compliments in this update version.
You can show your love and appreciation and comments for creators.
Get a chance to talk with top level talent creators.
1.9.6
Feature for the video calls
1.9.5
Number of anticipated filters
Super easy to show your talent and get fun
Checkout the leaderboard of most talented Open talkers.
Admin of Get Basic Idea / Senior Solution Architect.