WhatsApp privacy policy update 2021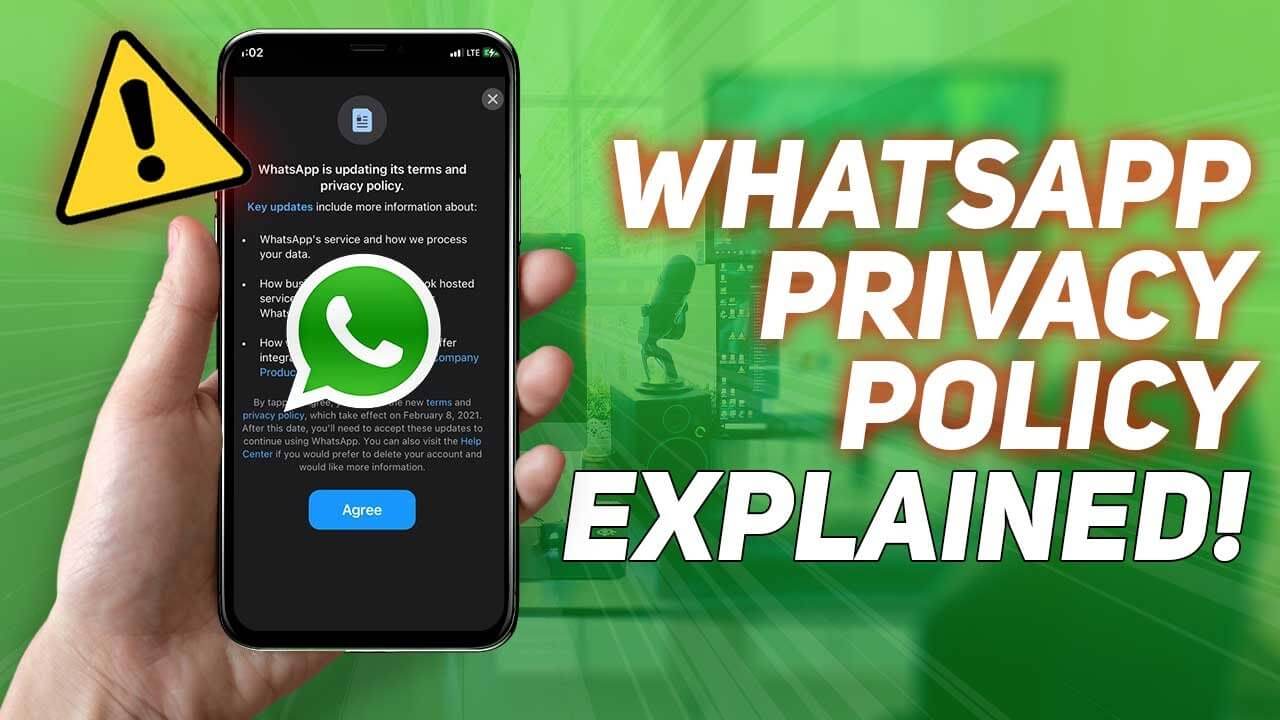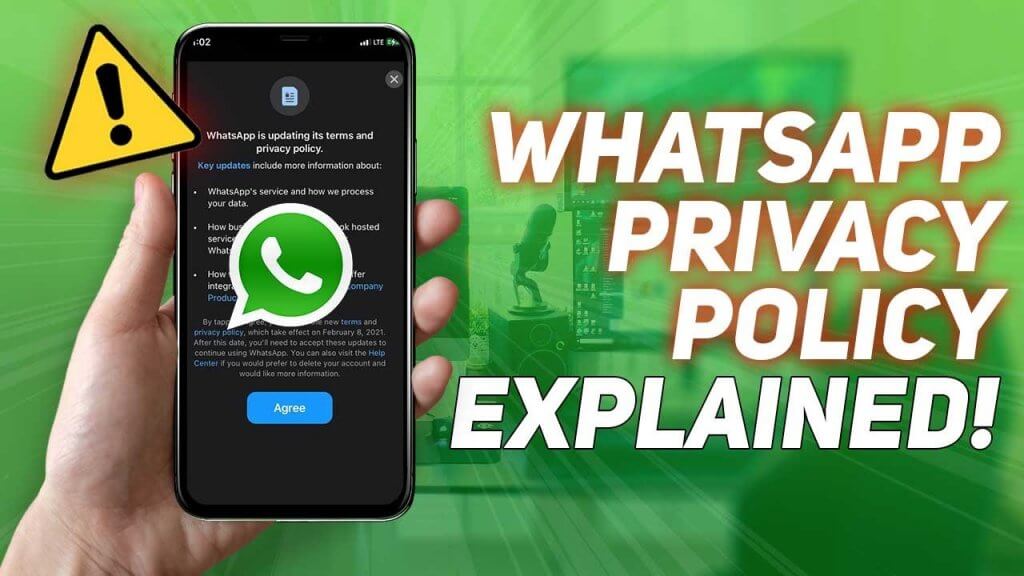 On the 13th of January, WhatsApp users received an in-app alert about the current terms and privacy policies of the service. As you can see in the image below, the note addresses three main changes concerning how WhatsApp manages the messages. How organizations may use Facebook-hosted sites to store and manage their WhatsApp chats. And how WhatsApp may soon collaborate with Facebook and have deeper integration within the entire ecosystem owned by Facebook. On February 8th, WhatsApp will implement these changes. If users want to continue using WhatsApp, people will have no option but to embrace the WhatsApp privacy policy updates.
The latest amendment to the terms and privacy policies expands on a related move revealed in July last year by WhatsApp. In the previous version. WhatsApp offered people the ability to "not share information about your WhatsApp account with Facebook." WhatsApp has removed this option in the current update. And users would have to adopt the updated terms and privacy policies if they plan to keep using it.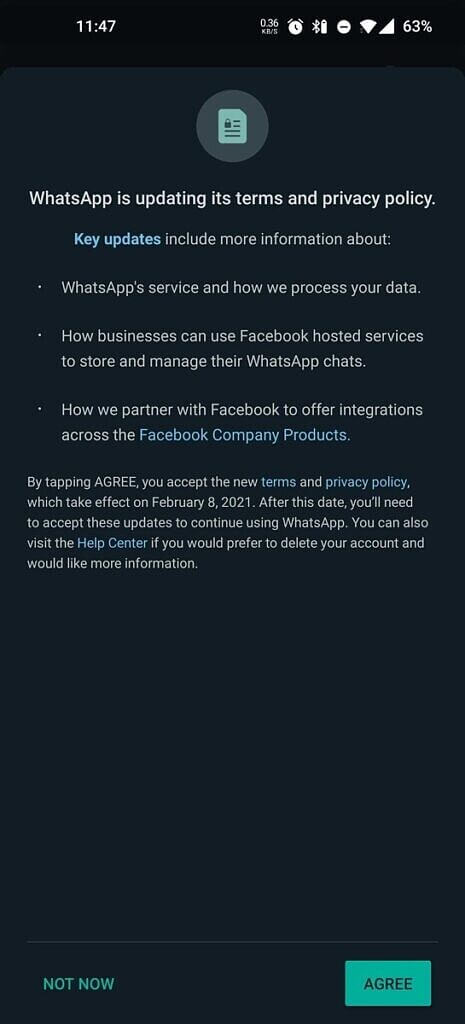 Updated WhatsApp privacy policy
This is a statement by WhatsApp regarding the changes and the terms you will have to agree to, to keep using the messaging platform:
"The information we share with the other Facebook Companies includes your account registration information (such as your phone number), transaction data, service-related information, information on how you interact with others (including businesses) when using our Services, mobile device information, your IP address, and may include other information identified in the Privacy Policy section entitled 'Information We Collect' or obtained upon notice to you or based on your consent."

WhatsApp
To get a detailed list of the changes and the reasoning behind the changes visit the following link.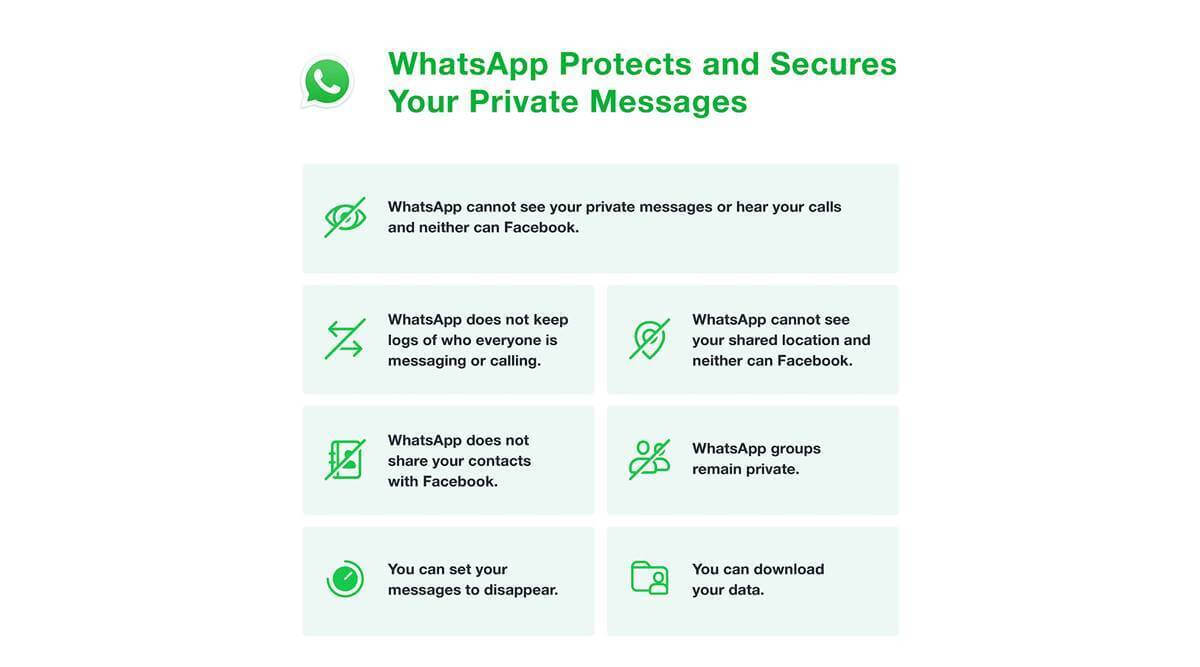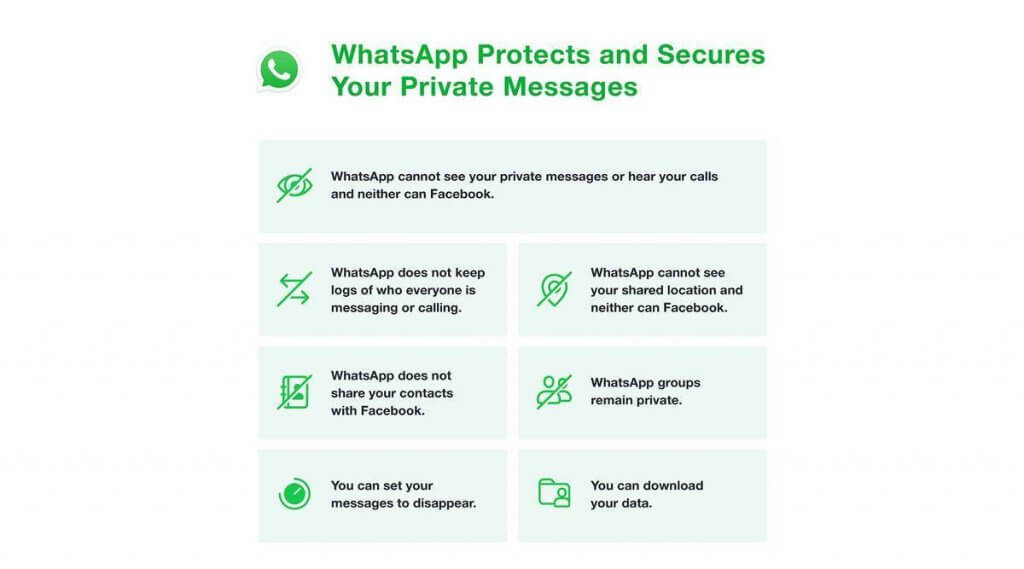 How companies are utilizing collected data
These are the ways the other companies in the Facebook ecosystem will be utilizing the data shared with them:
Offering integrations that allow you to relate your WhatsApp interactions with other items from the Facebook Business. For instance, linking your WhatsApp enables you to link your Facebook Pay account to pay for stuff on WhatsApp. Or allowing you to communicate with your mates on other Facebook Company Services, such as Portal.
Trying to promote confidentiality, security, and honesty in the services of the Facebook business. E.g. security systems and spam, posts, harassment, or infringing activities.
Help companies gain awareness of how users utilize their products or services.
Develop their service to its clients using the data. Such as making recommendations for you (for instance, friends or community ties or fascinating material), customizing functionality and content, helping you complete orders and transfers, and showcasing related deals and advertising through Facebook Company Services.
Helping to develop facilities and processes of distribution.
Bottom line – Privacy policy
The recent update in WhatsApp terms and privacy policies comes in line with Facebook's broader aim of supplying consumers across all its platforms with a more unified experience. But whilst the updates may benefit the company to offer "better" services. There are many privacy issues that do not work particularly well for Messenger, WhatsApp, and Instagram's "Privacy-Focused Vision" from Facebook.
FAQs
Will WhatsApp share your messages with Facebook?
No. The privacy policy is not affecting how private chats are treated by WhatsApp. WhatsApp is encrypted end-to-end and cannot be read by any third party. "This was relayed in a declaration: "The change does not modify the data sharing policies of WhatsApp with Facebook and does not influence how individuals interact with friends or relatives personally… WhatsApp remains firmly committed to preserving the privacy of people."
What's the issue with the Whatsapp privacy policy and sharing data with Facebook?
The proposal outlines explanations for Facebook's data sharing: to provide improved protection, prevent spam, and optimize the user interface. This was already included in the previous policy. But the latest strategy is another indication of the greater penetration of WhatsApp into the community of businesses on Facebook. In 2019, CEO Mark Zuckerberg spoke via Facebook Messenger, Instagram, and WhatsApp about his cross-platform plan, which he called "interoperability."
Direct Messaging and Facebook Messenger from Instagram have now been incorporated. Facebook aims to offer WhatsApp with more facilities and has added a function called Rooms. For a little while now, the implementation has been taking shape.
Is Whatsapp saving and collecting messages?
Not according to WhatsApp. As per the privacy policy, it is "deleted" from the company's servers after a message is sent. WhatsApp will only retain a message if it "cannot be sent immediately." The message will then remain in an encrypted state on its database "for up to 30 days" while WhatsApp tries to attempt to send it. They will be erasing the messages after 30 days.
Is it mandatory to accept WhatsApp privacy policy updates?
Yes, with most applications, this is common practice. You may uninstall your account and move to a new provider if you wish not to.
A majority of folks appear to be going from WhatsApp to Signal. Signal is just free and end-to-end encrypted messaging software that has received an increase of prominence in the wake of the latest WhatsApp policy update. For its encryption, WhatsApp utilizes Signal's protocol. But Signal is a non-profit entity and not owned by any organization.
So will Whatsapp utilize data to generate specifically directed ads?
WhatsApp does not show advertisements yet, and it appears that the proposals mentioned have been halted. Do not be afraid that private messages will be utilized on WhatsApp to target advertisers, since they are protected, that will not happen. But Facebook will use the enhanced exchange of data to boost ad experience through the company's other goods.
What information is WhatsApp and Facebook exchanging?
There is already a transmission of data between Facebook and WhatsApp. Although people in the European Union can switch out of data sharing with Facebook, the rest of the world doesn't have the same option.
WhatsApp exchanges with Facebook and other partners the following information. Account registration information like phone numbers, transaction details, service-related information, knowledge on how you communicate with others (for instance, companies), information about your mobile device, and IP address. It is also gathering more data at the level of computer hardware today.
What's the WhatsApp privacy policy with regards to businesses?
The new regulation describes how organizations get data when a person communicates on the site with them. The information posted on WhatsApp with an organization would be available to "several people in that company." This is significant because there are now more than 50 million company accounts on WhatsApp. This is, for WhatsApp, a possible model of monetization.
Some organizations may partner with third-party service providers such as Facebook to better handle their consumer correspondence, the policy says. WhatsApp advises that consumers read the "business 'privacy policy or approach the business directly" to clarify how the organization treats the data you exchange with them.
Author of Get Basic Idea – Knowledge Base.