Audi RS7 2021 Sportback Car Review, Pricing and Specs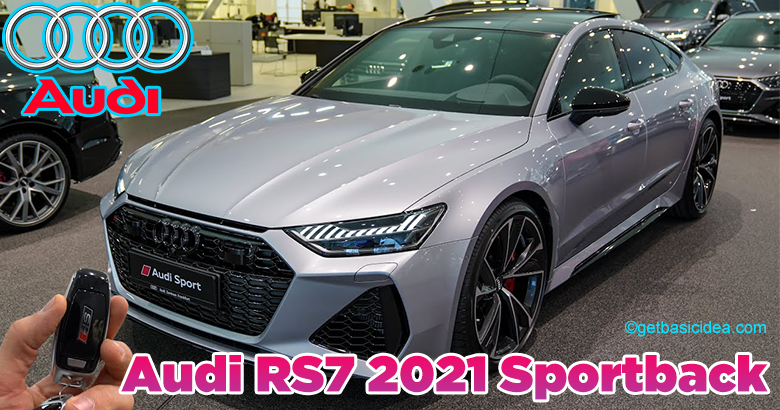 The Audi RS7 is a wide-body, heart-racing four-door sports car with a useable back seat and practical hatchback. This all-new RS7 is the most powerful version of the Audi A7, which is fairly quiet. The bodywork on the RS model is more aggressive, and it comes with specific high-performance equipment. When compared to other RS models, RS7 is quite different. We will provide basic and important things that you might wanna know about this car, in this article.
As the feedback for RS7 generation one was not quite good, they have introduced a second generation of the same model. The second-generation RS7 gets a more distinctive style inside and out, as well as more technology and higher power, as well as an addition of Sportback part to its name.
All-wheel-drive, four-wheel steering and an adjustable air suspension system are all common components on the RS7. The Black Optics option, which includes darkened exterior trim and massive 22-inch wheels.
In addition, according to BuzzScore ratings, this vehicle has achieved an 8.8 average score. The BuzzScore ratings are as follows.
Exterior design – 10/10
Performance – 10/10
Fuel economy – 6/10
Interior and Cargo – 10/10
Infotainment and features – 10/10
Reliability – 8/10
Safety – 8/10
Value for money – 8/10
The RS7 has a starting price of $ 114,000, which is quite expensive.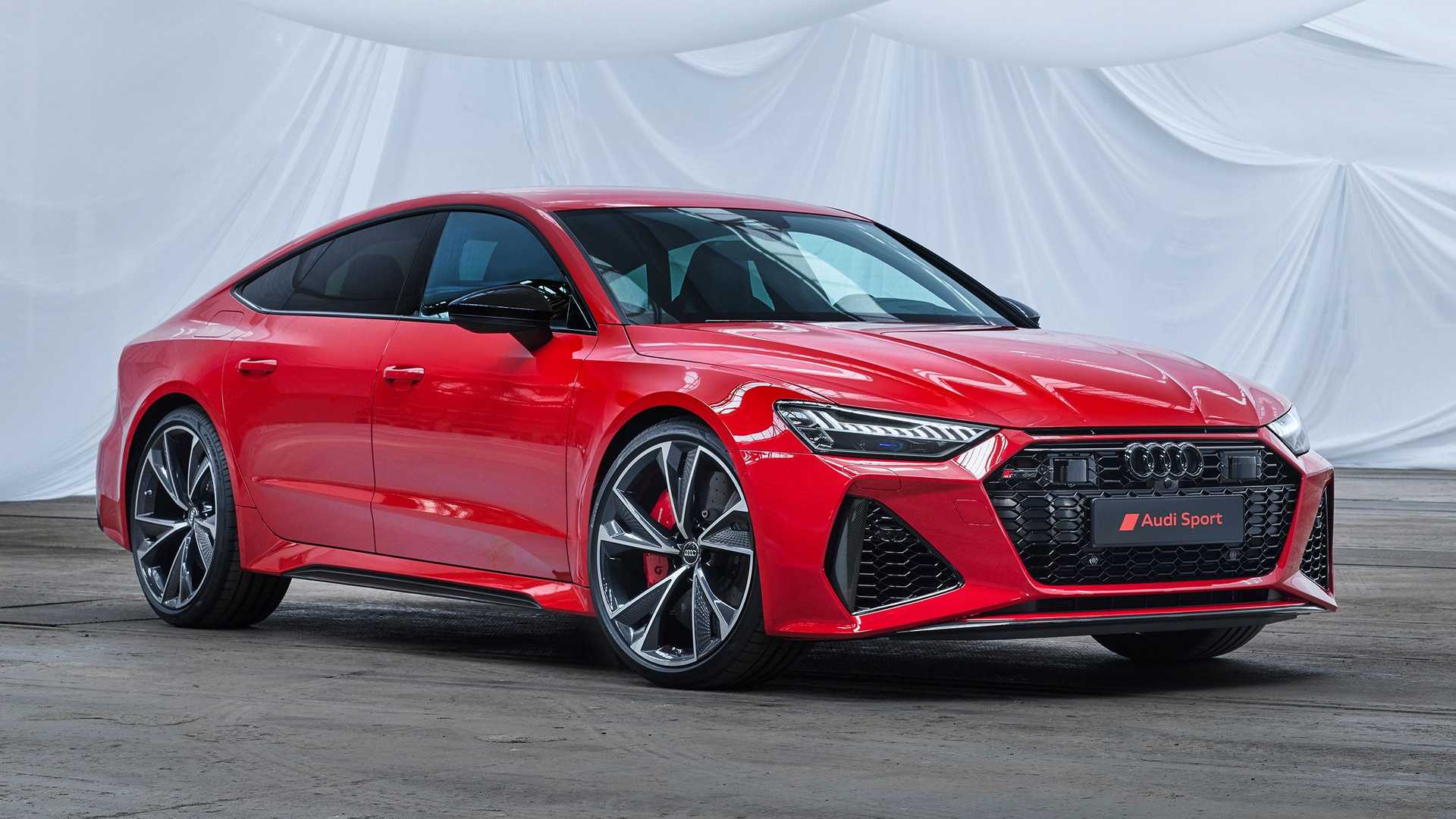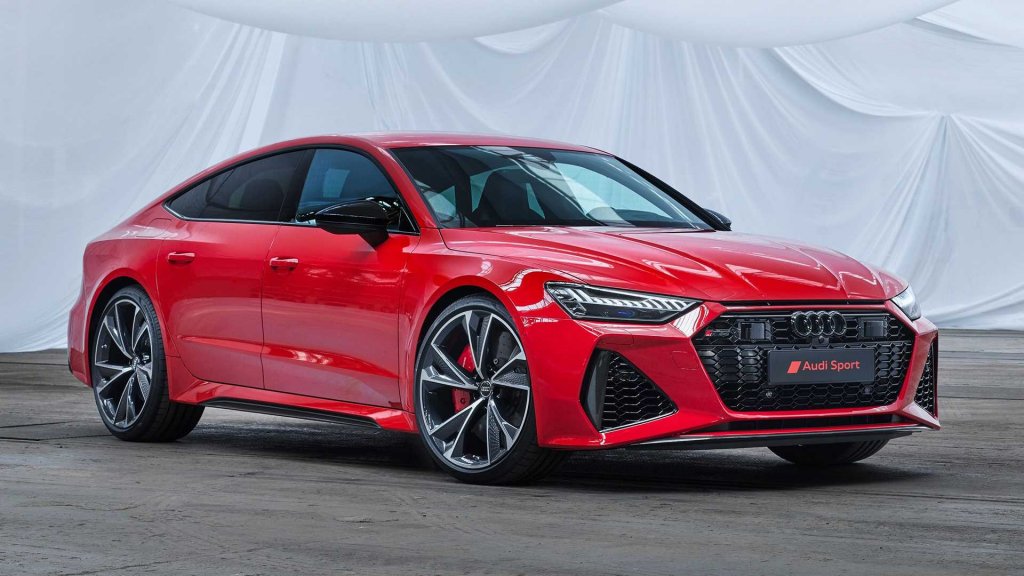 The dimensions of RS7 are as follows.
Length – 197.2 inches
Max width – 76.8 inches
Front width – 65.7 inches
Rear width – 65 inches
Wheelbase- 115.3 inches
Height – 56.1 inches
Curb weight – 4938.0 lb
Technical highlights
When we talk about the engine and power, a twin-turbo 4.0-liter V-8 generates power. It is combined with a 48-volt hybrid system, an eight-speed automatic transmission, and all-wheel drive. The RS7 produces 591 horsepower and 590 lb-ft of torque, allowing the girthy four-door to accelerate from zero to 60 mph in just 3.0 seconds in testing.  Audi says it can reach an approximate top speed of 190 mph when equipped with the most dynamic package.
The RS7 comes fitted with adjustable air suspension for a variety of ride quality options. Its normal 21-inches wheels can be replaced with 22-inches. Although the larger wheels will reduce on-road comfort. Rear-wheel steering and ceramic brakes are two more notable alternatives for better agility and stopping power.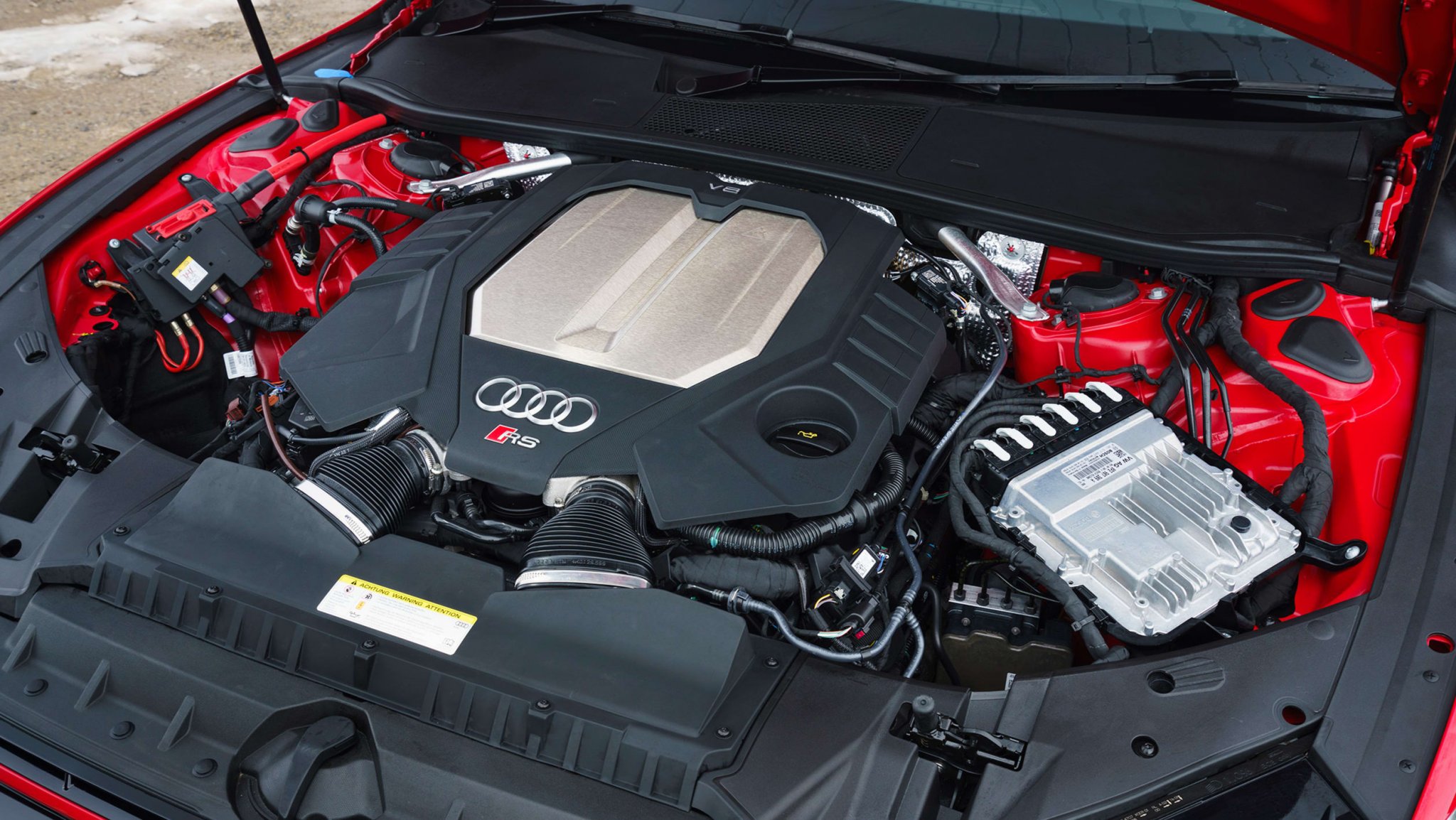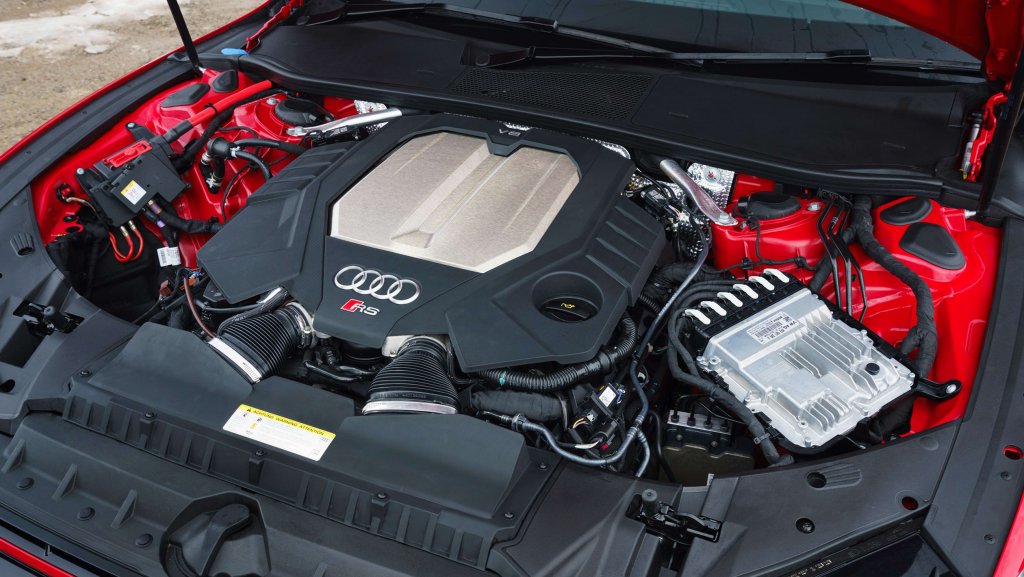 The engine is connected to an eight-speed Tiptronic automatic transmission. It distributes power to all four wheels via a mechanical center differential and a locking Sport differential at the rear axle. The mild-hybrid technology, which is a belt-driven starter-alternator, is primarily designed to decrease powertrain load. Air springs and adaptive dampers are standard. The ride heights can be adjusted based on the driving mode. The optional Dynamic Ride Control system is only for these huge Audi RS models.
The four-wheel steering system is also rather smart. It's fully 3D mapped, so unlike older systems, it's not just programmed to give you a set angle at certain speeds. Its function is now continually changing as a result of load, steering input, speed, and a variety of other factors.
Ride and handling
Due to the engine's positioning in front of the front axle, Audi automobiles are known for understeer. While the Quattro system, sports rear differential, and dynamic all-wheel steering system combined in the new RS7 don't solve this problem. They deliver a significantly more balanced driving experience. If you drive the RS7 hard enough, the sport differential may transfer up to 85% of the power to the rear wheels and up to 100% to either the left or right wheel, causing some oversteer. It's a brilliant tactic that helps to mitigate the RS7's natural understeer tendency.
The steering is sharp and precise, but it feels too light to get a complete picture of what's going on in front of you. Once they've found their ideal setup, drivers may choose between comfort, auto, dynamic, and efficiency modes, as well as a programmable RS1 and RS2 mode, using steering-wheel buttons.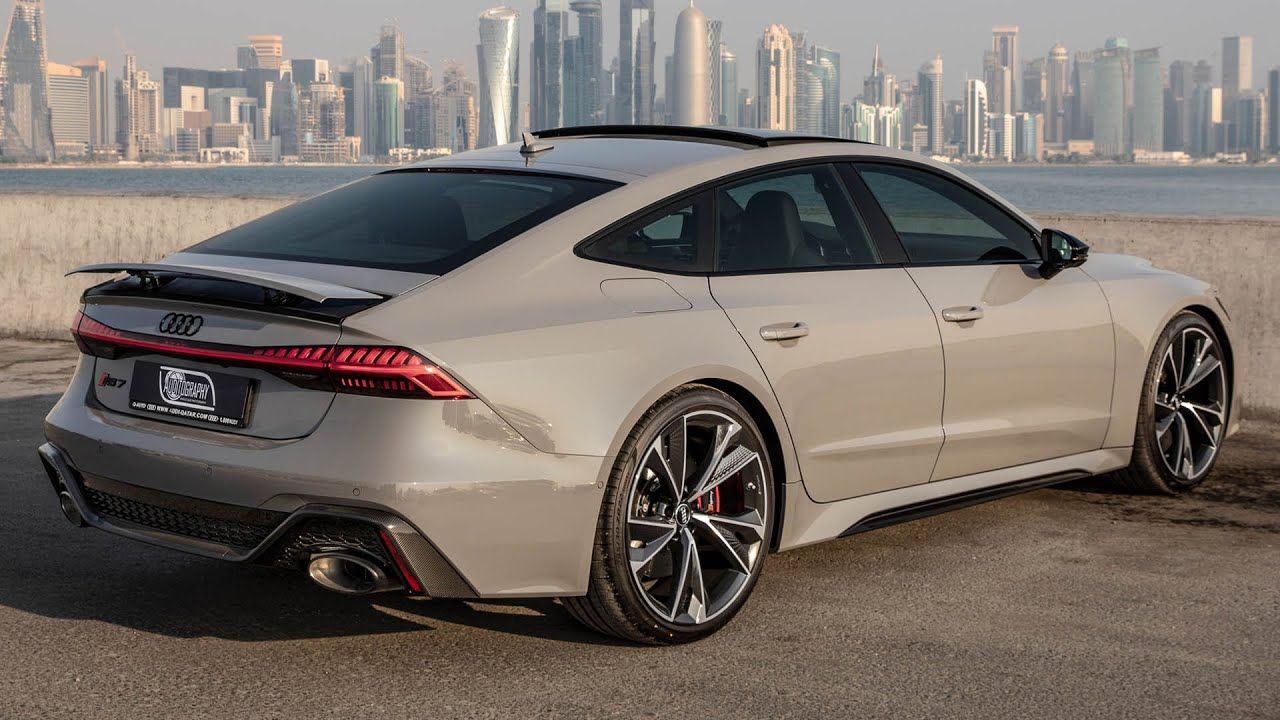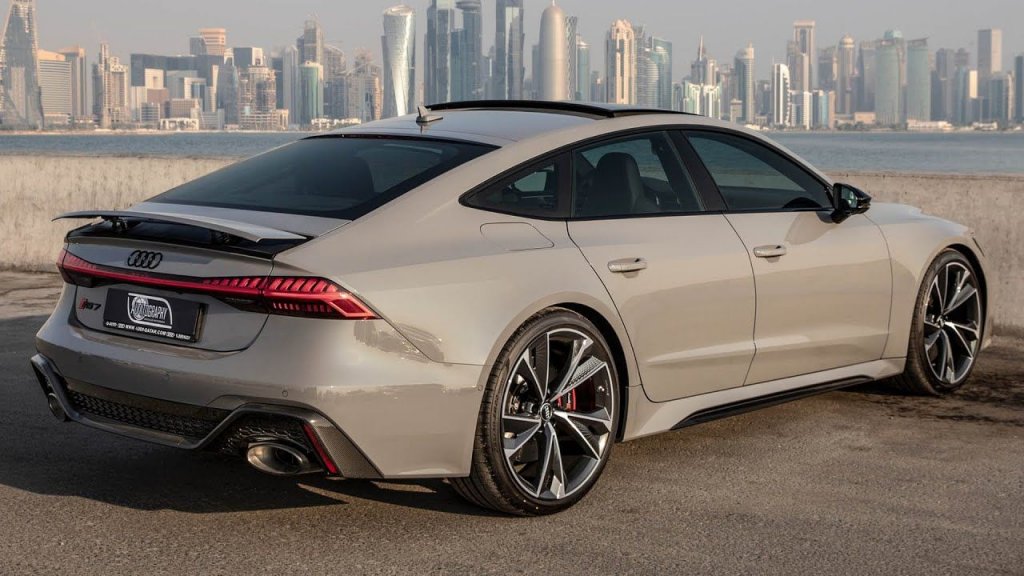 Fuel and MPG
15 miles per gallon (MPG) in the city and 22 miles per gallon on the highway are the MPG levels of RS7. It got 23 mpg in the real world after running on our 75-mph highway fuel-economy route, which is part of our extensive testing process.
Inside of Audi RS7
While the interior design and passenger room are similar to the ordinary A7, the RS model offers certain unique features and options. The vehicle's solid construction and high-end materials add to its overall quality. Even so, the RS7's cabin is decked out with trim-specific badges and other unique accents.
The RS7 seats five people in comfort, while larger passengers may find the rear seats uncomfortable due to the slanting roofline. Although the rear legroom is 37 inches, the headroom is only 37.1 inches. Furthermore, 14-way power-adjustable sport seats with heating and ventilation are standard in the front.
The front sport seats have beautiful leather upholstery. But they can be upgraded to include ventilated cushions and improved leather. Its back seat can accommodate two or three people depending on seat configuration.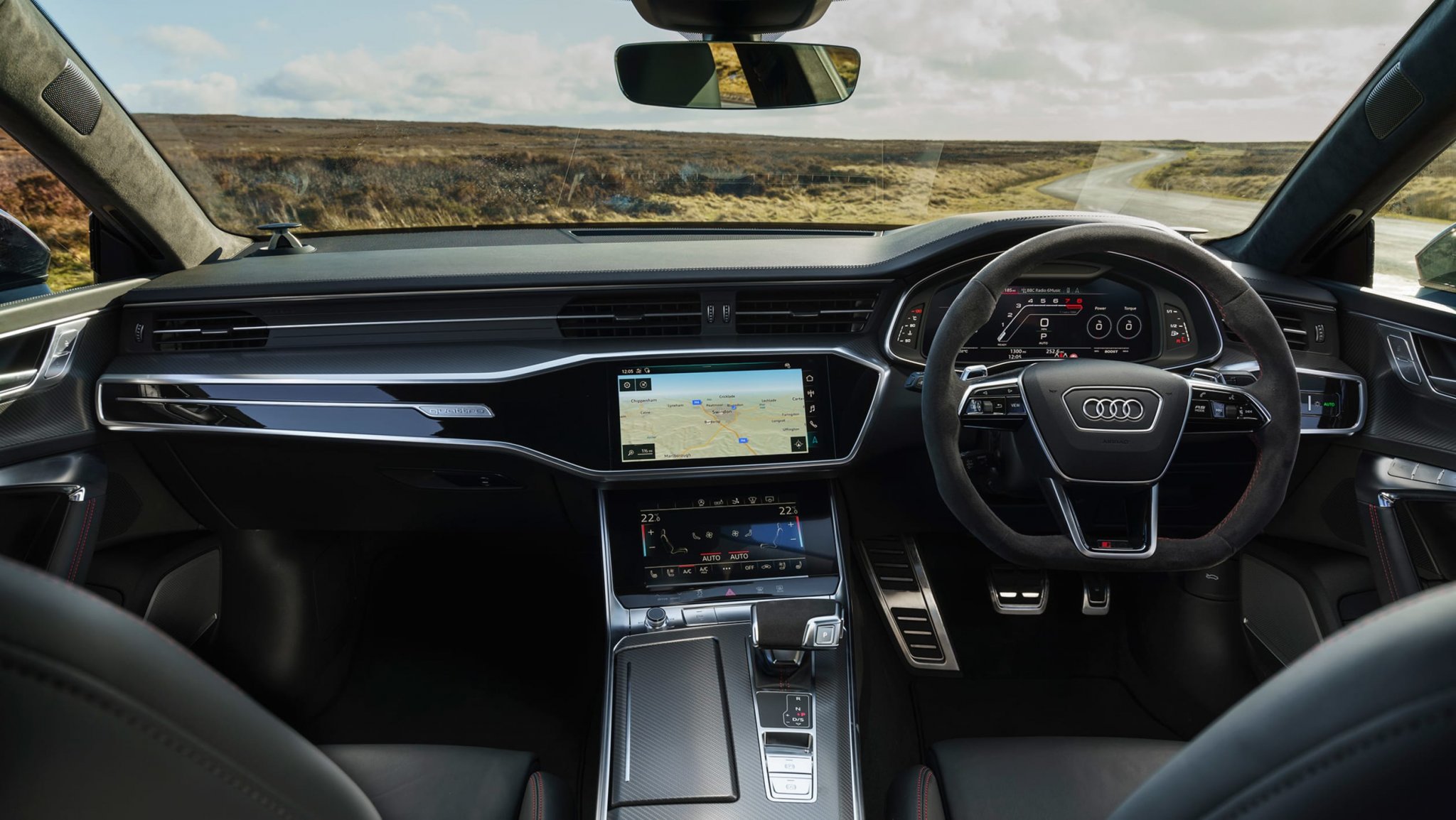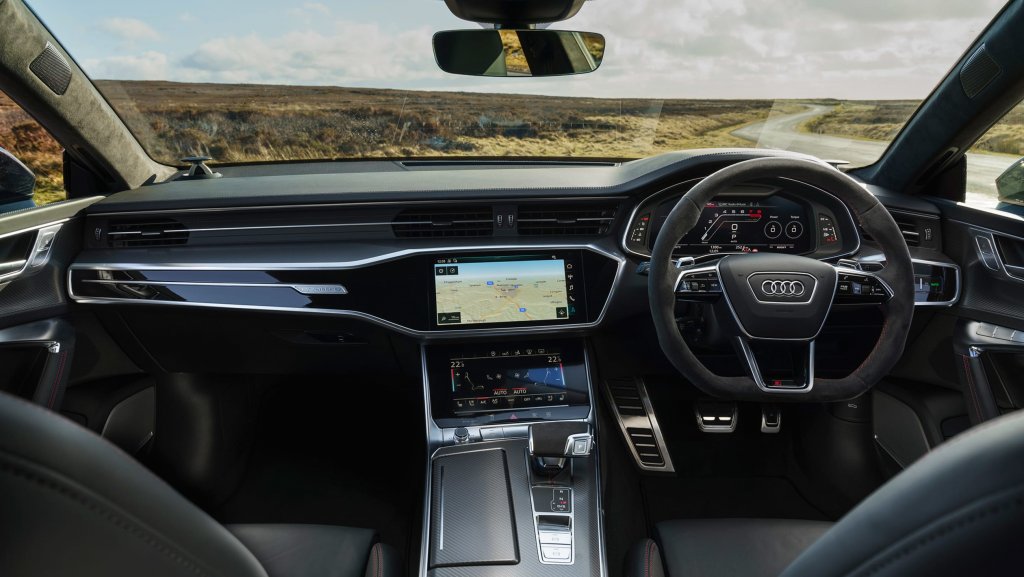 Infotainment
Every RS7 comes with a slashing infotainment system controlled by two touchscreens integrated into the upper dashboard and flowing center console. Unfortunately, the climate controls and other settings come in the lower screen that can take the driver's attention away from the road. But Audi's voice-recognition software is useful to eliminate this distraction.
RS7 comes with a capable navigation system displayed on the upper screen and expandable in the fully digital gauge cluster. Apple CarPlay, Android Auto, wireless charging, and a subscription-based Wi-Fi hotspot are all included on it. The most expensive option is a Bang & Olufsen stereo with 1820 watts and 19 speakers.
Driver assistant features
Audi offers a variety of driver-assistance features. The following are important safety features:
360-degree camera system
Adaptive cruise control
Blind-spot monitoring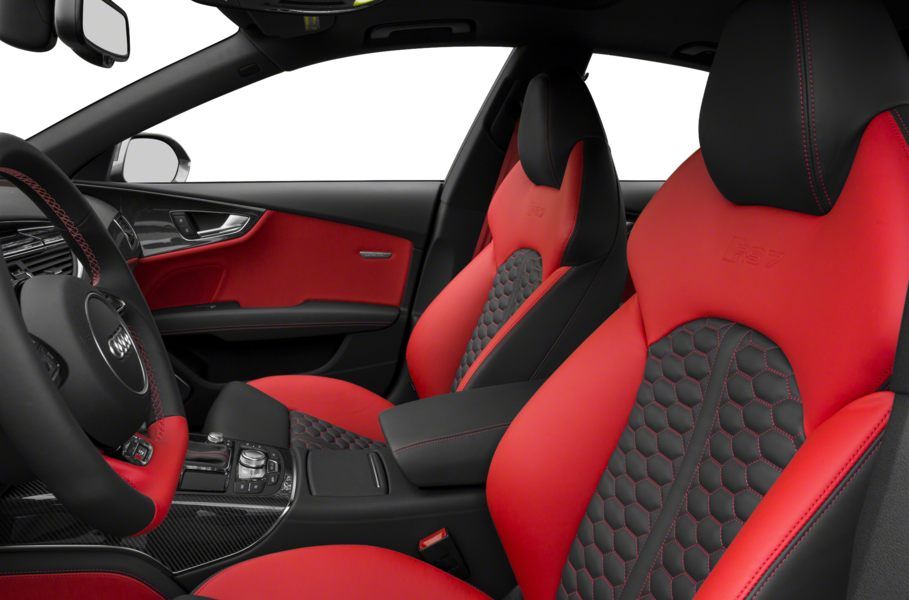 Safety of Audi RS7
The Audi RS7 is not crash tested due to its high price. However, for the A7 on which it is based, there is a partial NHTSA Audi RS7 rating available. In the one metric that was examined, a side crash, this car received a perfect five stars. The A7 has been named a Top Safety Pick for 2020 by the IIHS.
Safety features
HD Matrix Design headlights with laser lights and automatic high beams
Surround-view camera
Front and rear parking sensors
rain-sensing wipers
Forward and rear collision detection
Automatic emergency braking
Adaptive cruise control
Lane keep assist
Night vision camera
Pedestrian detection
Blind-spot monitoring
Rear cross-traffic alert
Dual front air-bags
Rear side airbags
Knee airbags
RS7 models
The RS7 has only one trim variant. But there are additional features added to the Additional Packages.
You'll need to upgrade to carbon-ceramic brakes if you want to reach the RS7's ultimate top speed of 190 mph. These are available in grey or red for $8,500 and $9,000, respectively. In comparison, you can get red calipers with regular steel brakes for $500 if you only want the aesthetic. A $1,000 performance exhaust with gloss black tips is another excellent feature available on the RS7. Blind-spot monitoring costs $500 on its own, or $2,250 for the Driver Assistance package, which includes adaptive cruise control, lane keep assist, traffic sign recognition, and rear collision preparation.
Audi RS7 2022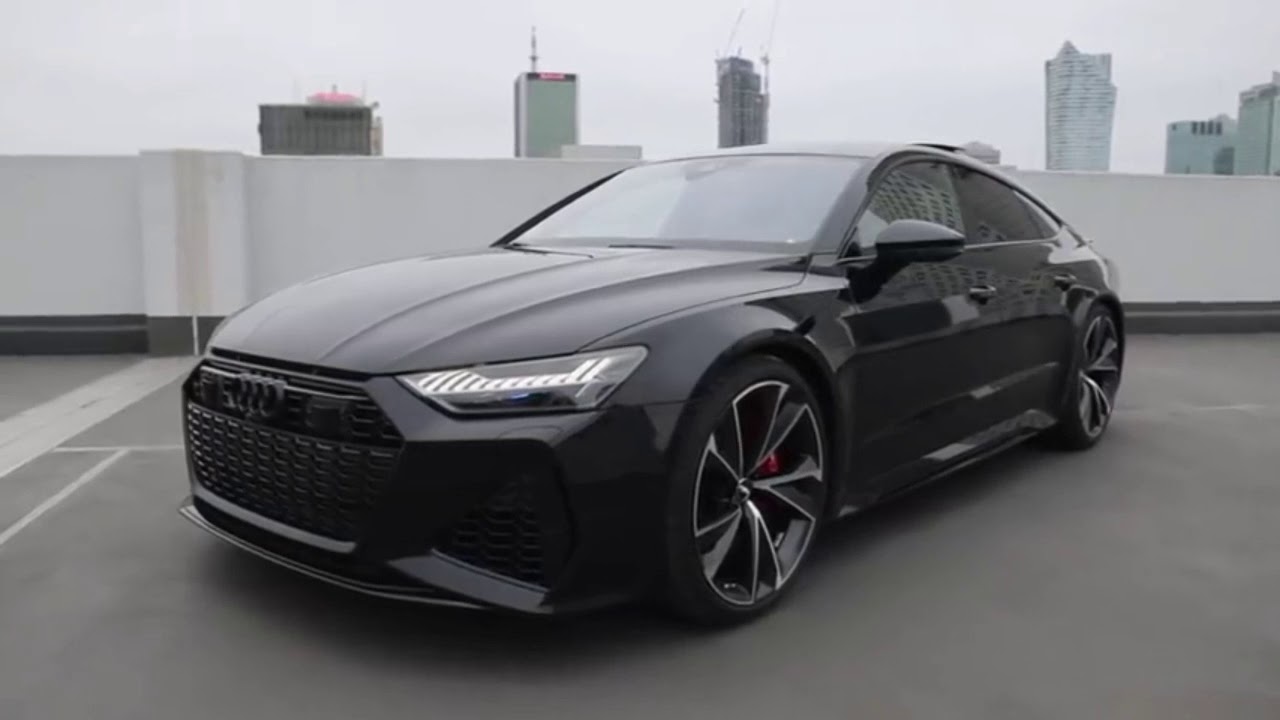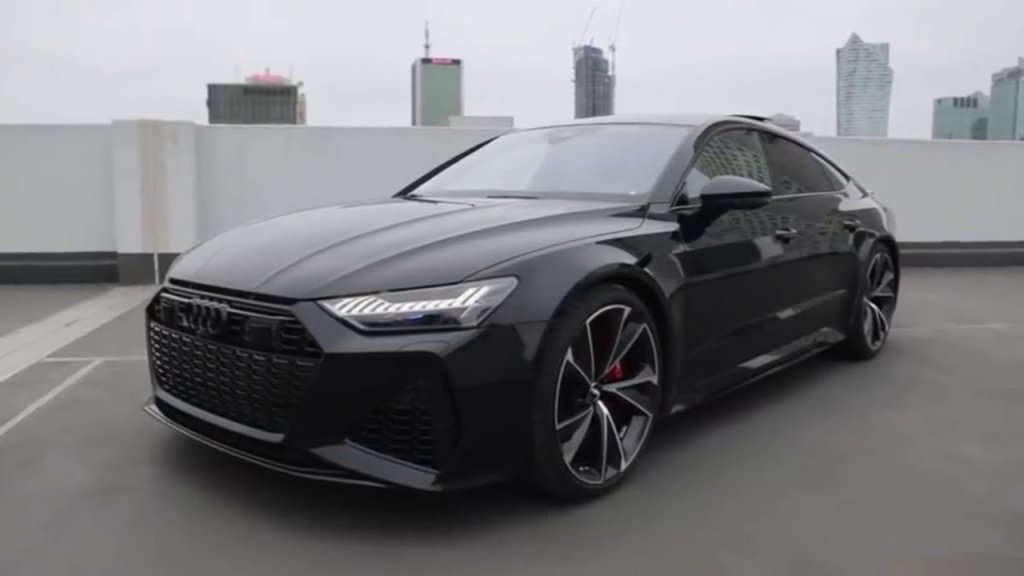 The Audi RS7 is a super-high-performance hatchback that's as bold as it is luxury, arriving in 2022. Audi's RS Design option for 2022 adds unique floor mats, black seatbelts with a red or grey border, and more micro-suede surfaces throughout the cabin, notably on the new flat-bottomed steering wheel, enhancing the RS7's sporty image. In addition, carbon-fiber-look trim is now standard on the interior. Dynamic Ride Control, which is said to reduce body roll in corners and improve handling, may be added to the RS7's suspension.
Visit the previous review of Audi Q3 2021.
Author of Get Basic Idea – The Knowledge Base / Bachelor of Technology – BTech, Mechatronics, Robotics, and Automation Engineering.