How to download and install CokerNutX on iOS
In a previous article, we have been talking about CokerNutX features and how to download the CokerNutX on your PC. In case if you miss that interesting article and need to download the CokerNutX to your PC click here to go for it. And now we are going to know how to install CokerNutX on iOS.
Here is a brief description of CokerNutX on iOS anyway.
It's a third-party app for PCs, Android, and iOS.
Get over 5000 tweaked applications without your phone being jailbreaking.
Any app or game in the library is free of charge.
Support over 90% of iOS users.
Now in here, we are ready to know how to download and install CokerNutX on iOS. So you can take your iPhone, iPad, or iPod out and get ready to install the CokerNutX now.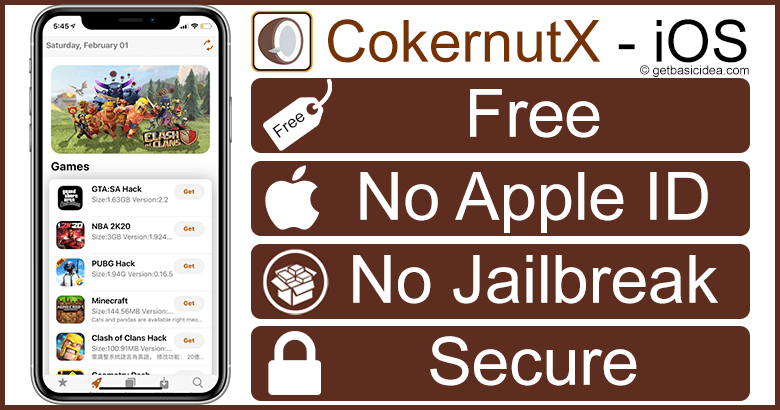 Install CokerNutX on iOS
First, go to the download link that is provided here. Just give a click.
Now go to the file and select Install.
Now on your home screen, you will find the icon. Leave it alone. If you tap on it, it will show you an error message saying "Untrusted Enterprise Developer".
Go to your Settings, then go to General Settings, and go to Profile. Here you should trust the application profile.
Now you are ready to use the CokerNutX on iOS.
Frequently Asked Questions
Is it safe to use CokerNutX?
Yes, downloading and using the CokerNutX application is secure. Anti-virus software has tested its protection.
Could I meet the developers of CokerNutX?
No doubt, you can contact the CokerNutx App developers. On their social media account is the best location for this is (Twitter).
How do you identify the applications to include?
Only the famous games and apps were included when the app store was first created. Over time, the interest in the shop has been growing, and many more applications and games have been redeveloped, giving users anything they want, for free.
Is advertising permitted?
No, the store is not allowed with any advertisement apps. It does have some advertising in the app, but that's how they make money so you can get a free app store, and they won't disrupt your app experience.
Is republishing permitted?
Absolutely. It helps you to republish anything you want. CokerNutX is an open-source application.
Why do you want CokernutX downloaded?
While the CokernutX is the latest in a long list of jailbreak options, it does not deliver as many applications and games as the others. It is secure, safe, and easy to use without mentioning it free of charge and provides users with a great app experience.
Author of Get Basic Idea – The Knowledge Base / Bachelor of Technology – BTech, Mechatronics, Robotics, and Automation Engineering.