Dress Boots for Women – Different Types and Styles in Fashion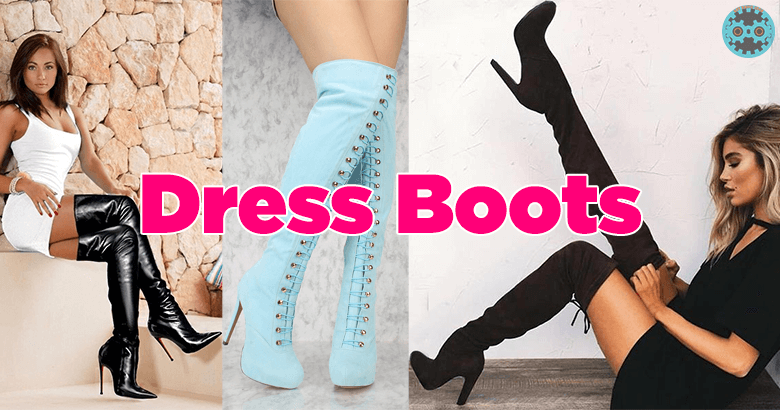 Women enjoy doing many things, and out of these many things comes fashion. When we start talking about fashion it is a topic that has no end. Today, we are going to look at Dress Boots. Are you someone who enjoys wearing boots? If that's the case, this boot style guide is for you! This post is for you if you enjoy wearing boots or want to wear them more frequently but need ideas for different ways to wear them during the year.
Let's get this party started!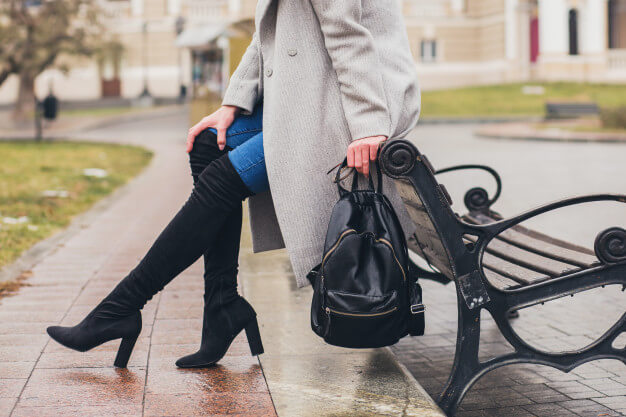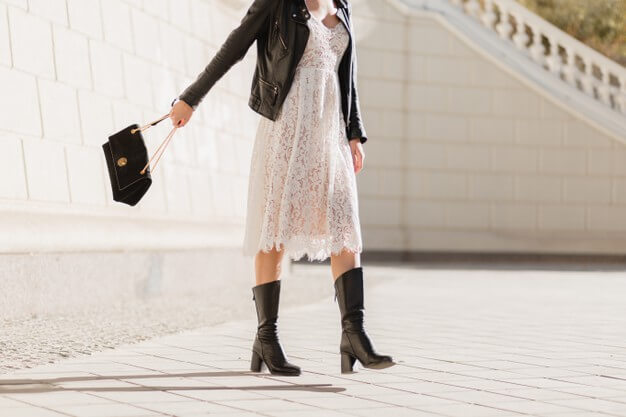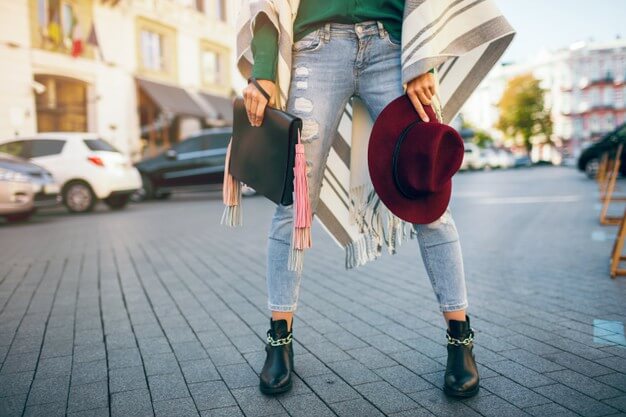 Different Types Of Dress Boots
Before we get into how to wear different styles of boots, let's take a look at the different types of boots you can purchase. In this article we are going to talk about the various kinds and types of boots and which styles suit each of these boots and how you may style them to make your day look fashionable!
You can tackle boot shopping in two ways. Either you have to look for those boots that you can save up to more than a decade due to their quality and material even though you wear them again and again or else you need those best fashionable boots that you can pair up with almost all your outfits and cannot wear it for that much longer.
Understanding Boots
Whether trendy or traditional, each style has a range of prices, so you'll find shopping choices for both in the sections below. Not all of us have a very large budget for shopping alone, therefore it is best to be on the lookout for a more affordable choice as well as fashionable boots that let you invest in them and also lets you enjoy them for many years. One main factor that contributes immensely in styling your boots outfit is your body shape as well. Make sure to initially understand what type of body shape you possess to make the styling easier.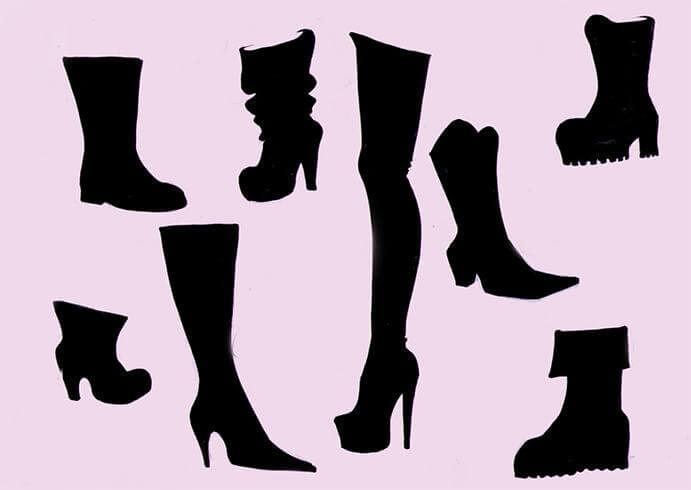 Ankle Boots For Your Outfit
Ankle boots are usually the most common or popular type of boots worn by most women on daily basis. These ankle boots are boots that are very easy to match and pair up with many outfits and these are a personal favorite among ladies too. Let's start by defining the differences between boots and ankle boots. Ankle boots can be one to four inches above the ankle, while boots stop right at the ankle. If the boots were any higher, they would be considered a mid-calf boot. It's simple to remember: the boot is named after the part of your leg where the boot ends.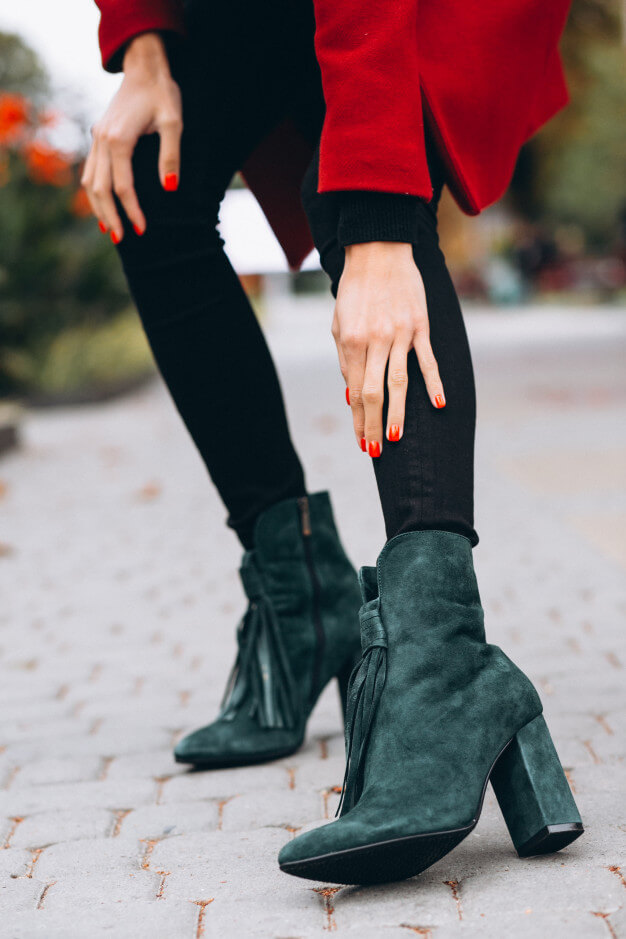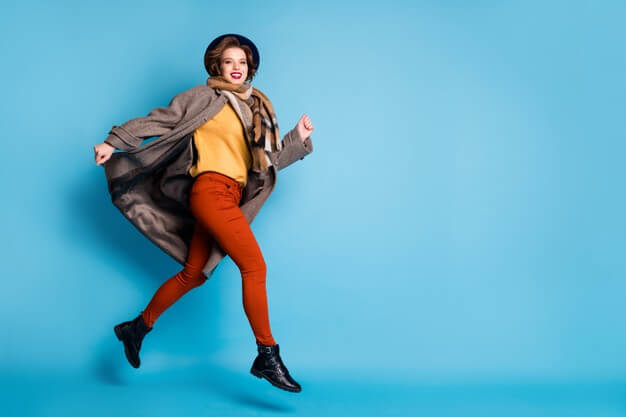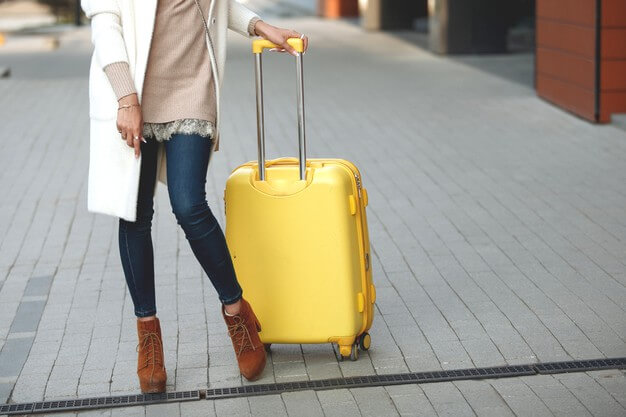 Classic Boots To Make You Look Classy!
Classic ankle boots are a must-have pair of shoes! For these make sure that you choose a brown or a black ankle boot. These boots are a great choice since they have a slightly pointed toe rather than having a round toe. And when it comes to classic boots which women wear a lot, the pointy toes are more attractive and flattering. Since that boot has a thick stacked heel, you can walk a lot in it without getting tired. The detailing visible on the side of these boots are those that add interest and dimension without being very overpowering. It comes with many other types and designs such as the black suede, black embossed, and as well as the black leather version.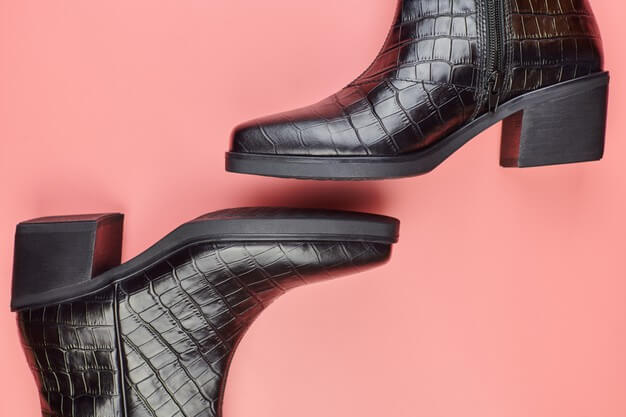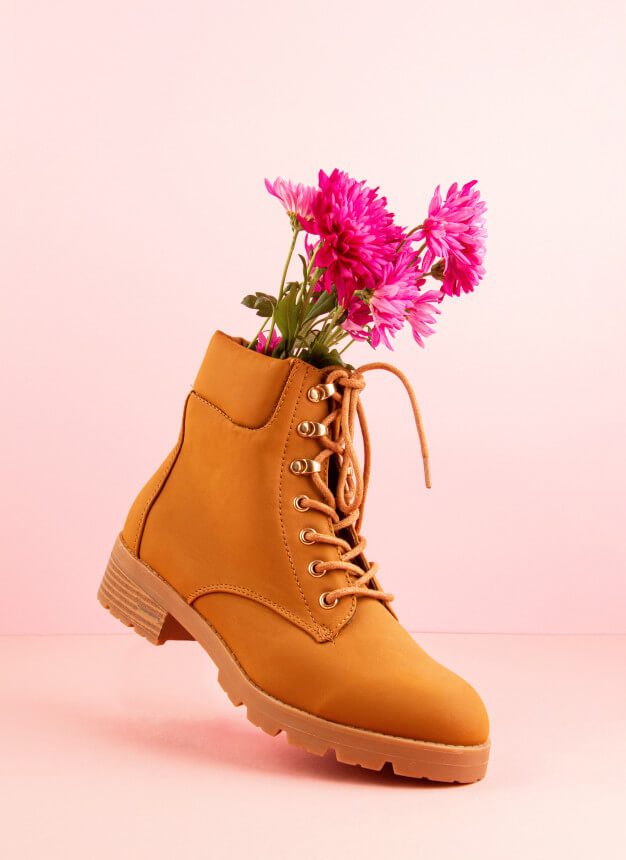 Mid-Calf Boots That Go With The Trend
The boot with the mid-calf cut! My least favorite style of boot is this one. These boots usually end right at the thickest part of your calf and If they are not worn the right way they would definitely make your legs look even more short, large and stumpy! You normally want your boots or clothing to stop at the slimmest areas of your body, but that doesn't mean they can't end anywhere else; they're just more difficult to wear.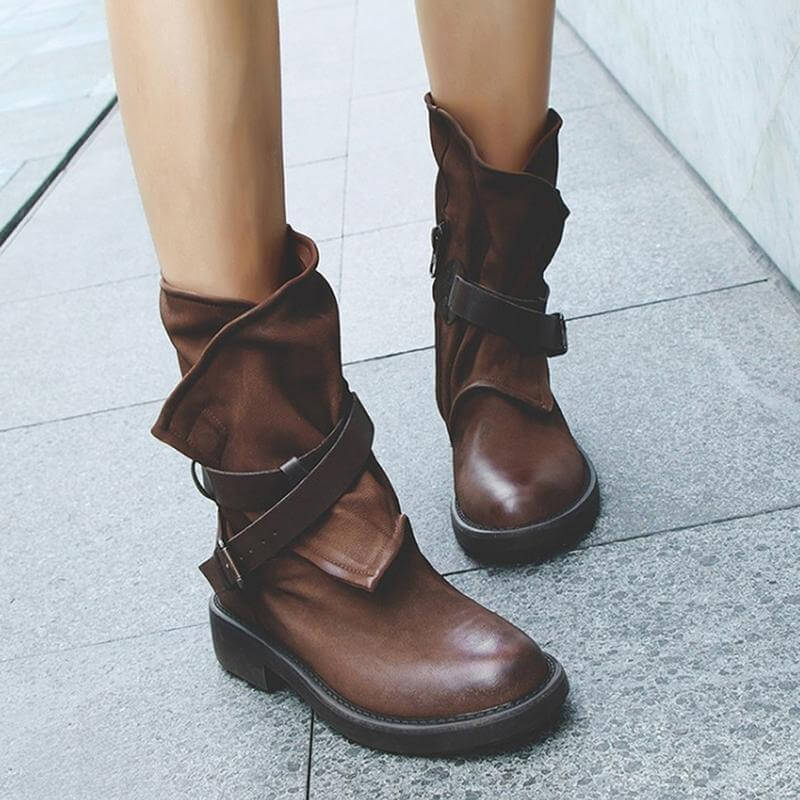 Knee Boots Always Looking Vogue
I believe that the higher the shaft of the boots, the more sexier they become. We've progressed to knee-high boots. Knee boots get my approval with a huge thumbs up. I'm a sucker for a pair of sultry knee boots. They build a very trendy and sexy look when worn with super skinny blue jeans or a skirt. Brown and black suede or leather knee boots are, unsurprisingly, my favorites. The shaft is super straight and stiff, with minimal construction and no fabric slouching. The more slick and straight the boots are the stronger. Instead of skinny heels and shoes most women prefer a more thicker stacked heel along with knee boots. The thick heel balances the boot's high shaft and gives it a balanced appearance.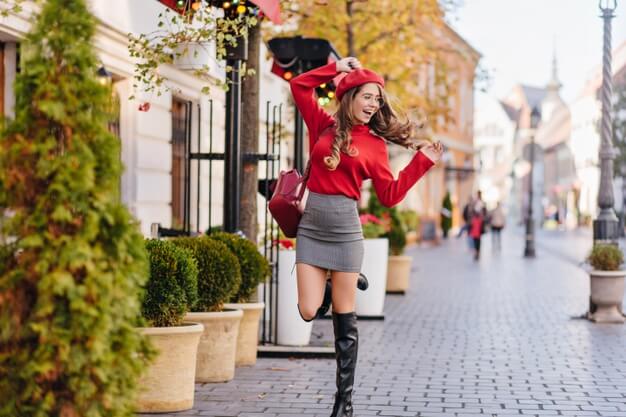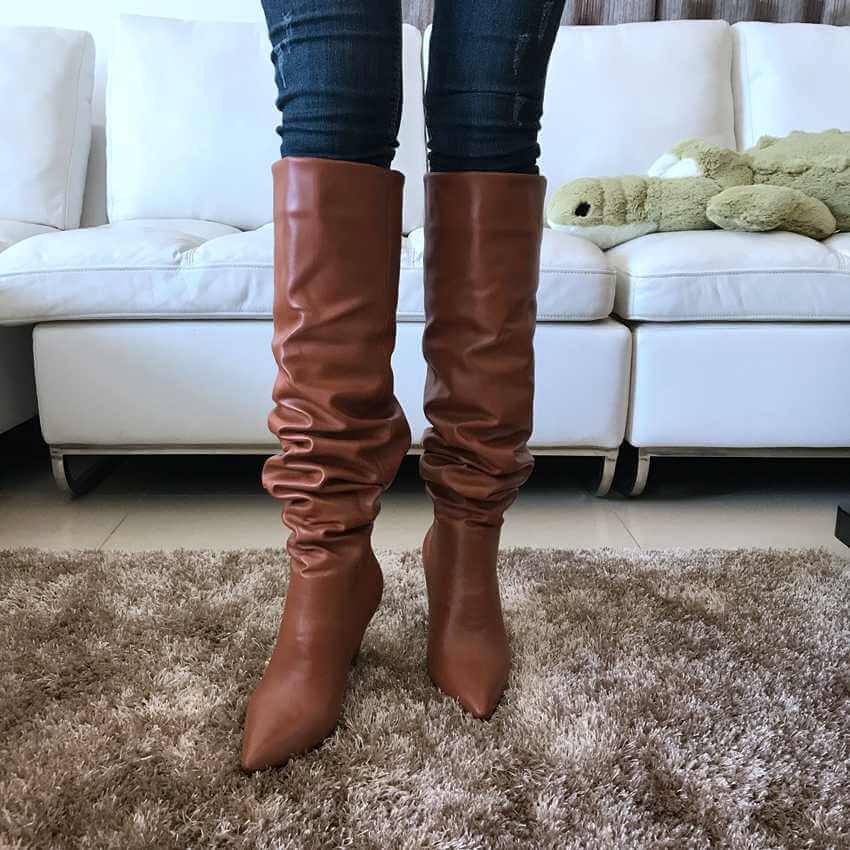 Over The Knee Boots Giving A Touch Of Sexiness
Over the knee and calf, high are similar to ankle boots and boots, with the exception of a few inches. I haven't seen an exact description of the difference between over the knee boots and thigh-high boots, but after much study, I've come up with the following: Over the knee boots have shaft lengths of 20 to 25 inches, whereas thigh-high boots have a shaft length of more than 25 inches. You might as well notice that there is a difference between how the top of these boots end and as well as how the bottom of these boots end. the shaft of these thigh boots appears to get bigger as they are visible to the closer of the tip and therefore they go up to your thighs.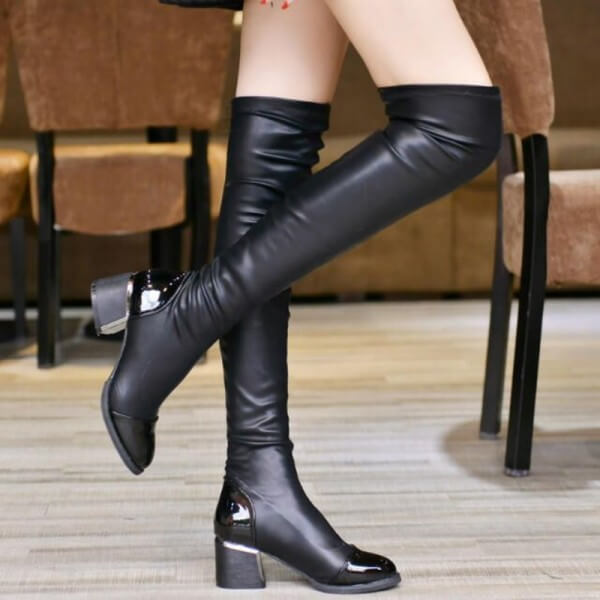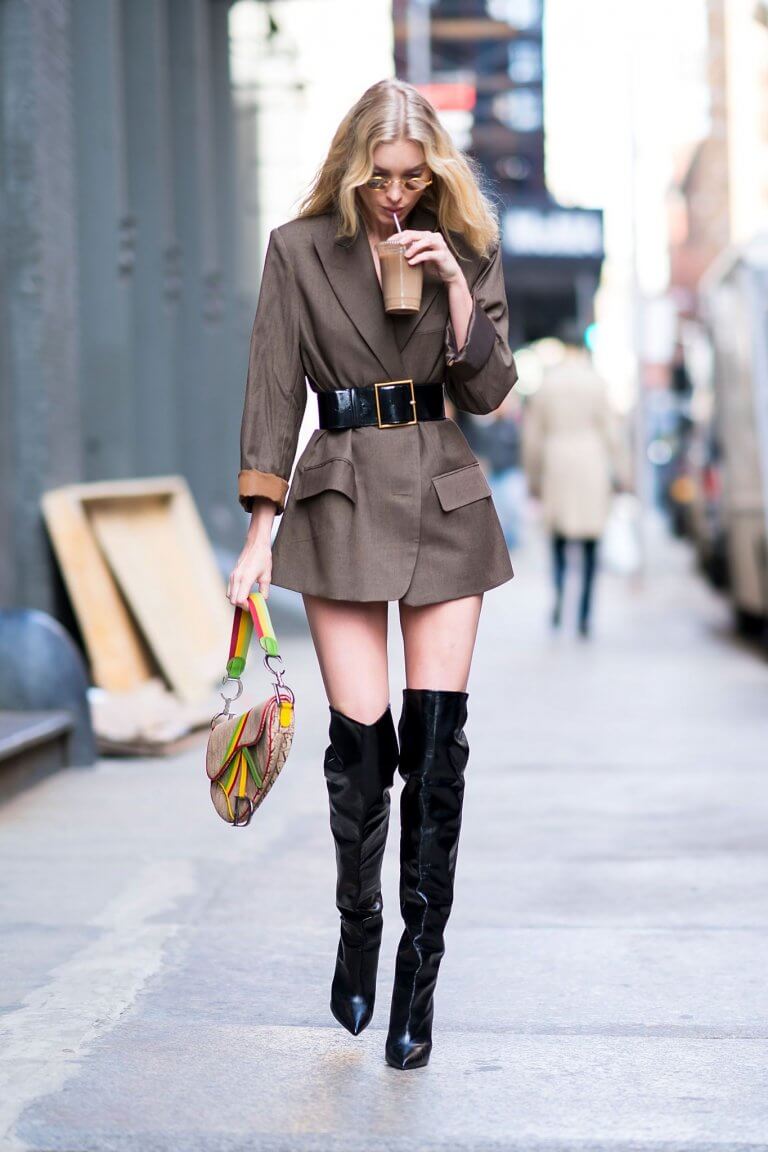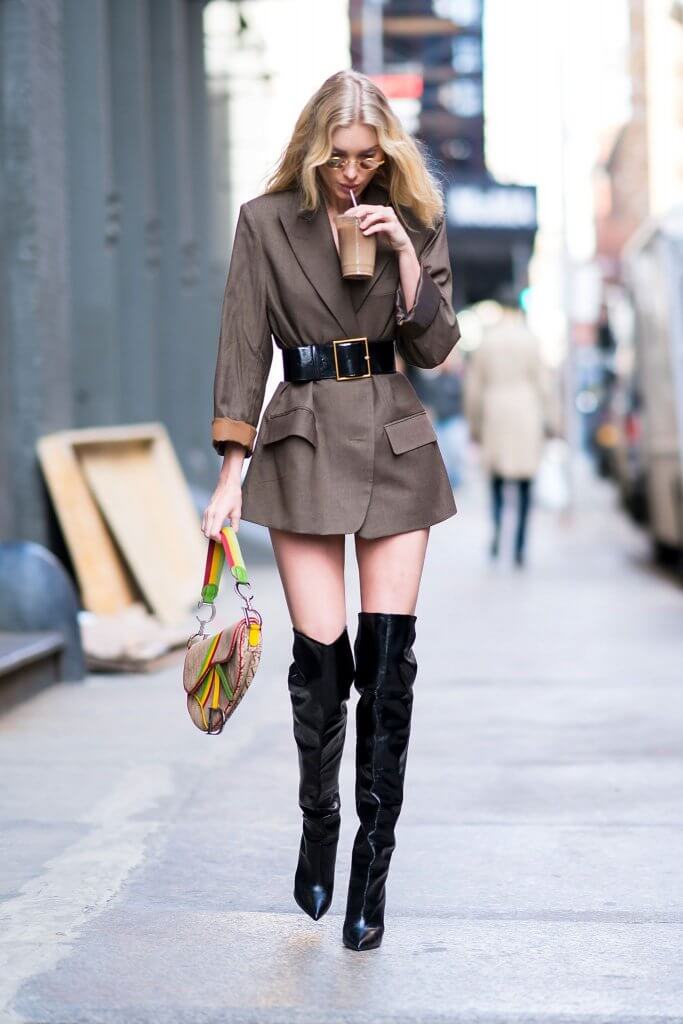 Numerous Outfits With Boots For You
The possibility of mixing and matching your outfits along with boots is a never-ending process and therefore you can have a huge list of boot outfits for the upcoming seasons. This is a collection of my favorite blog boot outfits, including boots with jeans, over-the-knee boots, brown and black boots, and more. A standard black or brown riding boot can be all you really need, based on your style and individual preferences. If you're a boot lover like most ladies, go for flat embellished ankle boots, black and brown heeled ankle boots, furry snow boots, and black suede over-the-knee boots.
Boots – Coloured Denim
What do you pair with a pair of skinny-colored jeans to make them look fresh and fun? When it comes to the beginning, boots are always a great place to start. Most fashion bloggers have their own designs and styles and are obsessed with camel boots, which look amazing with sporty raspberry jeans. The ensemble is finished off with a tailored jacket and a chic scarf, which is ideal for bopping around on a gorgeous fall day. Try new ways of styling jeans in new and inventive ways, such as adding vibrant tops and statement accessories, particularly scarves, to give your outfit a signature style that is stylishly casual.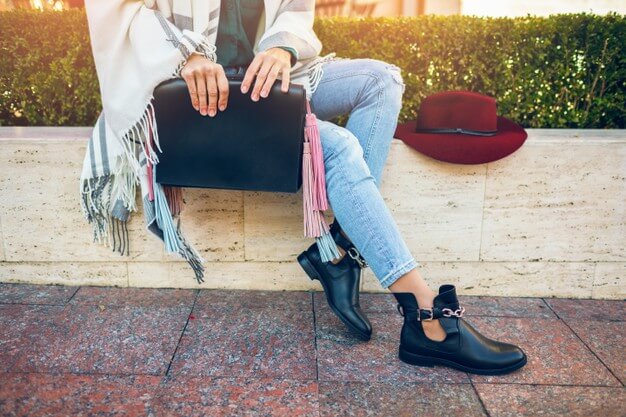 Boots – Dresses
Take a break from the heels and pair a dress with a pair of tall sexy boots. Boots are always a nice and interesting option to spice up the way your dress looks. With your dress and belted blazer, experiment with different ways to create a light, neutral palette, and see if you can pair it with a long fall boot. The chestnut brown color is particularly striking. They stand out against the peach and beige. Various girls can be seen combining colors, prints, and textures to wear to work or on weekends.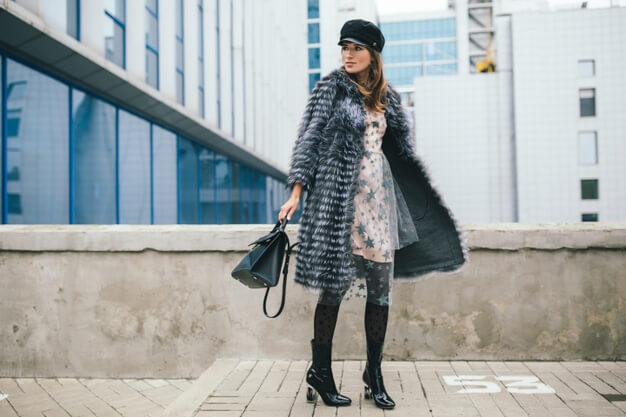 Sexiness To Your Outfits
Then when we come to the talk of the fall boots, most of the women think that the short ones are the right choice to go with. They turned up the volume on sexiness when they paired these black leather boots with a stunning fuchsia silk shirt. The majority of women enjoy combining fashion, craft, and travel. We believe that fashion designers are undervalued, and as a result, women often dress inappropriately, often in clothes that would be more fitting for their daughters. Women in their 40s, 50s, and beyond should still realize that they can look young, trendy, and respectable. Don't miss out on our trendy finds and fashion inspiration gleaned from travels around the world.
Boots Along With Jeans
This may be one of the well-researched ways to pair ankle boots or boots with jeans! When it comes to different ways of styling boots, this is one of the most basic and straightforward methods. So, if you're looking for ways to wear boots with jeans, there are plenty of options below!
Jeans Dressed Up With Boots
An oversized turtleneck, a matching brown blazer, a belt, and distressed jeans would complete anyone's ensemble for the day. All in all, this outfit would definitely be something very comfortable and cozy that can be worn even on a date or on a day out with your friends. The distressed jeans are balanced by the blazer, resulting in an outfit that is comfortable but not too casual. Since the oversized sweater is comfortable and relaxed, the blazer helps to give the outfit structure
The brown boots stop near the thinnest part of your body. It gives the impression that your legs are much longer and leaner than they actually are. Boots do not cut you off more than a few inches above your ankle, since this would make you appear shorter. In addition, since the turtleneck on this sweater is so huge, you can also pull your long hair back into a side French braid bun. It maintains the appearance of the suit!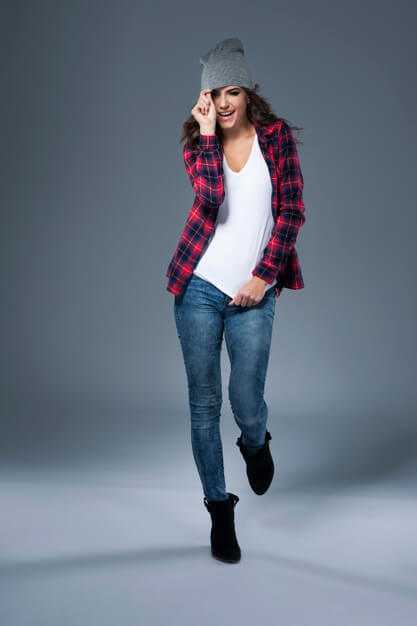 Jeans With Flat Brown Boots
Pair cuffed denim jeans with flat brown boots and a matching bomber jacket for laid-back boots and jeans look. Add a brown leather jacket and brown ankle boots to complete the look of a white t-shirt and jeans for a weekend spent outdoors. Overall, this is a comfortable and fashionable casual dress.
Embellished Boots Outfit – Black Jeans
The embellished boots, which are the focal point of this outfit, don't require much support when it comes to the dress. With no additional embellishments or prints, I kept the blazer, jeans, and long sleeve shirt plain. The ideal fall outfit consists of taupe flat ankle boots combined with bright green, brown, and black.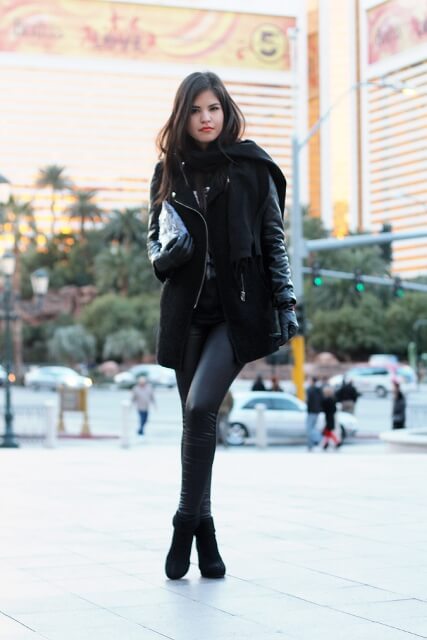 Boots Combined With White Jeans
This unexpected pairing is one of my favorites, particularly in the fall. When you decide to wear these ankle boots with your jeans that are white. Make sure to keep in mind the color scheme of this outfit and the color of your boots. Make sure to keep the color palette light within that outfit with a light gray turtleneck and a white and gray scarf. The light brown boots have a cute buckle detail. The crossbody bag provides the only splash of color.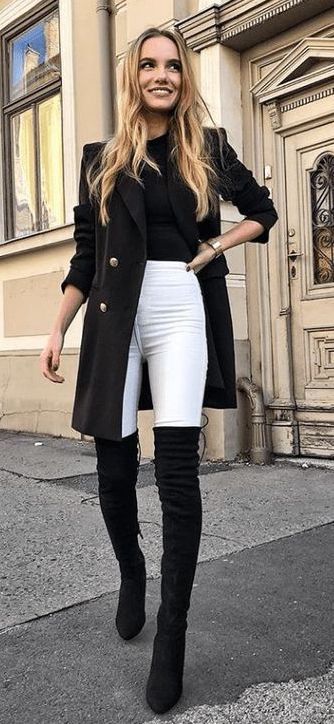 Boots Paired Along With Skinny Jeans
The base of this outfit is that it is a pair of a black tank top and a pair of black skinny jeans. Make sure to first add a big printed cardigan to this outfit to make it cuter. Since the tank top and jeans are so form-fitting, the broader style of the sweater provides a lovely contrast to the look. Then, to add attention to the bottom half of the dress, try to wear embellished boots with a lot of detail. Finally, a black bucket bag, bracelets, and a bun finished off this boots and jeans look.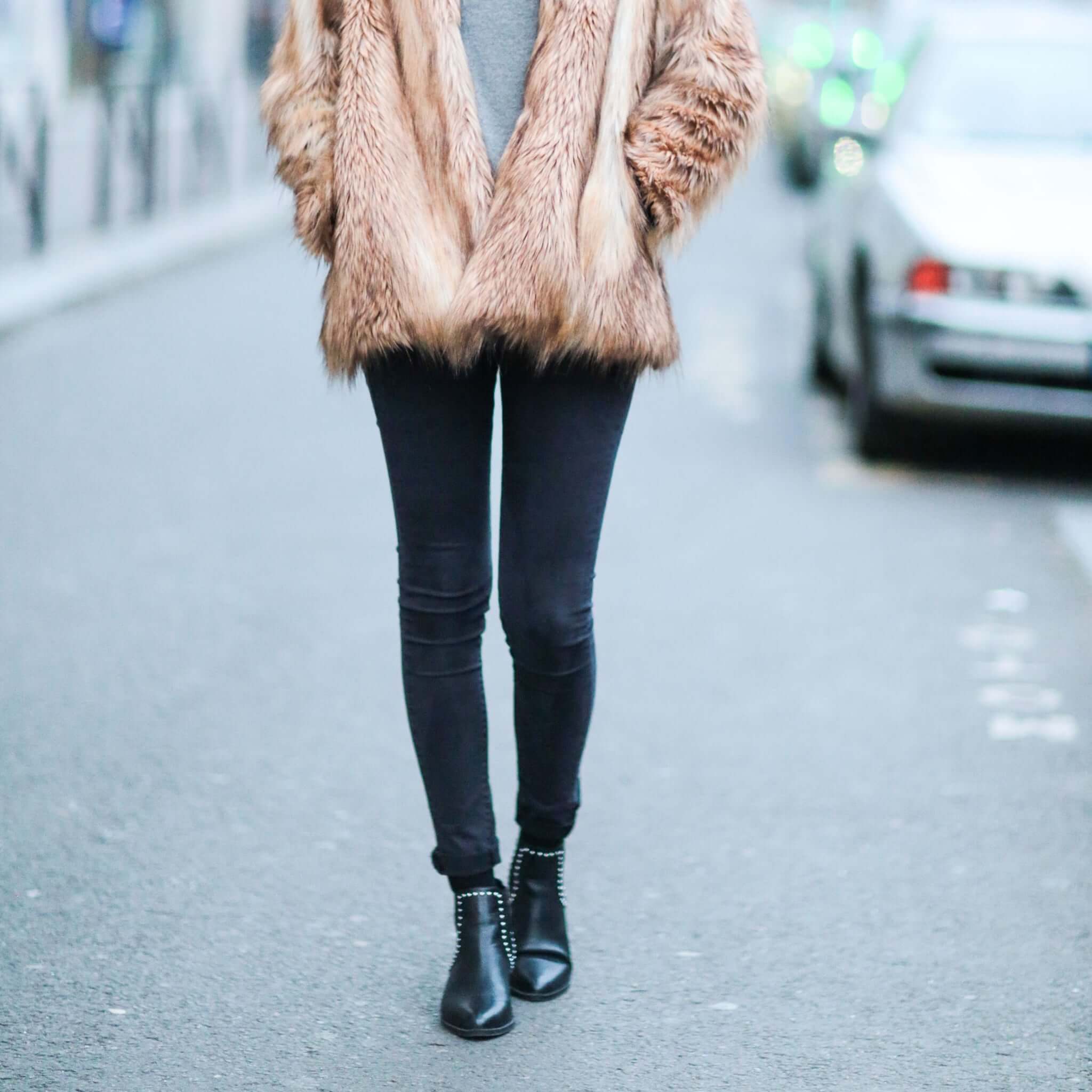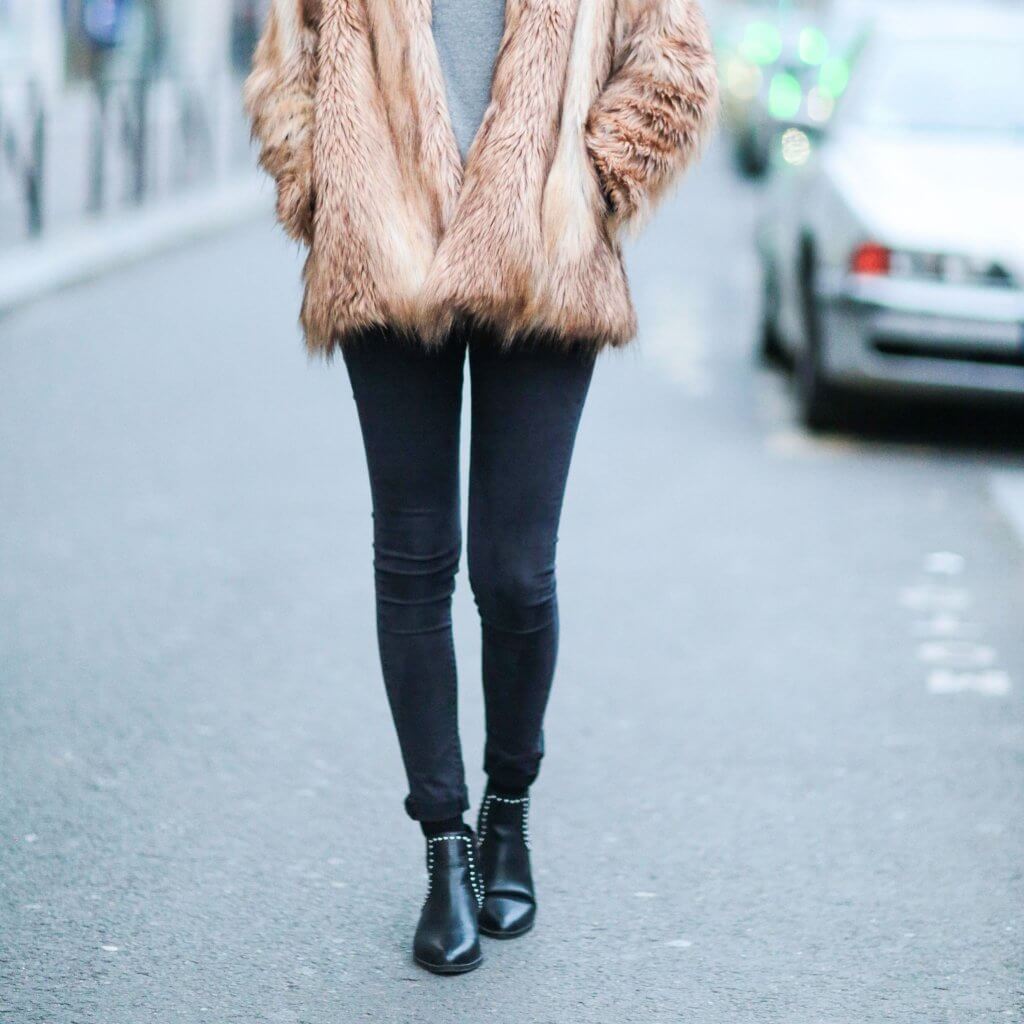 Wearing Various Types Of Dresses With Boots
If you're looking for outfit ideas for how to wear a dress with boots during the year, here are a few suggestions. When putting together these dress and boots outfits, keep in mind what I said about maintaining a sense of balance and looking stylish every day. It's all about teamwork and balance. The goal is to make your boots match your outfit and achieve the look you're aiming for.
Dress Boots – With Ankle
You can be a little more adventurous in your fall wardrobe and go bare-legged with a form-fitting dress and your favorite black ankle boots. With this long-sleeved dress and leather jacket, these edgy ankle boots looked fantastic. The black leather boots contrast with the leather jacket, and the outfit's color scheme is dark. Most women really like the thick stacked heel on these black ankle boots, as well as the little tie accents at the top. The ankle boots are given personality by the added accents.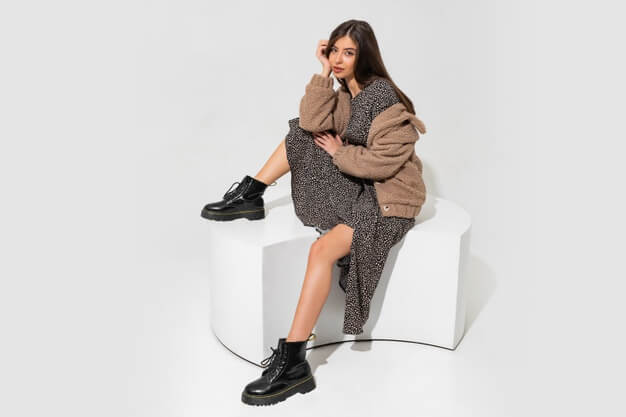 Dress Boots – Casual Ankle Fall Outfit
Everybody definitely would like to have fun with their fall looks, so for this look, you have to go for a fashionable look and paired a dress with a pair of flat embellished boots. A long coat, a scarf, and a gray hat were worn with this black dress. If you like the look and can get away with it, we all women think pairing a dress with boots is a pretty cool combination. It's a little off-kilter, but it fits with a well-balanced suit.
Dress Boots – Sweater
Suede boots and tights go together like peanut butter and jelly, so pair them with a soft cardigan and a neutral sweater dress. Instead of trying to dress up these slouchy suede boots, we found people wearing them with a sweater dress and a long cardigan over it. A sweater dress paired with boots is a perfect fall outfit.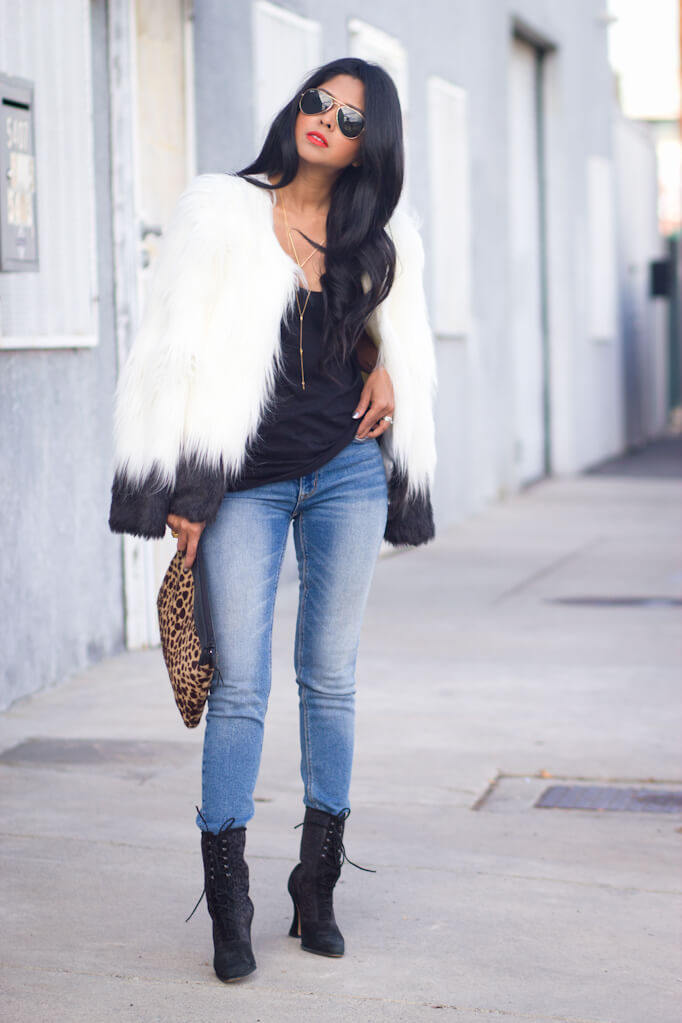 Ways To Style Your High Knee Boots
The most important thing to remember when wearing knee-high boots is that anything you wear underneath them should be form-fitting. This entails wearing skinny jeans, leggings, tights, or boots that aren't below the knee. When wearing knee boots, keep your lines straight; you don't want your bottoms piling up at the top or inside your boots; it looks messy and is very uncomfortable. We're also certain that you'd enjoy a range of these boot styles, ranging from brown suede knee boots to black flat knee boots.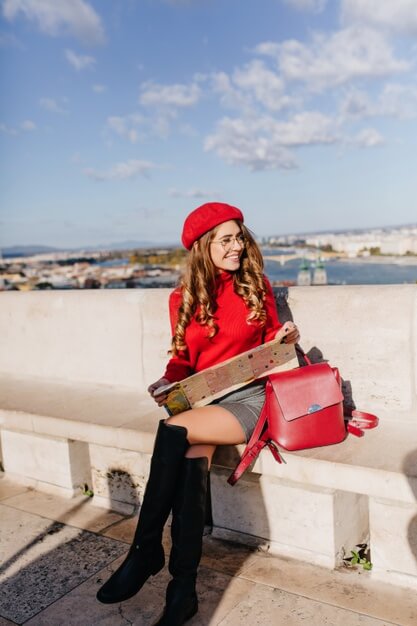 Black Flat With High Knee Boots
These boots are a cross between biker boots and riding boots with a flat sole. They have a rugged but stylish look to them, which you would also like. These boots can be worn with black skinny jeans to build a single fluid line that made me appear taller and leaner. Since the bottom half is form-fitting, you can pair it with a looser sweater and a gray boyfriend beanie for a cute fall look. Take note of the color coordination in this ensemble. Although black, burgundy, and gray aren't many colors, they work well together.
High Knee Boots For Jeans
If you're unsure what to wear with brown boots, we have the simplest option for you. To add a pop of color to your outfit, pair them with dark wash denim. You can pair these knee-high boots with dark-wash skinny jeans, a brown sweater, a brightly colored scarf, and a burgundy hat in this outfit example. Making your outfit The most important thing to remember when wearing knee-high boots is that anything you wear underneath them should be form-fitting.
This entails wearing skinny jeans, leggings, tights, or boots that aren't below the knee. When wearing knee boots, keep your lines straight; you don't want your bottoms piling up at the top or inside your boots; it looks messy and is very uncomfortable. interesting is always important; this can be achieved with a colorful accessory or both. As you might know, I enjoy wearing hats, so the hat is the personal touch in this outfit.
High Knee Boots With Leggins
As previously mentioned, it is preferable to wear form-fitting bottoms with knee or over-the-knee boots. In this knee boots outfit, we've paired very casual brown knee boots with black leggings. After that, I added the slightly oversized cardigan, mustard yellow top, and olive-green hat. This boots outfit is perfect for a casual afternoon lunch or a relaxing fall weekend with friends. This outfit has a great color combination, and the patterned sweater provides a nice contrast to the other strong bits.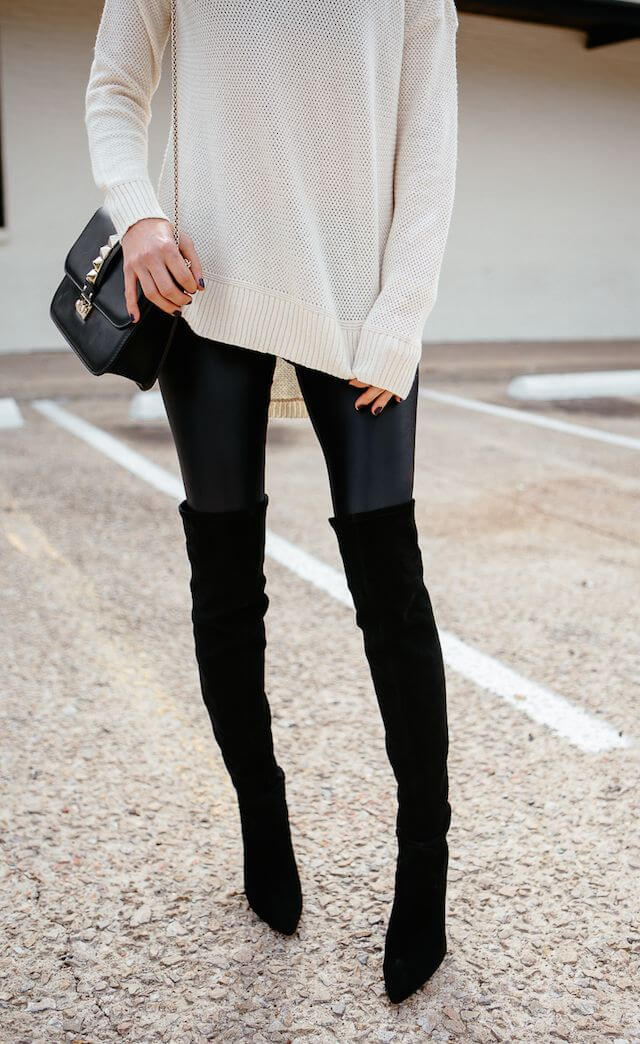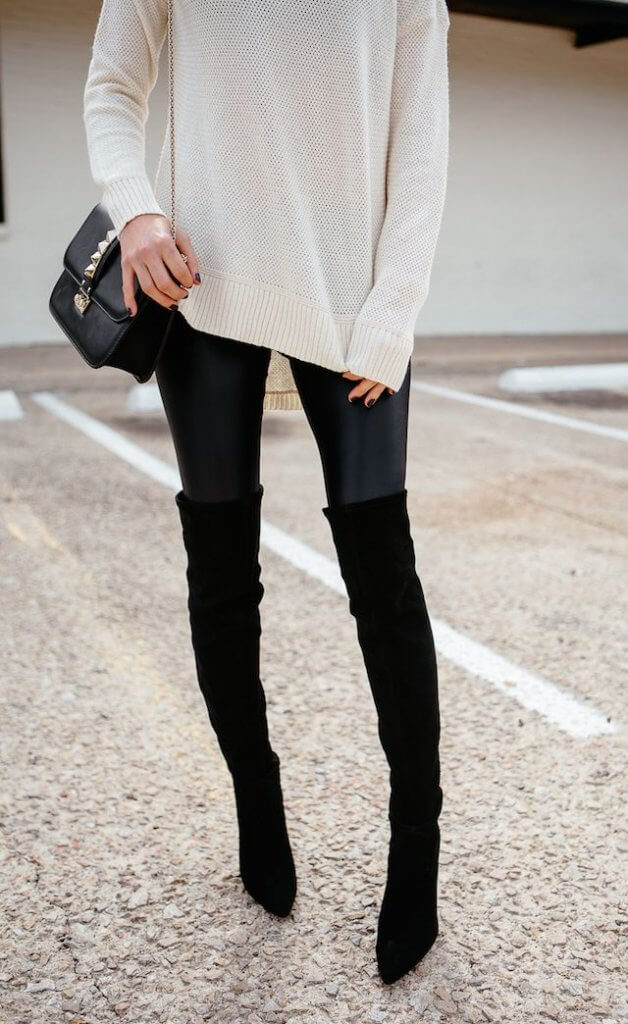 Methods To Wear Your Over The Knee Dress Boots
In our point of view, wearing knee boots is one of the sexiest styles to wear a boot. You can either go bare-legged or wear something really form-fitting, just as with knee boots. I've included three different ways to wear this style of boot below. Going barefoot is, as you can see, more comfortable. Based on the type of over-the-knee boots you buy, they can be difficult to put on at times, and you don't want any fabric bunching up because that is very uncomfortable.
Over The Knee Boots – Dress
This is one of the most favorite outfits to be worn with boots amongst all ladies. The light shirtdress contrasts beautifully with the heavy over-the-knee boots. Since the shirt dress is more traditional and the boots are sexier, this ensemble has a good overall appeal. The comparison between the two gives it a trendy appearance. Furthermore, the shirtdress's vertical lines offer the impression of being taller. To finish off this over-the-knee boots outfit, also add a big structured bag to make it more dressy.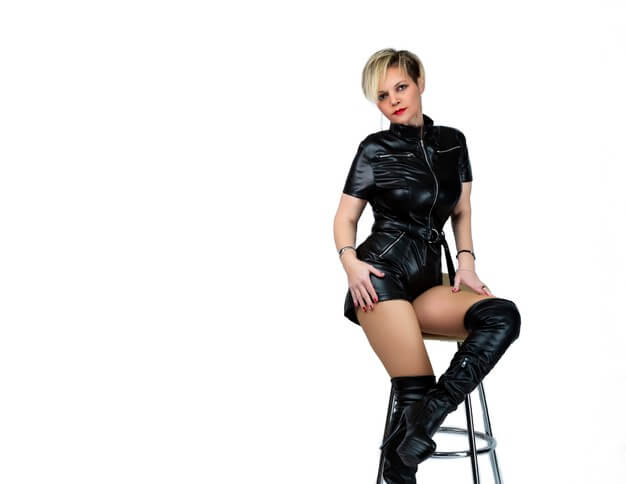 Over The Knee Dress Boots- Skinny Jeans
For an ultra-cool fall theme, pair black over-the-knee boots with a black leather jacket and black skinny jeans. To soften the look, use a glimmer of white or a soft fabric like a knit. To add contrast and balance, I wore a white knit sweater.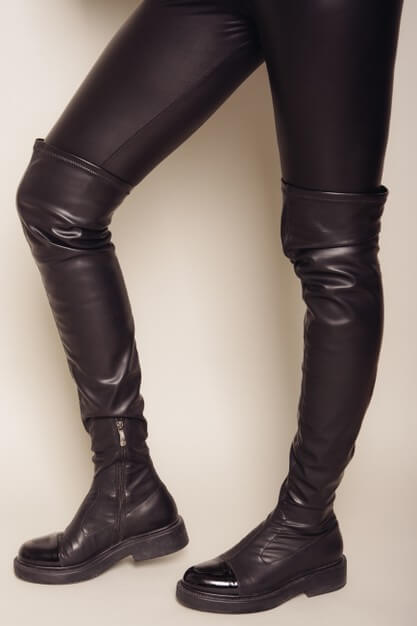 Over The Knee Dress Boots – Skirt
If you pair the right bits, you can make a slightly sexy fall ensemble. I wore a black mini skirt, gray sweater, and a long black coat with black suede over-the-knee boots. This outfit may expose a tiny amount of skin but then it is the perfect amount to show off. I didn't wear thigh-high boots with this outfit because the long black coat would have made it too heavy.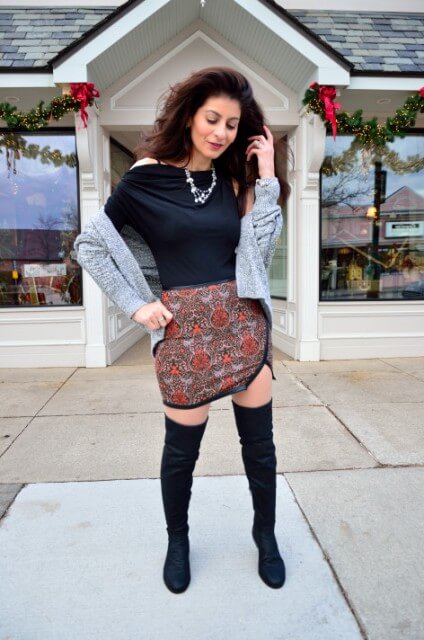 Over The Knee Dress Boots – Black Flat
It all comes down to keeping the top half of your outfit conservative and selecting the best pair of over-the-knee boots while wearing over-the-knee boots with a mini skirt. Begin with the boots themselves in this over-the-knee boots ensemble. They're black suede boots without heels; choosing flat boots over heeled boots reduces the sexiness factor. Put on a thick, long-sleeved, crew-neck sweater after that. Be sure to wear a forest green hat and pull your hair back into a loose ponytail. By paying attention to these specifics, you will be surely able to achieve a balanced and classy look that is also a little sexy.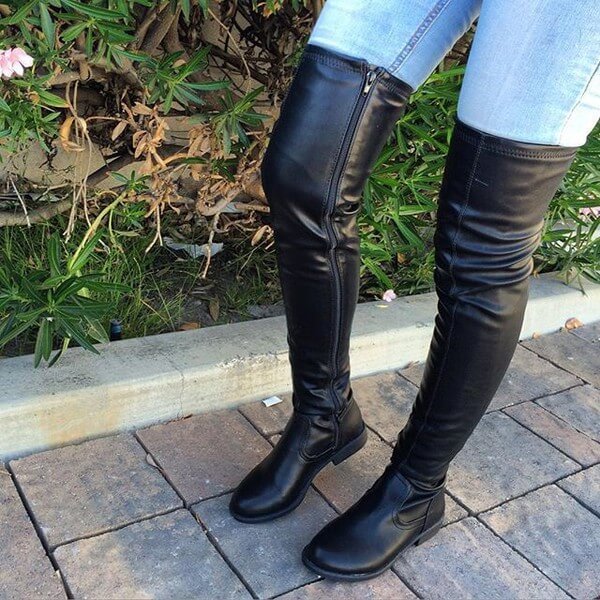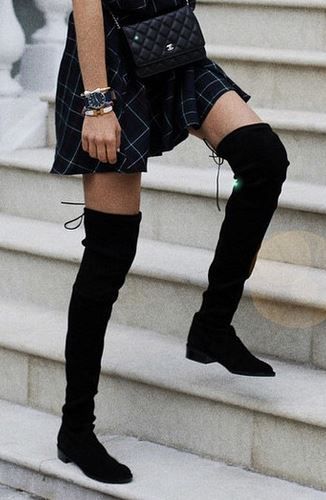 Over The Knee Dress Boots – Sweater Dress
Keep the same style tips in mind for this boots outfit as you did for the previous one. How can you wear a mini dress and adorn it with boots while looking stunning and at the right place and event? Remember to layer a turtleneck in the same color scheme underneath the big sweater dress. Consider wearing a monochromatic ensemble. You can then add a black leather belt to accentuate my waist, as the sweater is very loose-fitting without it.
The outfit was finished off with a gray hat and a black structured handbag. Keep the same styling advice in mind for this boots outfit as you did for the last. What's the best way to style a mini dress with boots without looking out of place? Underneath the large sweater dress, layer a turtleneck in the same color scheme. Consider putting on a monochromatic outfit. You should then add a black leather belt to draw attention to the waist, as the sweater is too big without it.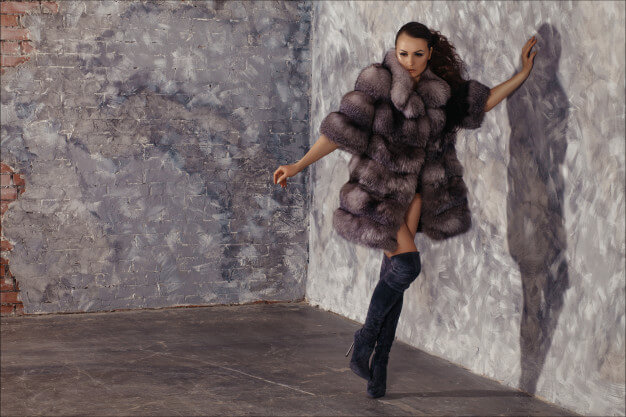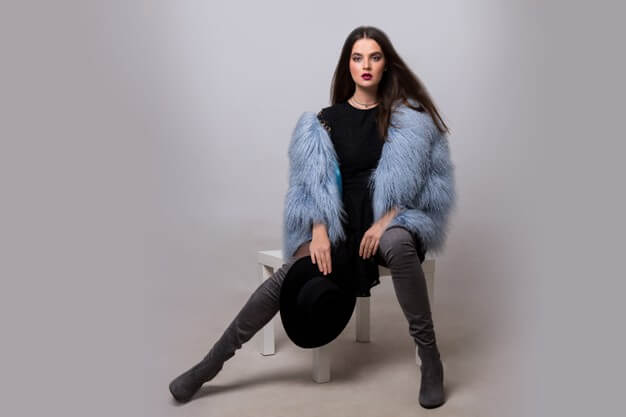 Choose longer, well-fitting boots with little detail and a heel the more you want to elongate your leg. To elongate, even more, match your hosiery to the color of your boots. Styling can be done with different materials and types of boots as long as you get the proper flow. You can add more detail to your boots if you have long legs, and you don't have to fit your hosiery. We are pretty sure all women enjoy wearing boots but may get stuck with how to style them accordingly. Hope this article gave you a better understanding as to what type of boots can be worn in which particular style. Now let us know in the comments as to which boot type is your favorite and how you tried styling it out!
Author of Get Basic Idea – Knowledge Base.