HP Spectre x360 2021 review: Is it a better convertible than its big brother?
2 in 1 convertible laptop is the choice of any professional. Any professional prefers a compact convertible laptop that packs solid performance married with portability. This is a dream come true for any professional. A sleek design would be a cherry on top of the cake. This year HP released another convertible laptop for 2021 with a stage name of 'HP Spectre x360 2021' aka HP Spectre x360 13. The elder sibling of HP Spectre x360 13 which is HP Spectre x360 14, was able to grab hold of the Editor's Choice' award last year. So this year we are wondering if HP Spectre x360 2021 version is capable of delivering even better performance than its elder brother.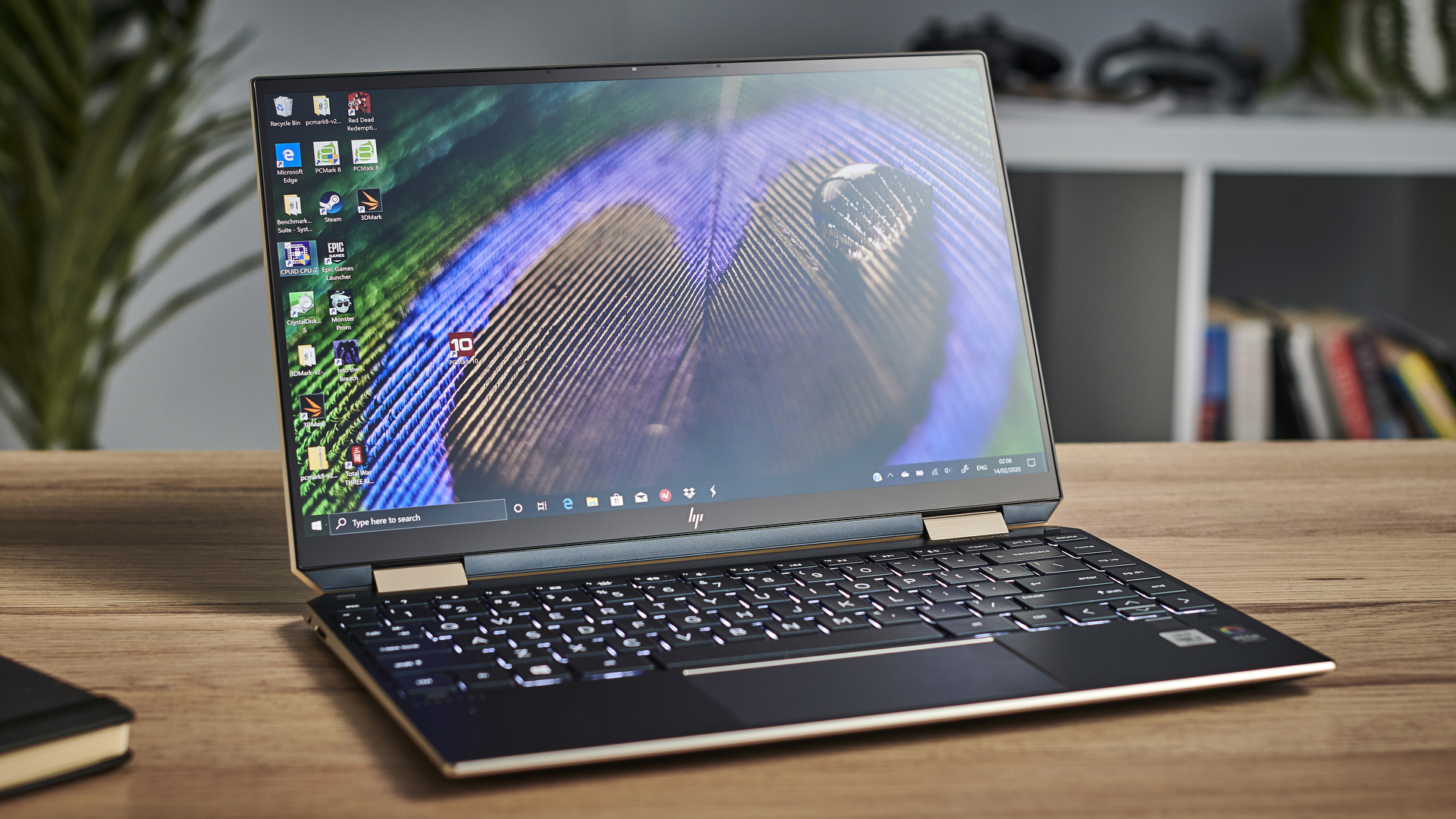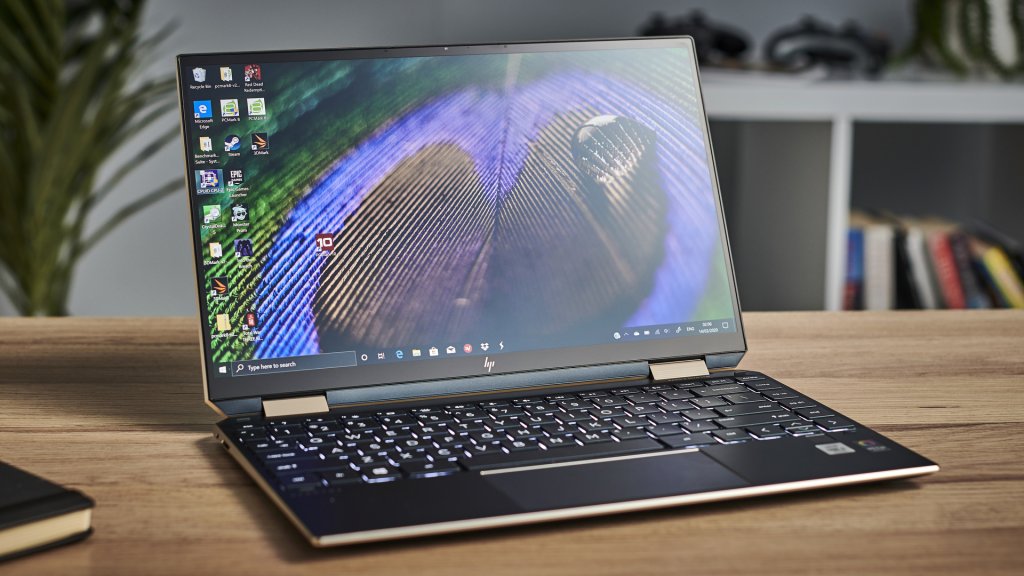 Specs
Before diving into the details let's gets to know the specifications of HP Spectre x360 2021 because that's the first thing that most of us are keen on.
| | |
| --- | --- |
| Laptop class | Convertible 2 in 1 |
| Processor | Intel Core i7 1165-G7 |
| Processor speed | 2.8 GHz |
| RAM | 16 GB |
| Boot Drive Type | SSD |
| Boot Drive Capacity | 512 GB |
| Screen Size | 13.3 inches |
| Native Display Resolution | 1920 x1080 |
| Touch Screen | Yes |
| Panel Technology | IPS |
| Variable Refresh Rate | None |
| Screen Refresh Rate | 60 Hz |
| Graphics Processor | Intel Iris Xe Graphics |
| Wireless Networking | 802.11ax (Wi-Fi 6) |
| Dimensions | 0.67 x 12.1 x 7.7 inches |
| Weight | 1.27 Kg |
| Operating System | Windows 10 Home |
| Tested Battery Life (Hours: Minutes) | 12:41 |
Source: PCMag
Price
HP Spectre x360 2021 has different versions of it with different prices. The US version costs $1,149.99 and it contains an Intel Core i5-1135G7 processor, 8 GB Ram, and a 256 GB SSD. The UK version costs GBP 1,199.99 and it comprises an Intel Core i5-1135G7 processor, 8 GB Ram, and a 512 GB SSD. There is also another version costing $1,349.99 / GBP 1,399.99 with an Intel Core i7-1135G7 processor, 16 GB Ram, and a 512 GB SSD. There is another flavor to this laptop with the same CPU and RAM as above but the only difference is that it has a 4K OLED screen and because of this feature itself the laptop costs around GBP 1,699.99.
You may think the versions are over but there more versions relating to different screen sizes: 13 inches (the version which is been reviewed), 15 inches, and 13.5 inches (a taller aspect ratio of 16:10). Australia has the 13-inch model with an Intel Core i7-1135G7 processor, 16 GB Ram, and a 1TB SSD for AU$3,399.99. There is also another Australian version with Intel Core i7, 16 GB Ram, a 4k OLED screen along with a 2TB SSD for AU$4,599.99.
Design
Tablet mode
The younger brother of HP Spectre x360 14 has a brushed metal finish with several color combinations. Since this laptop is a convertible it has 360-degree hinges that allow it to flip back completely transforming it into a tablet. This type of flexibility often scares us because we feel that the hinge may snap at any point but in this case, the hinge is pretty solid and reliable.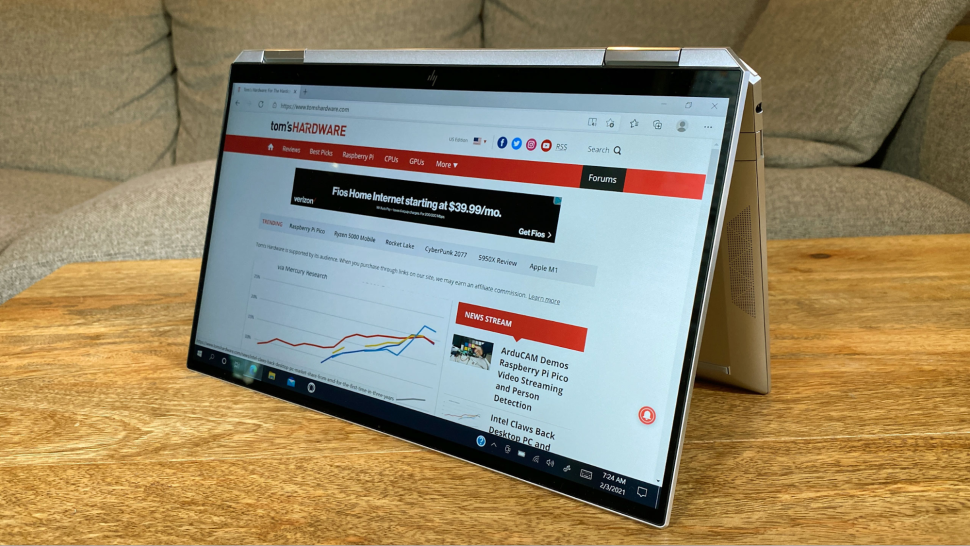 Connectivity & display
The right-hand side of the laptop has the word 'Spectre carved into it and this gives the laptop a premium and classy look. Connectivity is another major part of the design. On the right-hand side, you get an audio-in jack along with a USB port. On the left-hand side, you get 2 USB-C ports, a microSD port, and a webcam kill switch as well. The webcam kill switch adds more value to the laptop with the level of privacy it provides because it allows the webcam to be switched off when you are not using it. The only issue with this premium laptop is that it does not have an HDMI port to it.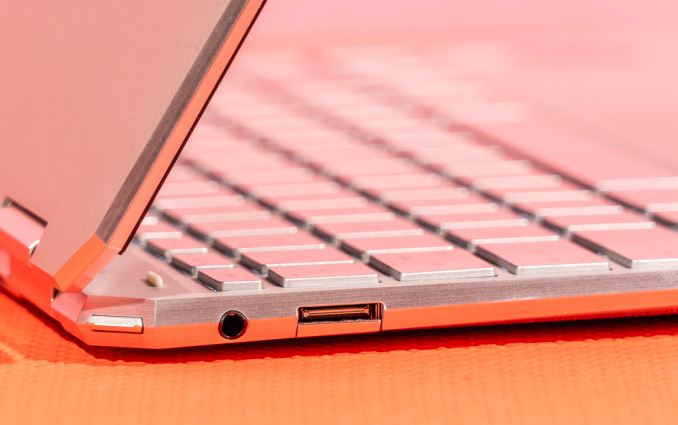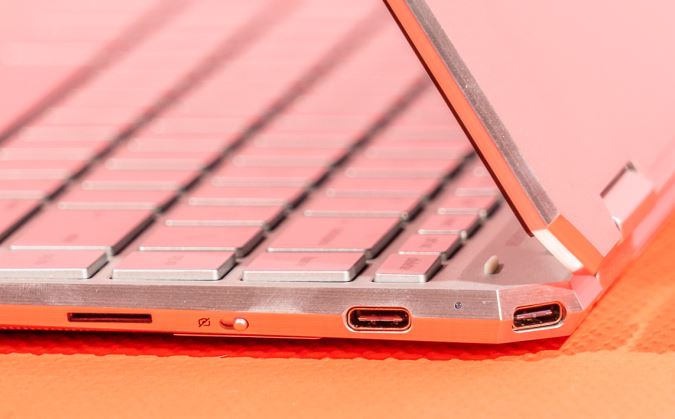 Thin bezels make a laptop look cool and also play a great role in making a laptop portable. HP Spectre x360 13 is blessed with great thin bezels and what's more amazing is the way the laptop neatly encompasses all those ports along with a webcam kill switch. You can expect to see a vivid screen when you open up this laptop and the thin bezels make the screen look more appealing than ever.
Keyboard, touchpad & fingerprint scanner
HP Spectre x360 2021 has a decent backlit keyboard with a reasonable amount of space between each key and the keyboard provides a great typing experience as well. However, what's disappointing about the keyboard are the arrow keys. These arrow keys are not even half the size of a proper key and there is hardly any space between the two. Therefore, on most occasions, you may tend to press both accidentally. The touchpad is super responsive and it is large for a 13-inch laptop. Also, towards the right-hand side of the touchpad, there is a fingerprint scanner to log into Windows 10.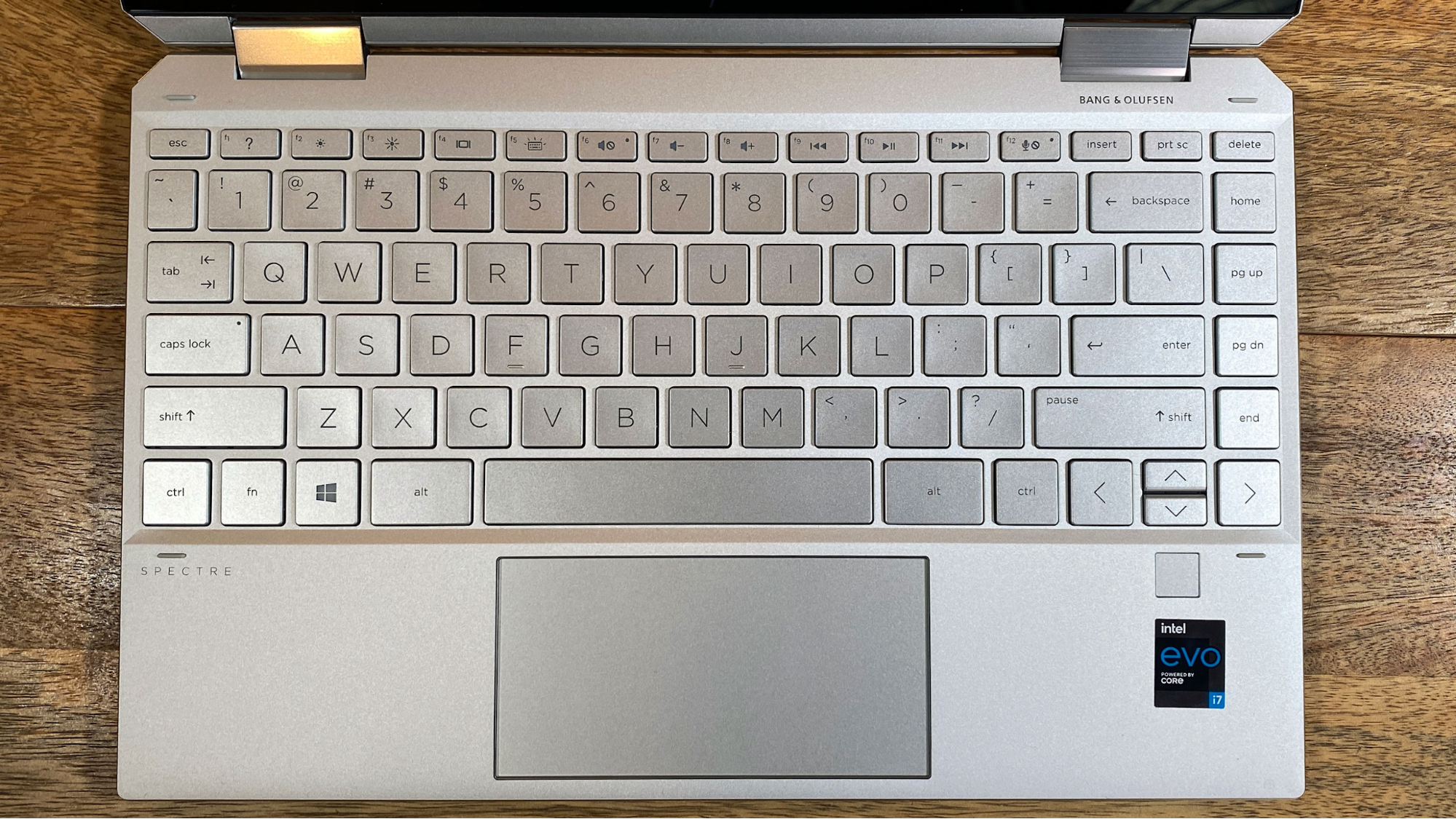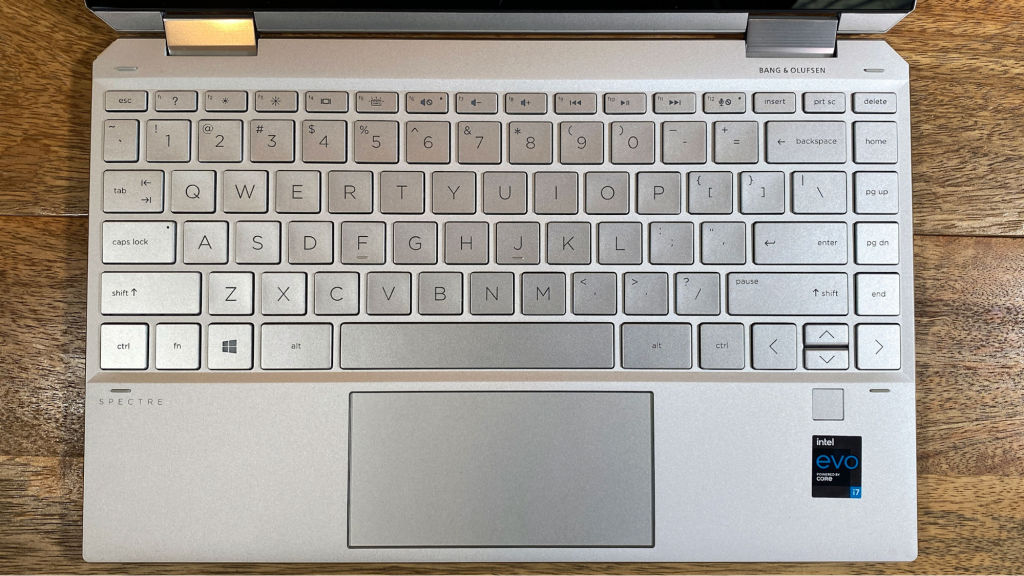 Performance
Usually, the performance of a laptop is loaded with a lot of technical jargon and a lot of numbers as well (not referring to RAM, Processor, Graphics Card). Most of you techies will understand the performance of this laptop as you nosedive into this section further but some of you who have mediocre IT knowledge may not exactly understand the performance levels. So for the benefit of everyone, we thought of including a snapshot of the benchmarks that were carried out and to explain what those benchmark platforms meant.
A summary of benchmark platform performances
Before we head into the benchmarking testing platforms, there is a small twist that makes the benchmark even more interesting. This benchmark includes HP Spectre x360 13 going head to head with Asus ZenBook Flip S (UX371), Dell XPS 2 in 1 (9310), HP Spectre x360 14, and Lenovo ThinkPad X13 Yoga. The table below will give you a brief idea about the benchmark platform used, participants, the score scored by HP Spectre x360 13, the rank of HP Spectre x360 13, and the ultimate winner of that particular benchmark platform. However, HP Spectre x360 13 will be mentioned as the participant throughout this table because the rest of the other participants will be most likely to be mentioned as a winner.
| | | | | |
| --- | --- | --- | --- | --- |
| Benchmark platforms | Participant | Score | Rank | Winner |
| PCMark 10 | HP Spectre x360 13 | 4,899 | 2 | HP Spectre x360 14 |
| PCMark 8 | HP Spectre x360 13 | 5,024 | 1 | HP Spectre x360 13 |
| Cinebench R15 | HP Spectre x360 13 | 871 | 2 | Dell XPS 2 in 1 (9310) |
| Handbrake 1.1.1 | HP Spectre x360 13 | 15 mins | 2 | HP Spectre x360 14 & Lenovo ThinkPad X13 Yoga |
| Photoshop CC | HP Spectre x360 13 | 127 seconds | 3 | Lenovo ThinkPad X13 Yoga |
| Sky Diver | HP Spectre x360 13 | 13,386 | 1 | HP Spectre x360 13 |
| Fire Strike | HP Spectre x360 13 | 4,784 | 1 | HP Spectre x360 13 |
| Unigine -720p Low Preset | HP Spectre x360 13 | 48 | 1 | HP Spectre x360 13 |
| Unigine -1080p High Preset | HP Spectre x360 13 | 17 | 1 | HP Spectre x360 13 |
| Video Rundown Battery Test | HP Spectre x360 13 | 12 :41 (Hours and minutes) | 2 | Dell XPS 2 in 1 (9310) |
Source: PCMag
Benchmark testing platforms
PCMark 10 & PCMark 8
First will start by explaining what PCMark 10 is. This is a tool that simulates real-world productivity and content creation workflows. In this scenario, PCMark 10 was used to evaluate the overall system performance in regards to word processing, spreadsheet work, web browsing, and video conferencing. Whereas, PCMark 8 was used to analyze the speed of the system's boot drive. In both these benchmarks, high scores reflect better performance.
Cinebench R15
Cinebench R15 makes use of all the available processor cores & threads to render a complex image rather than relying on the GPU. Usually, high scores mean better performance.
Handbrake 1.1.1
Handbrake 1.1.1 benchmark test was all about converting a 12-minute 4k video to 1080p, This test is usually measured by the time it takes (minutes). Taking a lower time to convert is often considered a good result.
Photoshop CC
Most of you know already what Photoshop CC is so it is not necessary to explain what it means. However, the way Photoshop was used for this benchmark test was different, For this test 2018 version of the Creative Cloud version of Photoshop was used. The benchmark test was conducted by applying a series of 10 complex filters and effects to a normal JPEG image. Each process of this operation is timed in seconds. and totaled. This test puts a lot of pressure on the CPU, storage subset, RAM and it can put a lot of pressure on most GPUs as well. In this test lesser seconds = good performance.
3DMark test (Sky Diver & Fire Strike)
3DMark measures the overall graphics horsepower by rendering a sequence of highly detailed, gaming style 3D graphics that stresses a lot on particles and lighting. 3D mark benchmark test will be carried out using the Sky Diver and Fire Strike. And, both of these tools are DirectX 11 benchmarks. Sky Diver is suitable for laptops and midrange PC's whereas Fire Strike is more suited to high-end gaming PCs and rigs. Higher results are considered good performance for this test. Although this is not a gaming laptop it is capable of running a few games on it with low graphical settings. Also, EA sports claims that it can play less graphically demanding games like Rocket League, League of Legends, and CS; GO.
Unigine Superposition 1.0 (720p low preset and 1080p high preset)
To further understand the graphical performance is used and this tool also performs similar to the 3D mark tool. But, it measures the frames per second. This test measured the frames per second of each laptop for a 720p low preset and a 1080p high preset. Higher frames per second indicate better performance.
Video rundown battery test
For this benchmark test, a tool is not used. This test was conducted after fully charging the laptops. For this test laptops were unplugged and all the laptops were set up into their respective power-saving modes (Wi-fi was turned off and airplane mode was activated). After setting up the laptop to power saving modes a 720p video is looped with a screen brightness of 50% and volume at 100%. The video is looped until the laptops are fully drained out. Longer time taken = good battery life.
Author's corner
There is no doubt that this is a classy laptop with a beautiful appearance, a large keyboard along a super responsive touchpad. And, the best part of this laptop is that it has top-notch performance coupled with great battery life. These are features that any professional would die for. However, this laptop is certainly not budget-friendly by any means. The fans are noisy but that's manageable considering that the fact that you are getting a lot from this.
Just when you are stressed out from working, you can play a few decent games or a few good games at low graphical settings. Now, that is something many lightweight business laptops cannot offer. What I can tell you personally is that, if you have a good budget and wants a business laptop with awesome performance and battery life then this is the laptop you need to go for but if you are looking for a tablet with the same attributes as above then this is not something that you should be getting, because it is bulky and expensive.
Author of Get Basic Idea (A content writer & a digital marketer, develop content while formulating and executing feasible digital marketing strategies collectively).