Android 11 features, release dates and compatible devices
The latest version of Android has been released after all the anticipation. It was announced earlier this year in February, with a beta version being released in June. This is Google's latest Android iteration for both mobile devices and tablets as well. Currently, the update is available for all Pixel devices; being Google's consumer mobile phone brand they are assured to be the first to receive any android updates. However, other manufacturers are following suit and releasing their versions of the update in quick succession. But not all devices will be receiving the update; news regarding this will be mentioned below. Read on as I discuss all the new Android 11 features.
A couple of interesting features such as built-in screen recording and improved device controls along with a few minor features have been announced. But nothing as major in comparison to the features that were introduced on the android 10 update.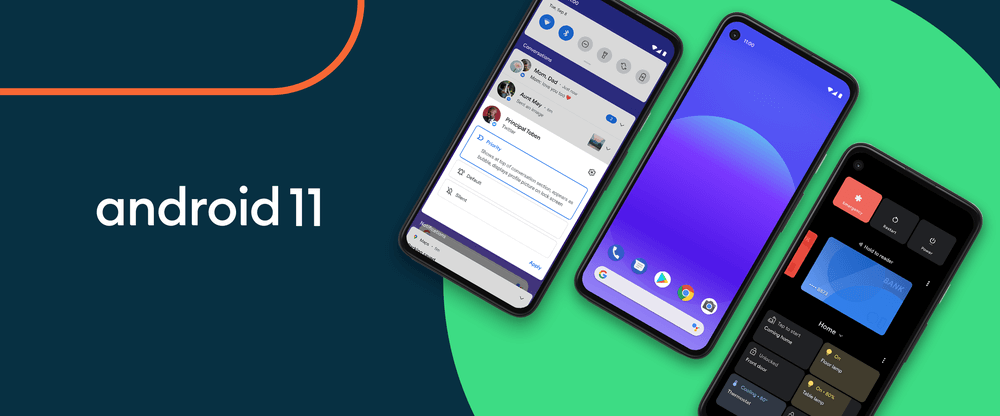 Release date and compatible devices
Android 11 was released on the 8th of September 2020. Google did not build up the hype for the release this time around possibly due to the smaller scale of the update. However, the release date was leaked through company employees and adverts from other manufacturers ahead of time.
Although the date marked the official release of the update, users with devices other than pixels will have to wait in line for their respective manufacturers to build upon and release their version of the update. These custom versions will usually be developed first for their flagship models and then in succession for budget and lower-end models. Also, another point to be noted is that not all devices will receive this update and it is at the manufacturer's discretion to choose which handsets get it. The following are a few common devices that have been hailed to receive the update:
Google Pixel devices ranging from 2 to 5.
Xiaomi Mi 10/ 10 Pro.
Asus Zenfone 6 and 7 Pro.
LG Velvet.
Nokia 9 Pureview, 8 range, 7.2 and 6.2.
Oneplus devices from the 6T up to the Nord.
Oppo Find X2/ X2 Pro, Reno 3/ 3 Pro, entire Reno 4 range.
Realme X50 Pro, 7/ 7 Pro, 6 Pro, and the Nazro 20.
Redmi K30/ K30 Pro.
Samsung S20, S10, Fold/ Z Fold, Galaxy Tab S7, and S6 ranges.
Sony Xperia 1/ 1 II, 5/ 5 II and 10 II.
To check if your device will be receiving the update, visit the manufacturer's website and check for announcements and online forums.
Android 11 features
Conversation window
Conversations are essentially notifications from your messaging applications such as Whatsapp, Viber, and Twitter, which are grouped into a separate window. In the new update, swiping down from the top will allow you to access your conversations in addition to the notifications, whereas in the previous version only the notifications were accessible.
This gives priority to your messages, preventing them from being lost amidst a sea of notifications. Also, it allows you to reply directly without having to enter the relevant application. It enables to you create floating chat bubbles for any chat app, as previously only available on Facebook messenger. Further, these chat bubbles will be able to lay over any app you use, making it easier for you to manage your conversations.
One other improvement to further ease the user experience is, that Gboard now automatically fills out any forms or queries, similar to auto-fill on Google chrome.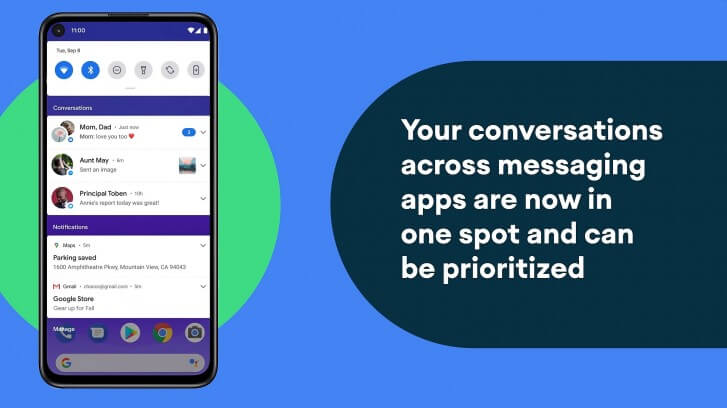 Built-in screen recording
A custom screen recording application is introduced in the new update. This enables you to record your screen for a certain period of time and is it is a native application; it will perform better than a 3rd party app.
The app is able to record device audio as well as take mic input, this can be rather helpful in creating short videos such as tutorials.
Sharing functions for apps throughout the operating system has also seen much improvement. As a result, now you are able to share pictures and text between apps with ease.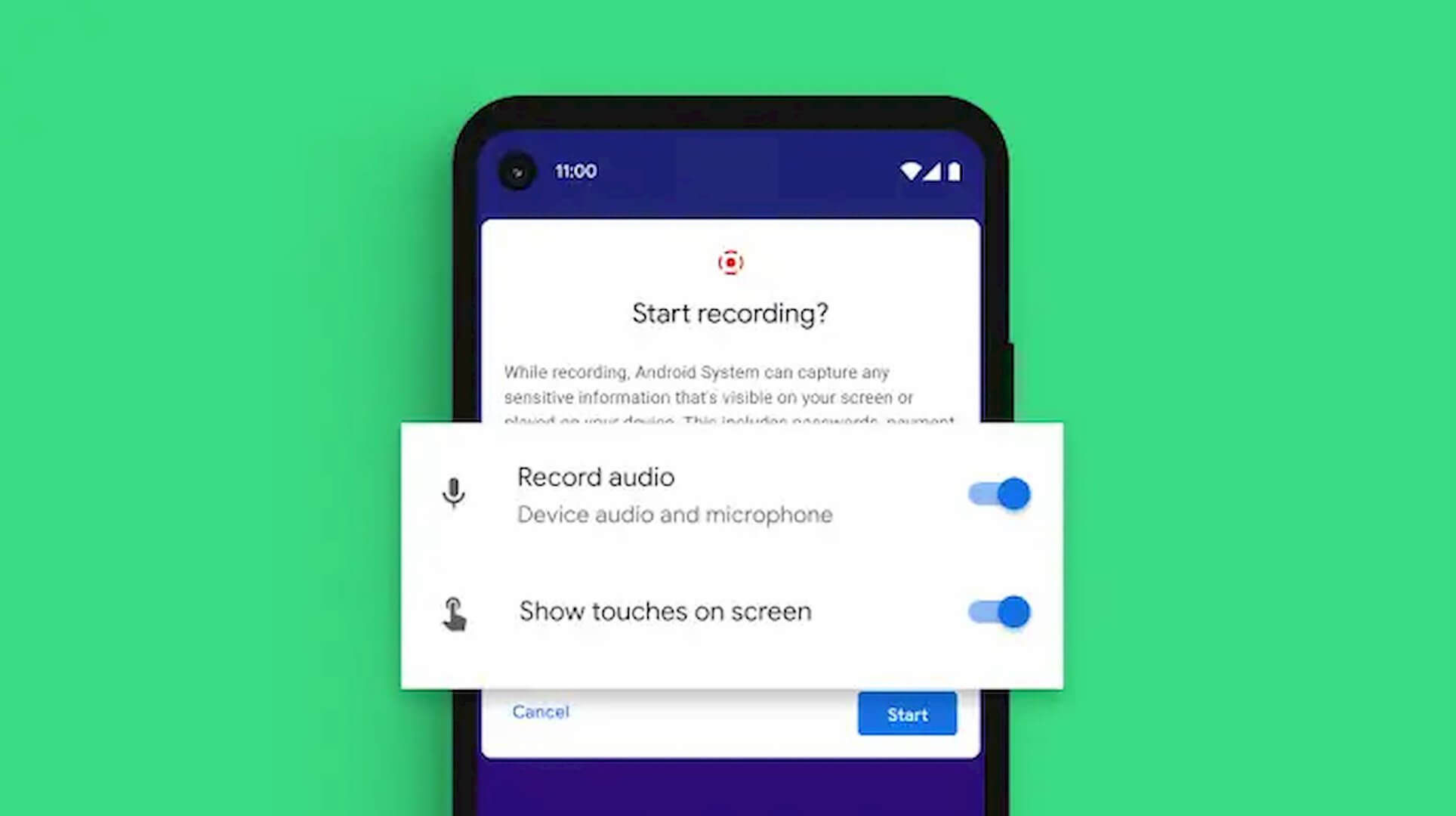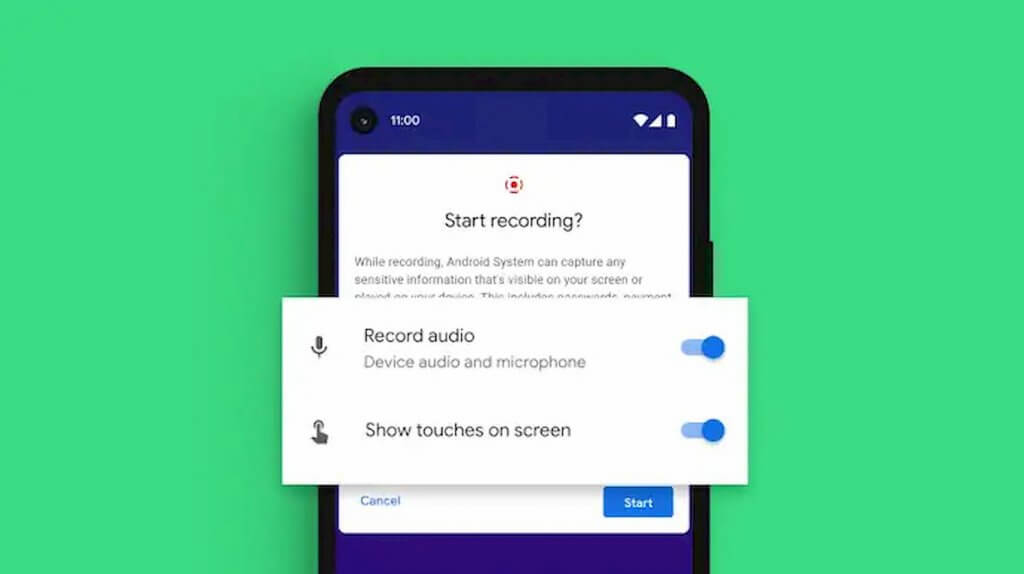 Accessibility
There have been multiple improvements made to help integrate the whole Google ecosystem, to operate much smoother. With updates to the following:
Android auto
The update allows you to connect wirelessly to your car infotainment system. This eliminates the need to fiddle around with wires.
Smart home
You can control all devices connected to your phone including lights and thermostats. You can access this by long-pressing on the power button to manage all the connected devices.
Improved media controls
You are able to switch between your headphones, Bluetooth speakers, and TV seamlessly. Switching between devices while media plays on will change quickly without any lag. In addition, turning on Airplane mode does not cause your Bluetooth headphones to disconnect as with the previous version.
A new Bedtime mode switches your phone display monochromatic and switches on the Do not disturb during the night to improve your sleep.
Voice Access
Voice Access has been improved upon by providing better support for more apps, allowing for easier navigation and use of apps by using voice solely. And the offline mode is also enabled, letting you use it anywhere.
Talkback keyboard
To make the device more accessible and user friendly to more users, Google has included a talkback braille keyboard in the update. This allows people to use the phone without any additional hardware.
Lookout
There 2 new modes introduced to help people with impaired vision; Scan document and Food Label. And the flashlight on your device will turn on automatically upon opening the app. This app is in fact now made available for all devices with android 6 and up.
Nearby share
Instantaneously share files, locations, and pictures with phones nearby. The feature is compatible with all android devices, Chromebooks, or devices with chrome browser.
Productivity tools
There are a few features introduced that operate by tracking your daily usage and suggesting ideas based on the collected data. The following are a couple of them:
App suggestions
The phone will track the apps and features you use throughout the day. And depending on the time of the day, the app tray at the bottom of the display will switch apps to match your routine.
Smart replies
While messaging, the phone will monitor your conversation. Consequently, it will then provide you predictive replies and emojis in real-time. Helping you craft the perfect message. This is in fact an updated, smarter version of the currently available feature.
Smart folder
You can allow the operating system to automatically sort out the apps on your home screen into folders depending on the type of application.
Security and Privacy
You are given more control over the collection and sharing of your data in the new update. The following are the new features:
One-time permissions
You are given the option of being able to choose to only give permissions to access the mic and camera on your device once peruse. The device must request permission the next time you use the app. This ensures that the camera or mic cannot be used to spy on you through certain apps.
Permission withdrawal
In case you have not used a certain app for an extended period of time, the permissions given to the app will be withdrawn automatically. You can grant permission upon using it the next time.
Google play updates
Upon updating to android 11, Google play will provide more security updates for your device and applications.
Scoped storage
Applications running android 11 will only be given access to a limited proportion of data on your device.
Barring permission requests
In an instance, the user rejects permissions for a certain application multiple times. The device will recognize this and block the app from requesting permissions in the future.
Background location
Ability to control apps getting location data when not in use.
Camera
Some features have been introduced for the camera app, here are the following:
Muted capture
APIs can be used to mute vibration from any notifications or ringtones during capture.
3P performance improvements
Performance in photo-sharing apps such as Snapchat and Instagram has been optimized.
Specific Android 11 features
Apart from the general features discussed above, there are a few tailored features to provide support for certain handsets. Some of these features are described below:
Improved 5G detection
Performance improvements have been to enable your device to better detect and increase speeds.
Hinge sensor support
Better support has been provided to foldable phones. They are able to detect hinge angles and support more configurations for apps.
Gesture accuracy
The gesture navigations for your device can be fine-tuned to work better.
Ethernet tethering
You can make use of an Ethernet dongle to share a tethered internet connection.
Android 11 features: Easter egg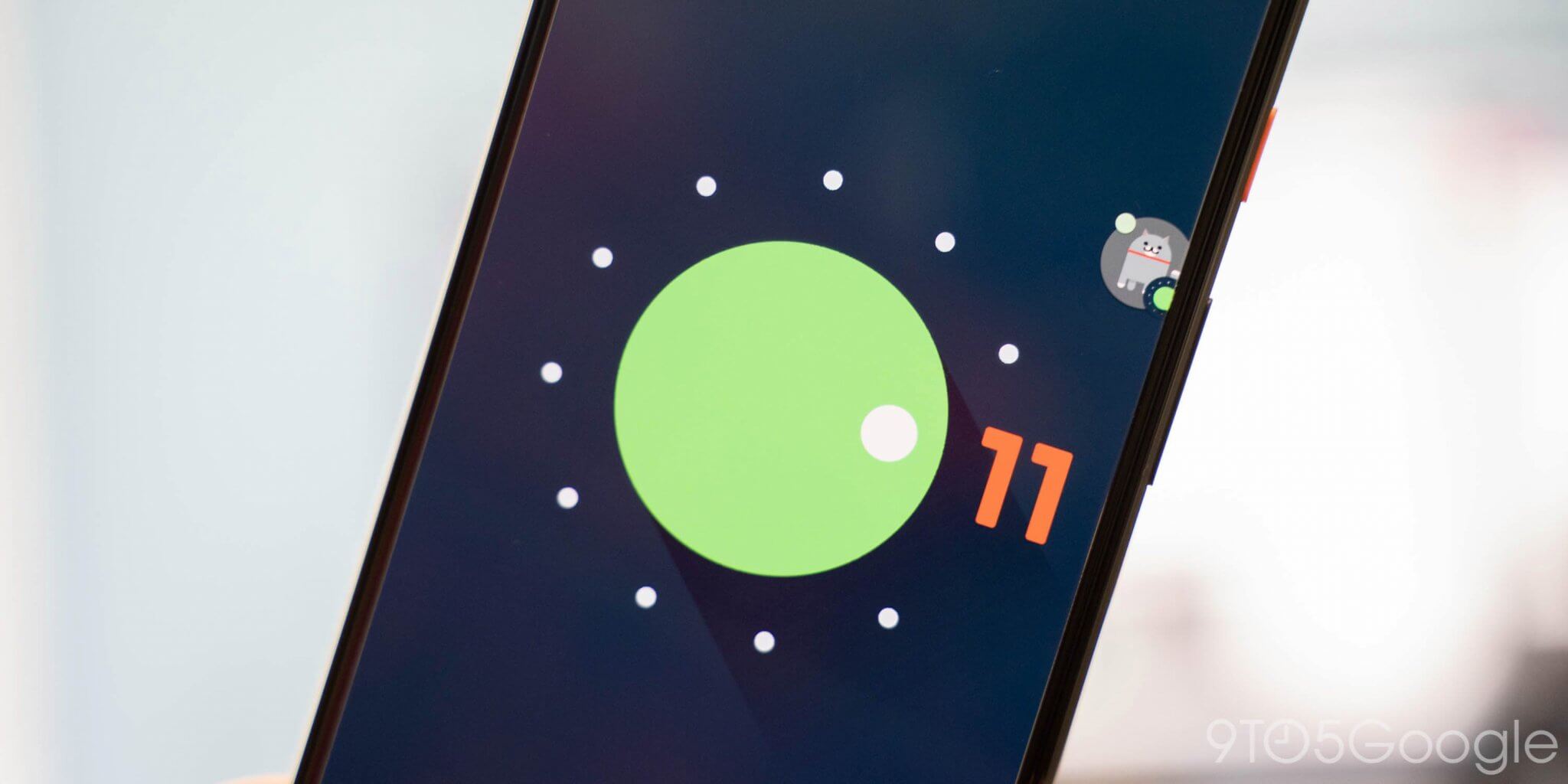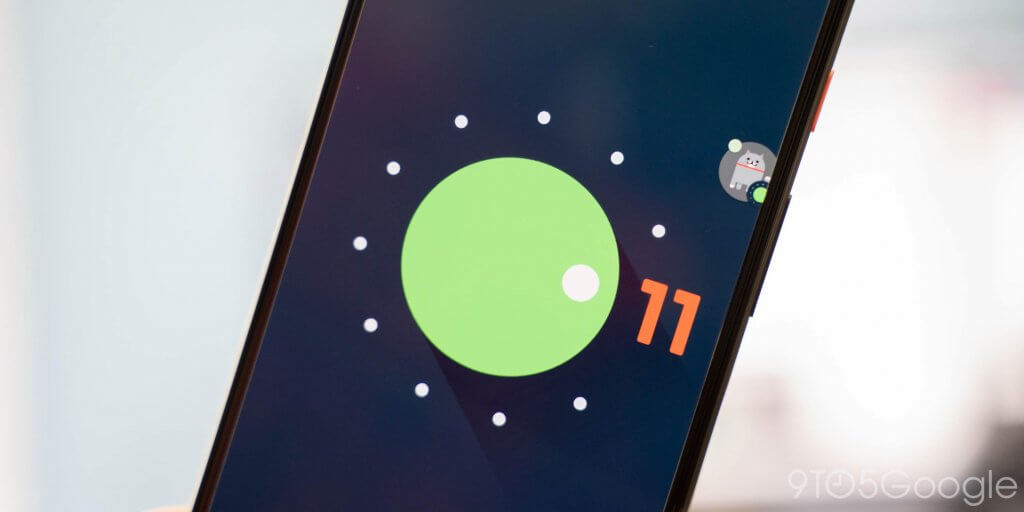 All of the newer android versions have contained an Easter egg tucked away somewhere to be found by users. They have carried on this tradition on the android 11 as well. And users were able to find it on the beta version itself.
The android 11 Easter egg is somewhat similar to that of the android 7. It is a virtual pet cat that you can look after. If you wish to discover it, follow the steps given:
Go into Settings, select About phone, Android version, and tap on "Android version 11" multiple times until the Android logo shows up. (remember to tap repeatedly, most users reported needing at least 3 tries before succeeding)
If done correctly, a small cat will appear on the bottom of your display.
Next access the smart home control panel by long-pressing the power button.
You will be able to see ways of interacting with the cat. (in case the option isn't available, add new controls and click on "See other Apps" )
You will be able to name the cat and with time, new cats will join.
These are the latest Android 11 features. And to get more information regarding Android 11, you can do so by visiting the following link.
Author of Get Basic Idea – Knowledge Base.