Apple AirTag Review: Is tracking taken to a whole new level?
Busy lives can get the worst out of us, isn't it? Because of our tight schedules, we often forget where we keep our keys or any other accessories that are important to us. Trying to find them can cause even more headaches than the stress we are already having. Sometimes, in the back of our minds, we crave a tracker that helps us to locate our missing accessories. Now, with the introduction of Apple AirTag, you can locate your keys or any other accessories within few minutes.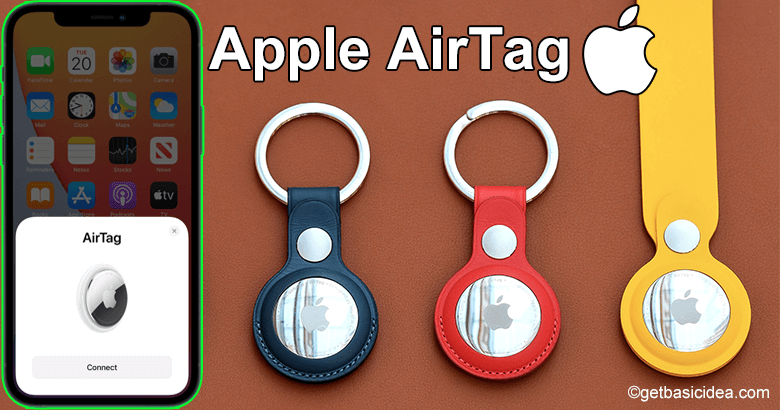 Roundup
Unlike other trackers that are in the market, this tracker uses advanced technology that makes it much efficient. It is amazing to think how such advanced technology is packed into a small coin. So now let's deep dive and get to know exactly about this Gizmo.
First thing's first, to make sure that tracking works you need to be having iOS 14.5 or above on your iPhone. For your tablet, you need to have iPadOS 14.5 +. One way of tracking your lost AirTag is to use the 'Find My' app. It's just a matter of putting the AirTag into lost mode and if another device in the network passes the AirTag then instantly you will get an anonymous notification on its location.
Apart from the 'Find My' app the AirTag also uses an advanced feature named 'Precision Finding', which uses Ultra-Wideband Radio technology. This technology guides you to your device via a set of on-screen instructions but for this feature to work like a charm you need an iPhone 11 or 12 to determine the precise distance along with the directions that lead you to it.
'Precision Finding' requires both iPhone 11 & 12 to use the Camera, ARKit, Accelerometer, and Gyroscope.
Apple has given a lot of thought to privacy. What they have done is that they have locked the AirTags to one Apple ID to prevent unnecessary tracking. By doing so, you become the only person that is capable of hunting down your AirTag.
AirTag is the ideal product if you are a person who frequently forgets where you left your keys or wallet or for a person who wants to remain calm knowing that the misplaced item can be located quickly.
General questions
How do I locate my AirTag?
As mentioned previously 'Find My' app is one of your knights in shining armor. However, there is something that you need to know. There is a special option in the 'Find My' app called the lost mode, which can be used to create a customized message that can be displayed when located by another user. As soon as the unknown user holds the AirTag close to their phone then your customized message (most probably your contact details) will appear on the device.
You are already aware that 'Precision Finding' works wells only with iPhone 11 and 12. This is another way of finding your AirTag. You can activate this feature by tapping to Find and then turn to 'Precision Finding'.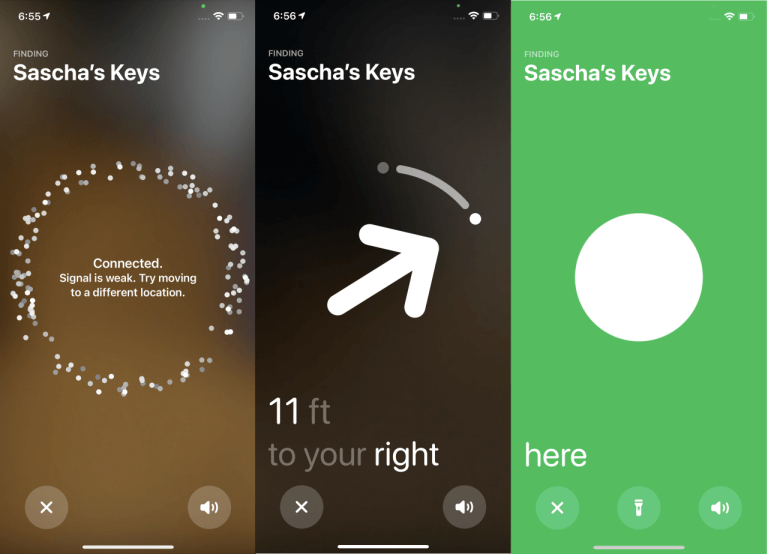 Another cool feature is that you can assign a phone number to a lost AirTag. In case if it gets found by a member of the public they can tap it by using their iPhone and this will reveal the phone number. Also, any NFC-enabled device can do the same as well.
Does AirTags work with Android Devices?
Any Android device cannot register itself to an AirTag but as mentioned earlier the NFC feature enables the user to connect just so that they can read any 'Lost Mode' messages and return them to the original user.
How do I install the AirTags?
It's just a matter of pulling the battery and bringing it close to your iPhone and then tap the Connect button. This is no rocket science, it is very similar to the way you set up your AirPods. But, there is a small catch. You have to update your iPhone to iOS 14.5 and then sign in to my iCloud account and then verify the lock code on your iPhone. These steps may seem lengthy but still, it is a fairly easy process to follow. If you still haven't got the slightest clue to set up your Airpods then you can watch the video below to get a better understanding.
How to get rid of an AirTag from my Apple ID?
Your AirTag already got registered during the setup, therefore it can only be removed by you. You can follow these easy steps to remove the Apple ID: Open 'Find My' app > Tap the 'Items' tab > Select the AirTag from the list > Tap 'Remove' item. After you remove the AirTag from the list then it clears up space for someone else to use. What this means is that if your AirTag (and the device it's linked to) is lost or stolen then the person who locates it cannot link it to their device.
Do AirTags use my location?
Some of us are hesitant about using Apple to track our location and due to that, we have disabled the services of location on our devices. Keep in mind that AirTags won't work if you have disabled location services.
This is what you need to do to enable 'Find My' location tracking: Open Settings > Privacy > Location Services and then turn on the switch at top of the screen. Go to your list of apps and tap on the 'Find My' app and then set it to 'While Using the App'.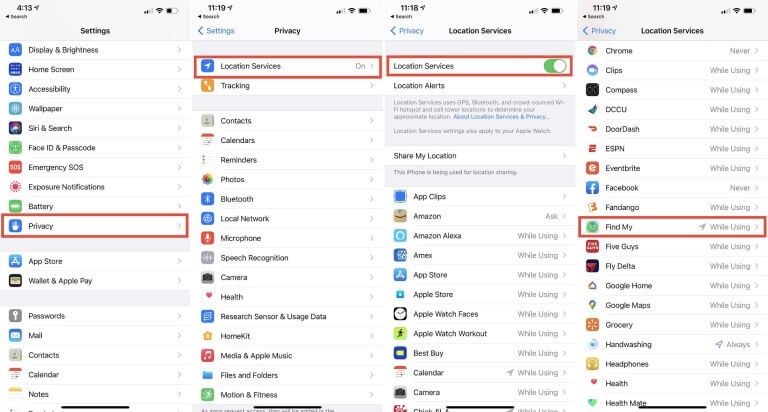 Price of Apple AirTag
One Apple AirTag cost USD 29 / GBP 29 / AU$45. A pack of four is priced at USD 99 / GBP 99 / AU$149.
An AirTag cannot attach itself to any item so if you want to attach it to your keys, bikes, or other items then you need to additionally purchase Key fob or loop or a key ring. These things come in silicone or leather. Here is a price list of all those optional items.
| | |
| --- | --- |
| Item | Price |
| Loop (polyurethane) | USD 29 / GBP 29 / AU$45 |
| Leather Loop | USD 39 / GBP 39 / AU$59 |
| Leather Key Ring | USD 35 / GBP 35 / AU$55 |
Design of Apple AirTag
How small is the AirTag?
It is extremely tiny, just picture it as the size of a quarter or a GBP 2 coin. In terms of the actual dimensions, it measures 1.26 x 1.26 x 0.31 inches / 3.19 x 3.19 x 0.8 cm. And, it weighs 0.4 oz / 11g.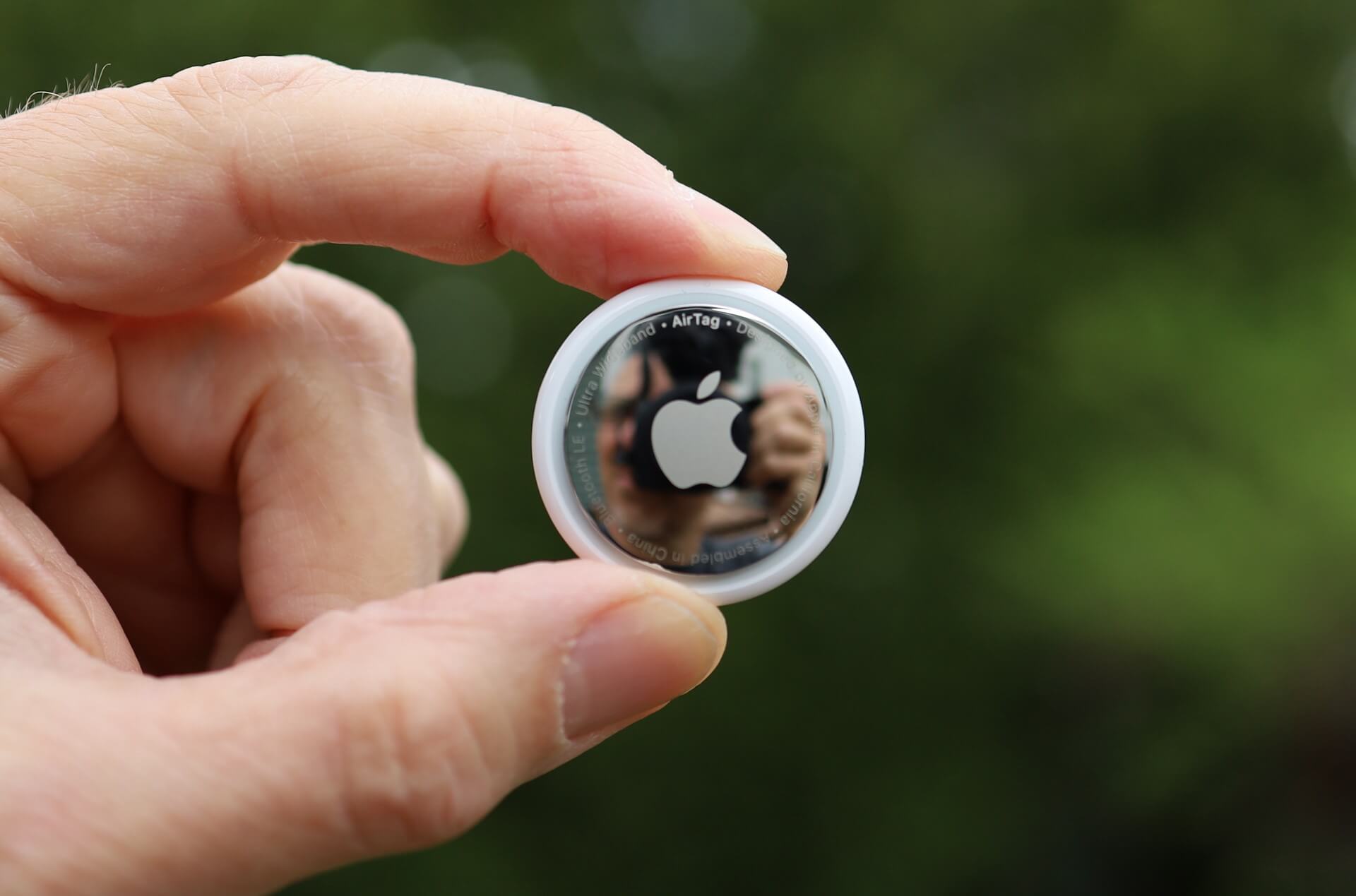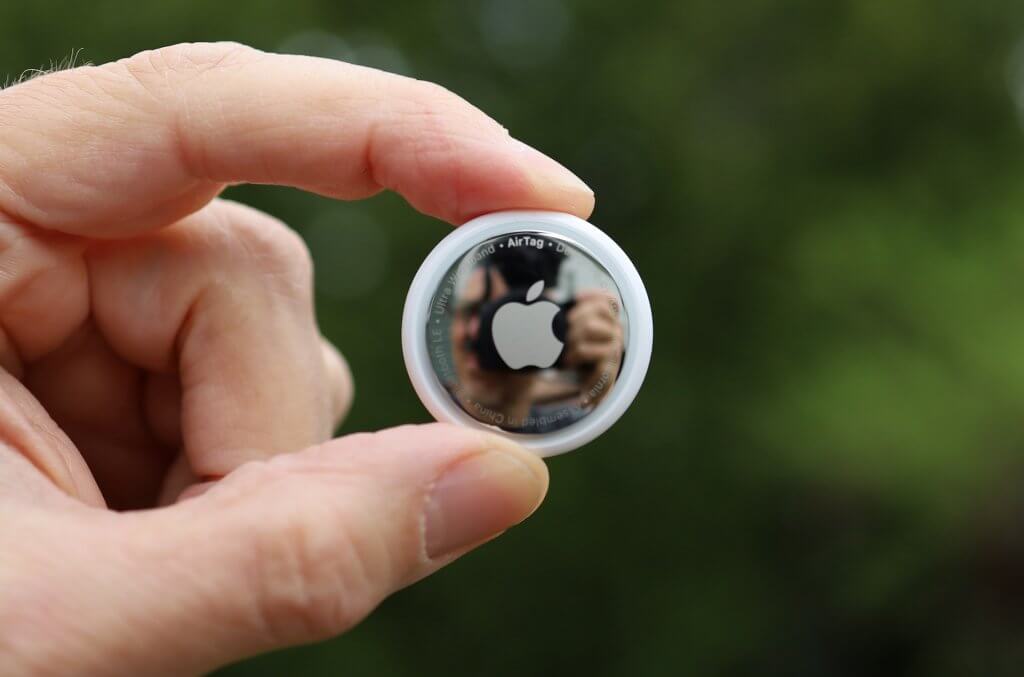 What is packed in this tiny tracker?
The tracker is a stainless steel disc that has a removable plastic cover. The removable plastic cover safeguards the CR2032 battery that fuels the AirTag and it has a built-in speaker as well. This speaker will release a sound if the 'Find My' app on an iPhone, iPad, or Mac is used to identify its location.
Do the AirTag pickup scratches?
The stainless side that has the Apple logo picks up scratches.
Is the AirTag water-resistant?
The AirTag is IP67 rated for dust and water resistance. Furthermore, it can survive being submerged up to 1 meter (about 3 feet) for 30 minutes.
Is it possible to customize the AirTag?
Not everything has a price tag to what Apple offers. Apple provides a free engraving service that allows you to add any text, numbers, and emoji to the plastic cover. With the engraving, you can easily differentiate your other AirTags if you have any.
Does the AirTag support Bluetooth 5.0?
There is no exact confirmation about this news but it is believed that the AirTag supports Bluetooth 5.0, which has a range of 800 feet / 240 meters. And, iPhone 12 was already built with this feature.
Privacy of Apple AirTag
Do AirTags hold your location data?
Only the owner of the AirTag can see where it is. Also, don't worry about your location data or history because is not stored in the AirTag. Location information is sent in encrypted form and remains anonymous as soon as an AirTag gets in touch with any 'Find My' device, like an iPhone. Not even a soul including Apple knows about the whereabouts of your AirTag or the true identity of the 'Find My' device used to find it.
Can AirTags track another person without them knowing?
Regardless of whether you have an iPhone or an Android, you will still be alerted if you have someone else's AirTag. For an instance, let's assume that I put my AirTag in your bag and I leave. The moment I leave the AirTag plays a sound to alert you to make you find it. This sound will continue to play for a longer period of time but will indicate the movement of the location.
As mentioned earlier, NFC-enabled devices can interact with the AirTag and receive information that instructs how to remove the battery and disable it.
Can AirTags be used to track me?
Since the AirTag is small there is a possibility that any stalker can slip the AirTags into your bag and track your movements from their own Apple device.
As a solution to this issue, the 'Find My' app will alert you for 3 days on your Apple device if it detects an AirTag that is not tied to your Apple ID and is separated from its owner while traveling with you. Also, it will alert you that the original owner can already see your location and at the same time you can't activate an AirTag on behalf of someone else.
However, you have the option to disable the alerts coming from the unknown AirTag or you can play a sound so that you can locate it. But, to do all these you need to have iOS 14.5+.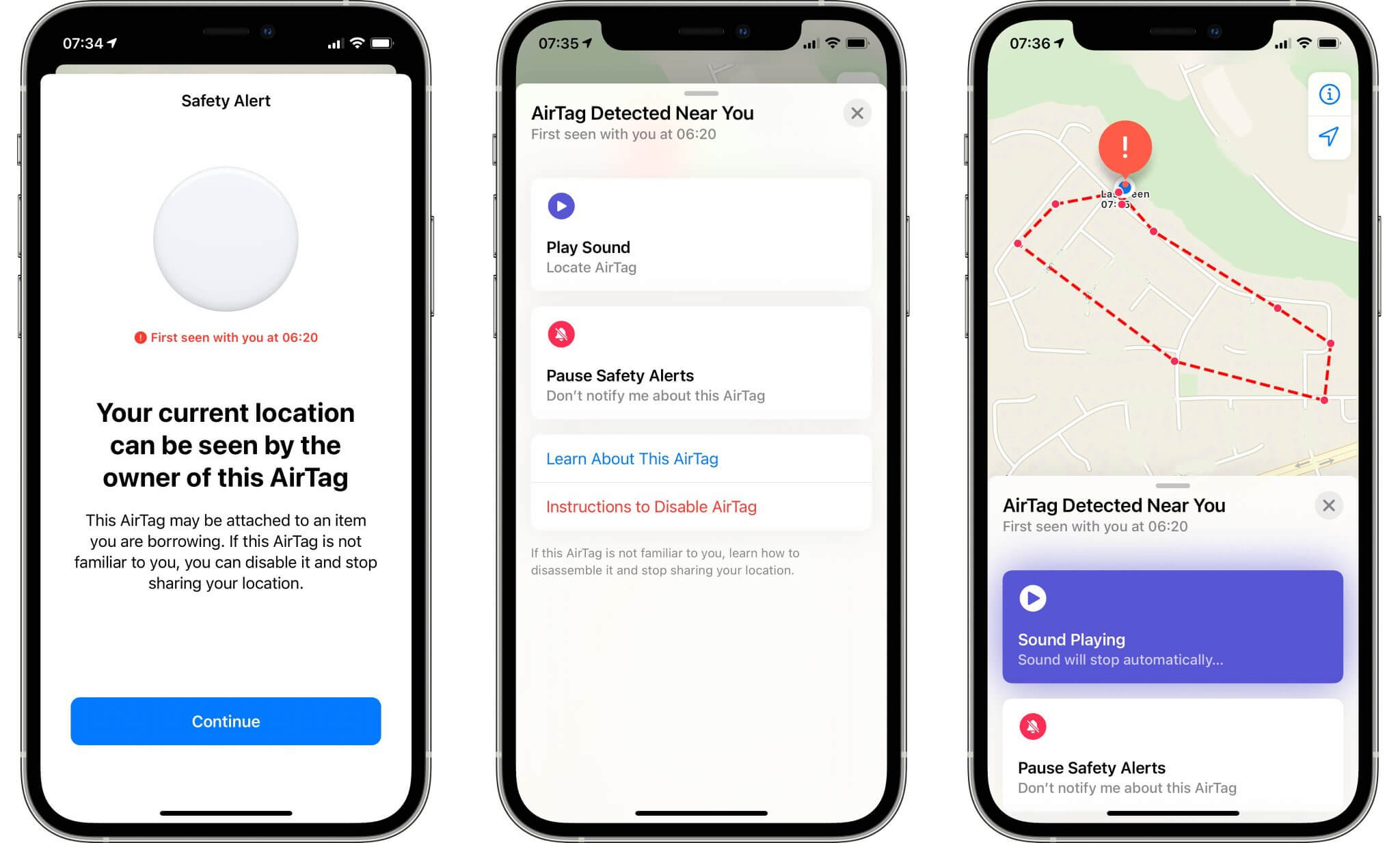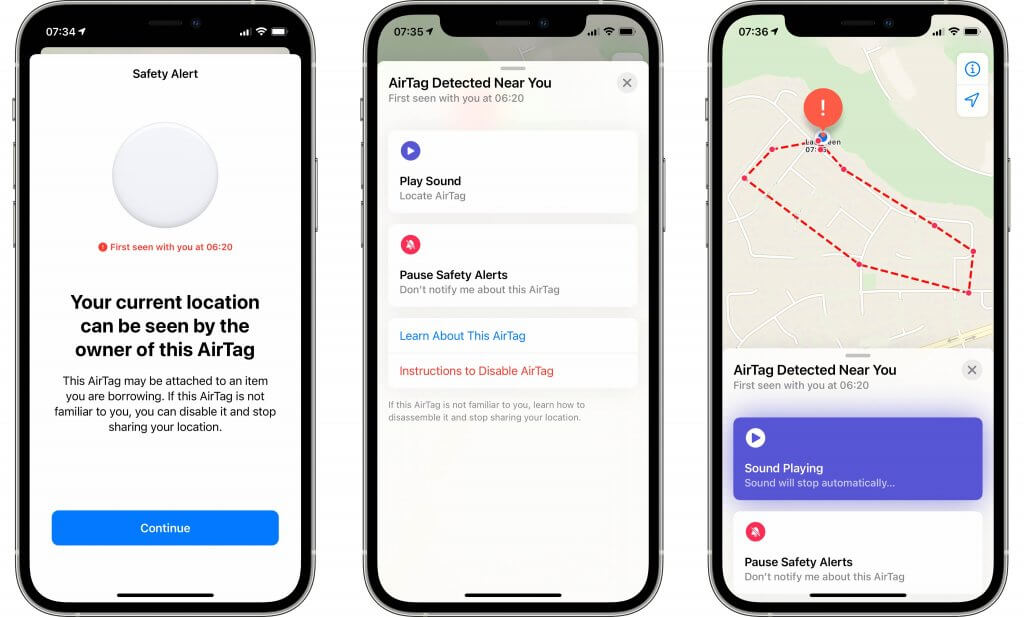 Moreover, if someone borrows an item to which an AirTag is attached then they will receive unknown AirTag alerts. These alerts can be paused for a day or indefinitely only if the AirTag is registered to an Apple ID that is a member of your family sharing group.
Android users will have none of the above in case if an unknown AirTag is slipped into their belongings.
Performance of Apple AirTag
When you link the AirTag to your Apple ID then you can use the 'Find My' app and play with it under the 'Items' tab.
According to what was found out in an unboxing session, soon after the packaging was removed the AirTag released a short beep and it was immediately recognized by an iPhone. What's cooler is that you can assign an original name to it like Keys.
'Find My' app gives you a few ranges of options for your AirTag after you select it from the 'Items' tab. One of them includes playing sound. It took few split seconds for 'Find My' to get in touch with the AirTag. After it got connected to the AirTag it released 3 cycles of 5 beeps, which has a sound power of 64db. The sound it released was so powerful that you could hear it even if you bury it under a pile of cushions on a sofa.
'Precision Finding' has more to it than meets the eye. Apart from showing you the distance and direction on your display, it further helps you to locate your AirTag through haptic feedback.
Strength of Bluetooth 5.0
Few tests were run to find out the strength of the Bluetooth 5.0.
The tests were carried out in a home with cavity walls. These type of walls normally affects the reliability of Bluetooth connections between devices like headphones and smartphones. And, it was the same for 'Precision Finding' as well.
The AirTag was purposely left in the front garden of a particular home. Afterward, the testers strolled down the street until they were 30ft / 9 meters away. At that distance, the iPhone was able to establish a strong connection with the AirTag in a jiffy. More importantly, the iPhone was able to guide the user without losing the signal.
'Find My' the savior
If you are not within the Bluetooth range of the AirTag then don't worry 'Find My' will come to the rescue. The testers left the AirTag in a busy town center and returned home making it seem as if the AirTag was lost. Unbelievably, it took only 30 minutes for an iPhone passing by to inform the location of the AirTag.
Siri all the way
The testers also asked the ever-reliable Siri to find the AirTag. This caused the cycle of short beeps to start but to use 'Precision Finding' Siri advised the testers to use the 'Find My' app.
Battery life of Apple AirTag
How long will the battery last?
Apple boasts that its CR2032 battery will last more than a year before it gets replaced. But, for it to function for so long you need to make sure that the tracker beeps four times a day and uses 'Precision Finding' only once per day.
Do I have to struggle to replace the battery?
You've got nothing to worry about that because the battery can be easily replaced. All you have to do is hold the AirTag with the colored side down, place two fingers on the metal side, and twist to the right to pop open the metal cover which then reveals the battery.
My opinion
I am sure by now you must have got some sort of picture regarding the AirTag. And, I am not here to change your way of thinking but this is what I found out, and this what I feel about the AirTags so hear me out.
| | |
| --- | --- |
| Pros | Cons |
| Water-resistant and portable | Accessories make the AirTag expensive |
| Highly accurate tracking with iPhone 11 or above | Not suited for Android |
| Perfect for finding misplaced items | Can easily pick up scratches |
Go for it if…
Your want precise direction for your misplaced items
'Precision Finding' makes it that much easier to locate your misplaced items with the on-screen directions and distance rather than the sound you hear through beeps and haptic feedback. This location tracker is currently the only one in the market that offers such a feature.
You are privacy-conscious
There is no doubt that Apple has given a lot of importance to Privacy by including several privacy features. Apple has made sure that the AirTag cannot be misused: from having your iPhone or iPad to alert you if an unknown AirTag is traveling around with you to making sure that you can't set up an AirTag on behalf of anyone else.
You want to give it a cool look
All the loops and Key fobs available in different colors and materials (silicone and leather) allow you to personalize your AirTag just the way you like it.
Don't even think of buying it if…
You are on a budget
The problem is not with the price of the AirTag but the problem lies with the prices of the accessories (key fobs, loops, and key rings), which makes the AirTag more expensive. If not for the accessories the price of the AirTag is on par with the other location trackers.
You are an Android device user
If you own an Android device then forget about getting an AirTag, because you cannot set it up and use it as you please.
You want to give access to your location tracker
Giving access to your location tracker to a family member can help to speed the process of finding your tracker especially if you are at home and someone else is searching on behalf of you. Unfortunately, this something that Apple failed to include in their AirTag.
Author of Get Basic Idea (A content writer & a digital marketer, develop content while formulating and executing feasible digital marketing strategies collectively).